Angular Momentum has released Retronix, a free retro-style software synth plugin for Windows.
The synth features 2 x 5 oscillators and one of them offers a wavetable mode with 135 waves.
The filter has overdrive, key tracking, an ADSR envelope and an extra High Pass filter to filter out unwanted low frequencies.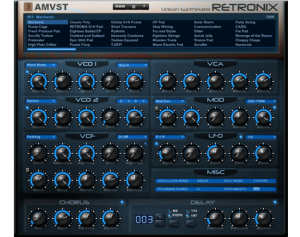 A modern musical take on the 'Teaserama' and Bettie Page 1950s burlesque acts and stripteases. The music was composed by Danny Hahn at the NeoKitsch studio using the Haken Continuum Fingerboard as the main instrument.
Retro pin ups
http://www.youtube.com/watch?v=hjTzGXjhkCE&feature=player_embedded
WOK has release CromFX, the effect section of Cromina String Machine as separate plug-in with enhanced options. You can select from 4 different chorus types (modeled after vintage circuits), 3 phaser models and 2 delays. Here's what WOK has to say…
CromFX is the perfect addon for our string machine, but can of course add brightness and warmth to any sound source. In the chorus section you will find the lush and warm chorus of Cromina plus 3 more variations, modeled after famous designs from Korg™ and Roland™.
For the phaser we added 2 more designs which support host sync, as the two delays (one additional analog tape style delay) do.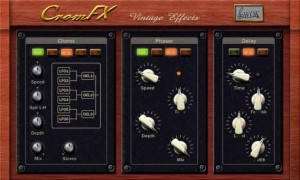 CromFX is available as a VST plugin for Windows.
…an ARP 2500 in action
Can it be much cooler, LOL
This is a demo of the Helmtronic Challenger – a new retro-style analog synthesizer.
Only at the MusikMesse you have the opportunity to meet with a manufacturer of analog synthesizers all buttons and knobs. Challenger and equipment with four oscillators, two filters, dual audio path and panel-style recliner Minimoog. The price, once reached the marketing of the series, should be very interesting.
If you thought working with loops was invented by Ableton or maybe labourus reel-to-reel tape splicing of the past, check this out:[youtube=http://www.youtube.com/watch?v=yrXtmKGkSa4]
Mellotrons where all over the prog rock albums in the 60-70s but disappeard when the digital samplers came (Fairlight, Emulator, Synclavier etc) in the 80s. But Mellotron provided more than strings, flutes and organ presets. As shown in the video above loops with rythm tracks where also available.
IK Multimedias SampleTron includes also these loops if you're into retro loops:  
<a href="http://www.ikmultimedia.com/sampletron/">
PART 1
[youtube=http://www.youtube.com/watch?v=P_Tr82fXp54]
PART 2
[youtube=http://www.youtube.com/watch?v=nYqemhtdcXc]
"This is a UNIQUE modular synthesizer prototype in the world created by Ken Macbeth, his sound & features are impressive with 7 VCO + 6 suboscillators, 13 oscillators in total!!! In my experience I can say that this modular project is much more complex and powerful than the new M5n or M3X… this modular has a FAT sound, another planet!" – thanks to scienceforce who also has a few clips of the ultra rare Starkey Hearing Science modular.
Many of you know that I am agreat fan of manga, anime, tokidoki and similar art stuff and pixel art is no exception. Pixel art gives the same type of pleasure as C64/bitpop music and therefore I just wanted to share one of my favorite pixel sites – which in principal is just one big f-cking image – printed it would certainly cover a very large painting – a smal snap shot from it is pasted below, but be sure to click the image to see the actual one and make sure to surf around in the pixel world.
Came across this bautiful video clip today showing the famous Buchla synth – its a MUST see for all you geeks out there, hehe. Clic the picture to watch – re-directs to a friendly site
/ / / / / Viewing with headphones or a stereo source is highly recommended / / / / /
This colorful video features sound artist Charles Cohen improvising on a 1970's Buchla Music Easel. This extremely rare instrument is one of Don Buchla's 200 series. Buchla (a pioneer of audio synthesis) only manufactured 14 of these units. The entire film was edited from an hour-long set of free improvisation, with audio was taken directly from Charles' mixing board.
All of the photography and editing was produced by Alex Tyson, a sound and video artist from Pennsylvania. The film was shot in 16:9 720p High Definition format, using the Letus35 Extreme and a 35mm LensBaby 3GPL.
Odo has released 38911 Bytes, a synth based on a commodore 64.
Here's list of features in the company's own words…
It has 1 oscillator with 4 different waveforms: Saw,Triangle, Pulse and Pitched noise.
3 BPM sequencer with 7 rates and 2 to 8 steps .You can end a sequence or loop it.
The first sequencer has notes from C to B and octaves from -3 to 4
In the 2nd (waveform sequencer) you can select saw, triangle, noise, ring saw, ring triangle, ring pulse.
3rth sequencer for octaves from -3 to 4
A filter with envelope from 1 to 8 stages and 13 curves you can select where you want your sustain point.
Filter types :lowpass,hipass and bandpass.You can activate more than one filter type like on a real c64.
Cutoff and resonance and a on/off button to save some CPU
a pitch envelope from 1 to 8 stages and you can select where you want your sustain point.And has a on/off button to save some cpu
a PW envelope from 1 to 8 stages and you can select where you want your sustain point.And has a on/off button to save some cpu
Two big LFOs with 19 different waveforms and free speed or 14 bpm speeds
Ringmodulation with a bitcrusher notes from c to b and octaves from -4 to 4
a Bitcrusher volume envelope
128 presets to start and some simple helpfiles