Experimental synth for iOS.
http://www.warmplace.ru/soft/ios/
PixelWave is an experimental synth with old school pixel interface.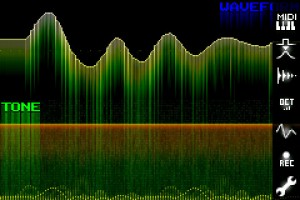 Key features:
• multitouch arpeggiator;
• it is possible to draw waveform and play it at the same time;
• recording;
• export to WAV (via iTunes File Sharing);
• copy to pasteboard;
• nine predefined waveforms;
• changeable number of octaves (from 2 to 6);
• Low-Pass filter (smoothing);
• MIDI IN support.
Southern California DJ and producer Daemon Chadeau will release This Is Meower Noise, the debut album from his Pixelpussy power noise project, June 25 on the MoonSlave Radio label. In addition to eight original tracks, the album features five remixes from the likes of ESA, Bioassay and Code 000. Visit the links for more information and sample tracks.
http://www.myspace.com/djdaemonchadeau
Article : http://nightwall.com/la-video-du-jour-linvasion-des-pixels-geek-tetris-pacman-467
Pixels by patrick Jean – Invasion pixels : geek tetris pacman and spider invasion !
Patrick Jean is DIVISION's latest signature.
This is Patrick Jean's new project feat. Naïve New Beaters "L.A. trumpets".
The video's been produced at OneMoreProd and Patrick's represented for commercial projects by DIVISION.
http://www.youtube.com/watch?v=qASf5DEN_c4&feature=player_embedded
Pixel is the video of the day. The new creation of Patrick John was an immediate success on the web. And it is deserved, since it is very successful: Imagine a rebellion by a few pixels in our all-digital world, and here we are at the heart of the games we had imagined: a portion of Tetris with buildings, stations Pacman eats subways, Space Invaders and Donkey Kong invade us balance his barrel in the street!
Many of you know that I am agreat fan of manga, anime, tokidoki and similar art stuff and pixel art is no exception. Pixel art gives the same type of pleasure as C64/bitpop music and therefore I just wanted to share one of my favorite pixel sites – which in principal is just one big f-cking image – printed it would certainly cover a very large painting – a smal snap shot from it is pasted below, but be sure to click the image to see the actual one and make sure to surf around in the pixel world.