rrarrow – new experimental modular audio effect and noise machine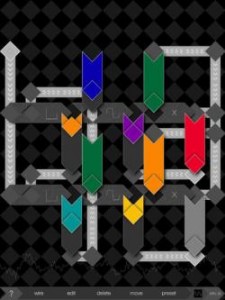 Alexey Nadzharov has introduced rrarrow – described as an 'experimental modular audio effect and noise machine' for the iPad.
Features:
Simplicity – The interface is simplified for faster assembly and more flexible connectivity – you can assemble your effect very fast and control all the processing parameters with the audio signal!
Feedback capabilities – You can add feedbacks to the audio chain to get some chaotic noise sounds .
Twelve blocks for audio processing:

Sine generator. Basic oscillator with sine waveform
Signal multiplier
Delay
Frequency shifter
Envelope follower
Lorenz attractor
Quantizer
Sample-and-hold
Reverb
Special Lowpass filter
Clipper
Nonlinear shaper (for self-oscillating circuit)

Audiobus support. Now you can stream live audio directly to other Audiobus-compatible apps! See http://audiob.us for more information. Works as input and filter.
Background audio support: enabled when connected to Audiobus and user switchable otherwise.
Comments