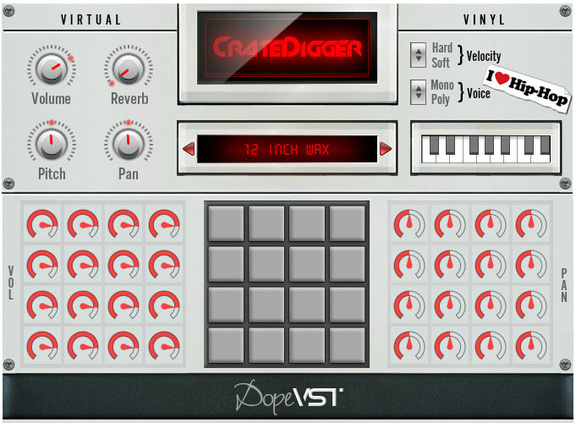 Plugin Boutique has introduced Crate Digger, a virtual vinyl system by DopeVST.
Crate Digger is an innovative VST / AU plug-in for PC or MAC. We have designed this "instrument" to give beat makers and crate diggers an instant library of royalty free, vinyl style Hip Hop samples.

The software contains 800 unique hand crafted samples distributed across 50 included patches and with a new "crate" expansion pack released monthly, you will never be short of ideas in the lab.
Crate Digger features
800 quality crafted classic samples including stabs, chops, loops, FX and more.
50 themed patches all EQ'ed mixed and key grouped for instant use.
100% Royalty Free, all these samples are made from scratch by our own team of producers.
16 separate volume and pan controls.
Velocity selection and Mono/Poly modes..
Built in flexible pitch and drive controls.
Includes a built in analog style reverb.
New "crate" expansions will be released monthly.
Ultra low CPU usage [perfect if you own a laptop / tablet / low spec PC/MAC].
Ultra fast patch loading [flick through patches in lightening quick times].
Program your chops manually or use a MIDI/USB controller/keyboard/MPD Royalty Free Hip Hop Samples.
Crate Digger is available from Plugin Boutique for £60.50 GBP.
Create vinyl record scratches and learn about Ableton's various Delay Plug in's modes.
Download the AfroDJMac Vinyl Scratcher Rack for free @ http://bit.ly/freesynth91
"For me this has got to be the coolest way to play music..it takes me right back to the days of putting a record on…"
Vinyl – the Real Record Player – turns your iPad into a vintage record player. Listen to your music the old-fashioned way, while enjoying a crisp design, high-quality sound and cool technical gizmos.
Vinyl consists of seven different record players, from plastic toy player to full-fledged hi-fi. Every record player allows you to travel back to an old-school music experience. From the 1940's to the start of the new millennium: Vinyl gives you the unique look, feel and sound.
What's more, records get gray and scratchy when played frequently. But don't worry, you can restore them anytime by tapping the magical clean button. And wait 'till you shake your iPad! Give it a try.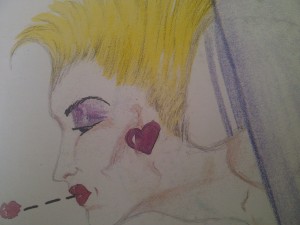 OK so here's a little test for you all on this nice sunny Monday morning (at least here in Northern Europe)
Let us know if you know which single this is – artist and title of the track
Hints: There's a synth pioneer involved and it was released in 1985
Drop your votes in the "comments"
//SBC
London's Vinyl Factory art gallery are putting on an exhibition of Kraftwerk's iconic 7" single covers.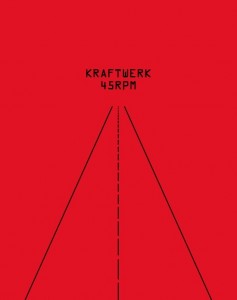 'Kraftwerk. 45 RPM' will run from September 13 to October 5, displaying 45 single covers and displaying the group's unique minimalist sleeve art.
The Chelsea gallery are also publishing a limited edition book of the exhibition, with a print run of only 300 copies, which will catalogue the covers, as well as including an essay by collector Toby Mott and an exclusive 7" single of a rare Kraftwerk interview.
To pre-order a copy of the book, you can visit the VF Editions website right here.
More about the book:
The Vinyl Factory and The Mott Collection are pleased to announce a new exhibition and commemorative book: Kraftwerk. 45 RPM. The exhibit consists of 45 iconic 7" Kraftwerk single covers that showcase the band's remarkable aesthetic – an analogue past dreaming of today's digital present. Limited to just 300 copies worldwide, the book documents 45 Kraftwerk singles from The Mott Collection, and includes an essay by collector Toby Mott and an exclusive 7" single of a rare Kraftwerk interview. During the mid-'70s, Germany's Kraftwerk established the sonic blueprint followed by an extraordinary number of artists in the decades to come. From the British new romantic movement to hip-hop to techno, the group's self-described "robot pop" – hypnotically minimal, obliquely rhythmic music performed solely via electronic means – resonates in virtually every new development to impact the contemporary pop scene of the late-20th century, and as pioneers of the electronic music form, their enduring influence cannot be overstated. Always ahead of the curve, Kraftwerk acknowledged that urban life was alienating yet celebrated the joys of modern technology. Their wistful melodies of contemporary reality were ironic but also a prediction of times to come. Now, as we sit and play with our iPhones, sharing picture messages, we are living in Kraftwerk's 'Pocket Calculator'.
Free Ableton Live AfroDJRack #60: Tape Hiss and Vinyl Crackle. This package contains 16 samples of tape hiss and vinyl crackle noises, a drum rack that allows you to effect them and put them together rhythmically, as well as an instrument rack that makes any synth sound as if it were sampled from tape or vinyl. Tape hiss from old cassette tapes and Tascam 8 track. Vinyl crackles from different records of varying quality. Super useful

Download @ http://bit.ly/freesynth60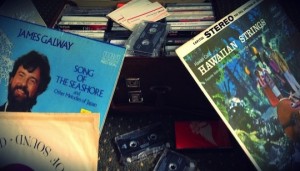 After busting out my old Ka-Boom Box, and dusting off what remains of my cassette tape collection, I started sampling empty sections of the tapes.   While I was at it, I took out some vinyl records of varying condition, sampled those, and grabbed a few minutes of tape noise from my Tascam Reel to Reel (the bad boy used on the Super Tape Drums Ableton Pack).  I've used those samples to create a pretty excellent Ableton Live Pack for you all!
Here is a video breaking down the creative process of a sampled based beat using Native Instruments Maschine and Vinyl records. We included a few screen shots of the Maschine software as I made changes on the control surface. We start off by grabbing a few records, pulling some drums, Choosing some samples and then we put the whole thing together and sequence it using the Maschine's software.
Want to hear more? Check out B.A.D Company – Bars and Drums (Produced by Asterix) on Itunes http://itun.es/iLY3LT.
Benga – I Will Never Change
"When we were asked to pitch on the promo they sent us the track as a 'Soundcloud' link, we usually get it sent as an MP3. For the first time we were not just listening to the track we were also watching it. There was something mesmerising about this in its simplicity. This ignited the idea to create a real life three dimensional waveform. We started to think about the fact that a vast amount of our music is consumed online and has lost a sense of physicality this lead us to the idea of using vinyl records. We also loved the way it related to Benga as an artist who's background comes from using records as a DJ or producer.
The maths worked we would need 960 records to create 1 minute and 20 seconds worth of wave form. Each one had to be individually cut to a specific size, hand labeled, hand numbered and then finally polished. This prep took 7 full working days and then the animation process took around 30 hours.
To animate the wave form, we built it and then carefully removed each individual record. This had to be done very gently as any shift in the position of the sculpture would result in the failure of the animation and as we had to literally destroy each piece of vinyl to get it off, there was only one chance to get it right. Once the sculpture was finally built, the animation process took about 30 hours."
Download the full track here – smarturl.it/Benga-IWNC
Directors – Us
Producer – Liz Kessler
Line Producer – Connor Hollman
DoP – Matt Fox
Gaffer – Ben Fordesman
Editor – Vid Price
Grade – Mark Horrobin
Animation – Alice Dupre
Structural consultant – Jorge Betancor
Runner – Tayo Rapoport
Runner – Paul Mckelvie
Runner – Chaelyn Allcock
Production Company – A+
Commissioner – Dan Millar
Management – Phil Hutcheon / Andrew Foggin
Ableton Live Pack featuring vinyl crackle effect. This effect rack is designed to make your audio sound as if it were sampled from a vinyl record. It's a modification of the vinyl distortion plug in, but will only introduce the crackles and pops when the audio is playing. Perfect for making drum samples sound like they were sampled from a record player.
Free Download: http://bit.ly/freesynth56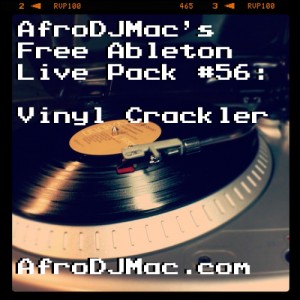 Ableton Live comes with a cool little plug in called vinyl distortion.  It adds a layer of record player crackles and pops over any track it is inserted on.  This can be a great effect for adding a retro quality to your tracks.

Recently, I was playing around with some live drum samples I set up in an instrument rack and I wanted to create the illusion that those samples came from an old record.  I placed the vinyl distortion plug in on the track, but it wasn't the effect I was looking for.  The plug in constantly emits a vinyl crackle.  It doesn't matter whether the song is playing or not, the vinyl distortion plug in is always outputting vinyl crackles.  If my samples were taken off of a vinyl record, you would only hear the crackling while the sample is playing.  To solve this problem I create this week's free Ableton Live Rack: Vinyl Crackler.
Experimental analog sampling with modified vinyls.
Sectors from a vinyl record are cut and replaced by pieces with exact shape from other records. When played in a vinyl player the needle follows the grooves from both sectors creating sampled tunes or loops.
Music sampling has been done for years using different techniques. Currently samplers (either as a piece of hardware or as software) is the most extended tool for playing samples that can come from digital formatted music, live recording, vinyls or tapes. One of the most old techniques for sampling was cut&paste the audio tape. I love this video from Delia Derbyshire using reel-to-reel recording, creating loops by cut&pasting the audio tape, and sync the samples to create music. More information here: blog.ishback.com/​?p=918

In this video:

Supertramp – Crisis? What Crisis?
Paul Anka – My Way
Chicago – Chicago X
Lil Jon – Kings of Crunk