August 16, 2012 · Posted in
Uncategorized
·
Comments Off

on 45 vinyl singles with Kraftwerk on display in UK art-gallery
London's Vinyl Factory art gallery are putting on an exhibition of Kraftwerk's iconic 7" single covers.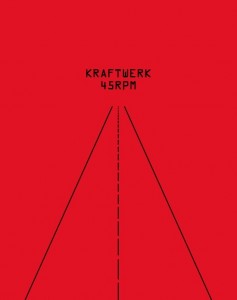 'Kraftwerk. 45 RPM' will run from September 13 to October 5, displaying 45 single covers and displaying the group's unique minimalist sleeve art.
The Chelsea gallery are also publishing a limited edition book of the exhibition, with a print run of only 300 copies, which will catalogue the covers, as well as including an essay by collector Toby Mott and an exclusive 7" single of a rare Kraftwerk interview.
To pre-order a copy of the book, you can visit the VF Editions website right here.
More about the book:
The Vinyl Factory and The Mott Collection are pleased to announce a new exhibition and commemorative book: Kraftwerk. 45 RPM. The exhibit consists of 45 iconic 7" Kraftwerk single covers that showcase the band's remarkable aesthetic – an analogue past dreaming of today's digital present. Limited to just 300 copies worldwide, the book documents 45 Kraftwerk singles from The Mott Collection, and includes an essay by collector Toby Mott and an exclusive 7" single of a rare Kraftwerk interview. During the mid-'70s, Germany's Kraftwerk established the sonic blueprint followed by an extraordinary number of artists in the decades to come. From the British new romantic movement to hip-hop to techno, the group's self-described "robot pop" – hypnotically minimal, obliquely rhythmic music performed solely via electronic means – resonates in virtually every new development to impact the contemporary pop scene of the late-20th century, and as pioneers of the electronic music form, their enduring influence cannot be overstated. Always ahead of the curve, Kraftwerk acknowledged that urban life was alienating yet celebrated the joys of modern technology. Their wistful melodies of contemporary reality were ironic but also a prediction of times to come. Now, as we sit and play with our iPhones, sharing picture messages, we are living in Kraftwerk's 'Pocket Calculator'.
September 12, 2008 · Posted in
Electronic Music
·
Comments Off

on Exhibition: Magical Sound Machines
The exhibition MAGICAL SOUND MACHINES relates the (hi)stories of sound generators, sound recorders and sound transmitters. The extensive presentation will kiss awake ariston, mellotron, rhythmicon and many other, partly forgotten sound machines from their hundred-year sleep so that young and old, the general public and experts alike can experience and enjoy them on an interactive discovery tour.

MAGICAL SOUND MACHINES is an exhibition against oblivion. By means of the objects displayed the IMA Institute of Media Archaeology traces an exemplary history of our media age, with special attention being paid to technical as well as musical and artistic developments. The exhibited objects enchant with their (hi)stories, design and the visions connected to them and their inventors and users.