Free Ableton Live Pack – Vinyl Crackler
Ableton Live Pack featuring vinyl crackle effect. This effect rack is designed to make your audio sound as if it were sampled from a vinyl record. It's a modification of the vinyl distortion plug in, but will only introduce the crackles and pops when the audio is playing. Perfect for making drum samples sound like they were sampled from a record player.
Free Download: http://bit.ly/freesynth56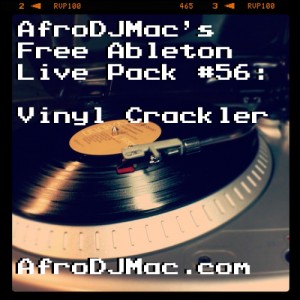 Ableton Live comes with a cool little plug in called vinyl distortion.  It adds a layer of record player crackles and pops over any track it is inserted on.  This can be a great effect for adding a retro quality to your tracks.

Recently, I was playing around with some live drum samples I set up in an instrument rack and I wanted to create the illusion that those samples came from an old record.  I placed the vinyl distortion plug in on the track, but it wasn't the effect I was looking for.  The plug in constantly emits a vinyl crackle.  It doesn't matter whether the song is playing or not, the vinyl distortion plug in is always outputting vinyl crackles.  If my samples were taken off of a vinyl record, you would only hear the crackling while the sample is playing.  To solve this problem I create this week's free Ableton Live Rack: Vinyl Crackler.
Comments