Kern Brantley and Brockett Parsons talk about using Roland synths on the Lady Gaga tour.
The English electronic music duo Goldfrapp have remixed Lady Gaga's "Judas". A video was released on the official Lady Gaga YouTube channel. In the meantime Goldfrapp fans are discussing whether or not this was a submission on spec or not (on spec meaning that it is an unpaid mix). Whatever the reason is, just judge for yourself.
Goldfrapp are currently working on a new album. The band which is currently labelless will be releasing a 'Best Of' album in Fall/Winter 2011.
Via SL
Lady Gaga on a Tesla Coils is a real treat. Girl Talk (aka friend-of-the-blog Gregg Gillis) submitted his song "This Is the Remix" as part of an experiment by the Tesla Orchestra called the Open Spark Project. The venture asked musicians to hand over music that the orchestra could play on its giant Tesla coils.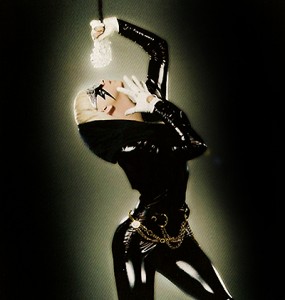 Artists submitted MIDI files of their music, which the Tesla Orchestra then turned into spark tunes (many of them can be heard following "This Is the Remix" in the clip above). The orchestra performed the songs Saturday in Cleveland.
With the exception of Gillis' track and a Bach song, all the music collected for the Open Spark Project was original and most of it was composed to be performed using Tesla coils, which can only play one note at a time. Using coils with those limitations made it harder to arrange Girl Talk's track, said Tesla Orchestra music director Keith Lewis in a phone interview with Wired.com.
"Taking something where there's chords and multiple melodies, you've got to pick and choose which ones you use for the coils," Lewis said. "We pick out the main melody and usually the bass line or harmony line from the existing track and plug them into a standard MIDI track and send that information to the coils and then play the backing track along with it."
The coils themselves were built by the Tesla Orchestra, which hails from Case Western Reserve University in Cleveland. The machines are designed to emit bolts of electricity that match the notes on a keyboard.
http://www.youtube.com/watch?v=0m5oVLRibvI
Live remix of Lady Gaga Born this way by DJ Galactic.
Electronic music, with Roland MC-909 + Korg Electribe MX-1; I created this beat last week, and the idea was to make a funky gaga groove. http://www.djgalactic.com
Lady Gaga Born this Way remix (DJ Galactic)
Dave from BoyInABand.com has put up a tutorial of how to re-create Lady Gaga's Poker face using synths in Reason. What I like especially about this tutorial is that he built the synths from scratch rather than loaded up a VST. So instead of just copying what he does, you actually learn something
The final outcome:
And here's how he did it in Ableton Live, who actually was chosen as the number 1 DAW at ST
There are several pieces of Youtube videos connected to this one so the rest you will have to see on his Youtube channel
Lady Gaga has said she wants to record a cover of Depeche Mode's 1984 hit song "People are people" adding "I could really give it the melody it never had".  24-year old Lady Gaga who wasn't even born when the Depeche Mode track was released, has been inspired by the many mash-ups between Depeche Mode and some of her songs that are floating on the Internet.
So she says: "I spend literally hours on YouTube each day checking what people post about me, reading the comments and so on. And I was so surprised that many Depeche Mode fans appeared to be Lady Gaga fans. I didn't know the band existed until I saw a mash-up of 'Paparazzi' with 'Just Can't Get Enough'. I advise everyone to check out Depeche Mode, they are so underrated."
In the same interview she appears to believe that Vince Clarke (Erasure) is still part of the band: "I'm a huge fan of Erasure and it was so funny when I heard that Vince is also a part of Depeche Mode! It's so unlike his Erasure sound!" So how did she end up choosing "People are people"? Simple: "My manager choose the song for me, he knows things so much better." Ok… well, you all know what to expect: an Erasure version of "People are people". That promises to be funny!
Speaking of Lady Gaga and Depeche mash-ups check out the two shots below:
http://www.youtube.com/watch?v=IfP-5qT5Q5s