Lady Gaga performed on Tesla Coils
Lady Gaga on a Tesla Coils is a real treat. Girl Talk (aka friend-of-the-blog Gregg Gillis) submitted his song "This Is the Remix" as part of an experiment by the Tesla Orchestra called the Open Spark Project. The venture asked musicians to hand over music that the orchestra could play on its giant Tesla coils.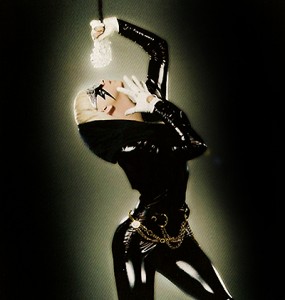 Artists submitted MIDI files of their music, which the Tesla Orchestra then turned into spark tunes (many of them can be heard following "This Is the Remix" in the clip above). The orchestra performed the songs Saturday in Cleveland.
With the exception of Gillis' track and a Bach song, all the music collected for the Open Spark Project was original and most of it was composed to be performed using Tesla coils, which can only play one note at a time. Using coils with those limitations made it harder to arrange Girl Talk's track, said Tesla Orchestra music director Keith Lewis in a phone interview with Wired.com.
"Taking something where there's chords and multiple melodies, you've got to pick and choose which ones you use for the coils," Lewis said. "We pick out the main melody and usually the bass line or harmony line from the existing track and plug them into a standard MIDI track and send that information to the coils and then play the backing track along with it."
The coils themselves were built by the Tesla Orchestra, which hails from Case Western Reserve University in Cleveland. The machines are designed to emit bolts of electricity that match the notes on a keyboard.
Comments