The K1 is one of Kawai's most economic digital synthesizers in the K-series. The K1 has 256 digital samples of waveforms, 50 of which are from acoustic instruments. You combine up to four wave shapes to create very new and unique sounds. The K1 is capable of very good acoustic recreation, excellent unique synth sounds or at times, completely noisy walls of complex sound.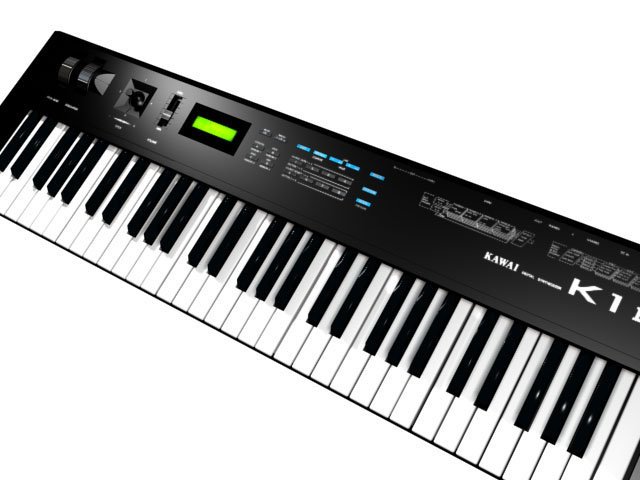 The K1 comes in many options: the K1m module/desktop version and the rackmount K1r (pictured above). It makes a great entry-level or back-up synth. Budget digital D-50-like synthesis doesn't get much better than this!
This is presentation of 64 custom designed SynthCorner presets for Kawai K1 synthesizer (also for K1m and K1r). There are many electronic sounds grouped as: pads, synth, bass, synth guitar, seq. Recorded directly form K1's stereo outs and with additional reverb FX.
You can buy this 64 Single Presets in SysEx/MidiFile format for only 6 Euros (via PayPal). Just email me at vukansto@gmail.com
Kawai K1 specification:
– 16 note polyphonic
– 8 part multitimbral
– 64 single presets
– 32 multi presets
– 256 waveforms
– 4 waves as one Single preset
– DC-8 card (RAM and ROM)
– 2 audio outs
Enjoy!
Demo song from the Kawai K11 synthesizer recorded direct with no additional effects.
The K11 is a synthesizer with a sound set based on the General MIDI instrument list. It is the keyboard version of the Kawai GMega module and is most similar to the Kawai K4, but updated for the General MIDI standard finalized in 1991.
For more information and manuals for this and other synthesizers, visithttp://soundprogramming.net/synthesiz…
Demo of the Kawai K5000S advanced additive synthesizer, running OS ver.4.04. A beautiful-sounding, different, powerful and distinct synth from 1996.
A few Kawai K5000S pads from the ASL4 library
About the synth:
The K5000 was Kawai's top of the line music workstation digital synthesizer when it was released back in 1996. It's a bold and elegantly designed synth with a large LCD display, realtime controls and incredible sounds! The look and functionality is rivals the competition from the time…the Korg Trinity and Kurzweil K2500
Programming sounds with the K5000 can be a breeze (once you learn how) although it has over 1,000 parameters per patch! That's plenty to play with. It combines additive synthesis and PCM sampled waveforms for you to layer and combine to design a whole range of sounds. Plenty of LFO modulation, filters and envelope controls allow you to shape and morph your sounds further. On-board multi-effects add the final touch of life to your sounds.
Once you've created some sounds, there's the on-board sequencer (K5000W only) for creating songs or loading Standard Midi File sequences (via disk-drive). It has a 40,000 note capacity and 40 tracks. Real-time record and step-edit modes are available and the sequencer is pretty straight forward.
The K5000S (pictured above) adds 12 dedicated knobs for hands-on control of filter, LFO and envelope parameters. There are 4 user-definable knobs and 2 assignable switches. The K5000S also has a 40-pattern arpeggiator on-board with 8 user-definable patterns too! K5000's have been used by Kraftwerk.
.
This video features the exceptional Kawai K5000 and its capabilty for tweakable PADs.
The pad is Kawai K5000R only. Single sound. 1 layer. No overdub on this track.
The other instruments:
MAM ADX1, Korg Electribe SX.
The train ride is from Berlin Central Station to Berlin Alexanderplatz.
Background video description:
Yesterday was E-day, always inspiring, you met people who are also involved in E-music which genarate new ideas.
This one pops up, just a combinated single 8 step and 4 step row off the Doepfer Dark Time. The 4 step row controls the Moog LP bass and the 8 step the Waldorf micro Q and at 2:36 the Roland Juno 106.
Additional sounds/solo's came from the Korg DS 8/Lamda, Realistic Concertmate MG-1 and the Kawai K1r.
Used delay's for the Moog two from the Yamaha E1005 and the Ibanez DM1000, for Waldorf the Alesis Midiverb (3 triplets) and the Ibanez DM1000.
For the Juno I use the Electrix. Mo-fx.
Halfway there are some variations in tone / octave settings (Berlin School style).
I hope your enjoy, and feel free to leave a comment/question
Use a good audio device to listen to it.
greetings Hans
"Skoulaman"
"Just messing around with Kawai K3 patches, selecting some parameters, controlling with the main wheel, sequenced by Ableton w reverb/delay."
"Just running through some sounds, messing around. Ableton sequencing midi, ableton reverb/delay on the synths"
http://youtu.be/T1hZgELpBGU
Background information:
On my Kawai SR-7 organ. Homage to "I Feel Love" by Donna Summer and "Blade Runner Theme" by Vangelis. These seem to gel together in a loose way. Yamaha HS-8 on the right has nice string sounds.
Background information on this video from Andy:
Hi All,
Better late than never. Having issues making anything stick, Fell upon this idea and just went with it…..Suggest a Decent pair of Headphones or Monitors – Turned up!!!
A piece of music that started out in Reason 5 using Dr Rex Loop player, I exported a couple of loops to use in my Cubase Project and worked up from there. This piece was recorded live into Cubase using a total of 8 Tracks of audio. I hope to add more tracks and make it last longer for better effect and pad this piece out with some extra sounds to add to the ambient effect (located somewhere in this track)
Some big Pad sounds from both Kawai and Radias – earning them their right to stay in the studio. The Minimoog giving me that nice deep growling bass I wanted for this music and taking full advantage of the Pitch and Mod Wheels. The Radias and the XL set the theme to start the Music off into the Voyage into the unknown
The main part of this video is of me (apparently struggling) unpacking the Voyager XL – Yes this is a heavy unit and one I did not want to drop, not that it would hurt the Moog, just probably crack the floor

Probably the sexiest looking synth ever – if you like the retro look and love analogue (digital is nice …But……)
The very last part of this video with the Drums and Moog – The stereo effect is direct from the Voyager XL by using the Touch Panel to effect change in EG and its Position in the Stereo image – This will form part of the continuation for this piece of Music – Not sure on what direction I am heading in yet with this, needless to say the Moog's will be out to play
Hope you enjoy this as much as I did putting this together.
Many thanks for dropping by and watching
Andy
MARK JENKINS "Space Dreams & Sequencers" live at the Shaw Theatre, London. Background video effects by Mark Jenkins using the Fairlight CVI Computer Visual Instrument. Includes part of "Millennium" from the CD "Space Dreams" available worldwide through Amazon (dealer; mark jenkins music) and www.markjenkins.co
Instrumentation includes;
Roland JD800 (recorded), Korg M1, multitrack sequencer, Kawai PH50, Roland Octapad