Check out the new psyGEN synth and Circuit multiband waveshape modelling plugins
M-RGT has announced the release of psyGEN, an experimental granular synthesizer plug-in for Windows.
Using granular synthesis as a basis it adds extensive Modulation and FX capabilities to take any type of .wav file source and turn it into a multi-layered composition of great complexity.

With the built-in 16 track sequencer, long evolving ambient/drone sounds can be created and cross-faded with other sounds to create dense tapestries of sound. Also, the sequencer allows for more rhythmic based compositions or patches as well. It is possible to create an entire composition with just one track incorporating many variations.

psyGEN can be used as a standalone synthesizer with a plug-in like SaviHost or similar program or can be installed as a VSTi with a Host DAW.
The psyGEN plug-in for Windows (VST) is available to purchase for $33.50 USD.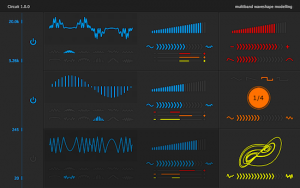 Sinevibes has announced the release of Circuit, its latest Audio Unit effect plugin for multiband waveshape modelling.
Circuit splits the signal into three frequency bands, and passes each band through its own processing engine which offers 12 different algorithms – from sine-based waveshape transformers and foldback distortion, to circuit-bent filters, lo-fi and ring modulation. These models can be further modulated by an input envelope follower, tempo-synchronized LFO or two-dimensional Lorenz attractor. All this is wrapped into a stylish, colour-coded interface based on Sinevibes' innovative design language, which makes it incredibly fun to work with.
Circuit features
Morph lifeless waveforms into entirely new, rich and dense sounds.
Transform synth basses and leads into completely different, layered material.
Re-synthesise and mangle electronic drum loops beyond recognition.
Circuit is available to purchase for $29 USD. It is also included in the Sinevibes plug-in bundle for $119 USD.
Comments