SyncerSoft has announced the release of its Lizard Morph freeware effect plugin for Windows.
Lizard Morph is detune and morph effect designed to deliver the powerful, penetrating sounds favoured by trance musicians. It's ideal for use in trance, dance, techno, dubstep, electronica, drum n bass, big beat, dub, reggae and all other styles.

LFO modulation sections was designed specialy for Dubstep genre but can be used in other styles too of course. The plug-in contains: Main section. Filter section. LFO section. Morph section.
The plug-in is available to download as a freeware VST effect plugin for Windows.
More info – http://bit.ly/Ark8bk
In this video tutorial, Dubspot Electronic Music Production and Sound Design instructor Evan Sutton demonstrates arpeggiation and morphing function of Native Instruments' FM8, and uses them to build TB-303 style acid/techno bassline.
__/__/__/__/__/__/__/__/__/__/__/__/__/__/
We'll start with a classic FM pair, which consists of two oscillators, each loaded with sine waves. Once a usable tone has been created, movement is introduced by adjusting the modulator's amplitude envelope. The arpeggiator in FM8 is designed to take incoming notes and build a new sequence according to the settings in the Pattern Editor. It blurs the line between step sequencer and arpeggiator, as it has a step matrix, with many flexible features. The last step is to create some variations on the sound. FM8's morphing capabilities allow for four different patches to be transitioned between (morphed). Remember that not all parameters in FM8 can be morphed. All FM8 library patches have four morph variations built in. Once the sound is complete, it's time to jam. We'll add MIDI control for the morph box in the host DAW, and fire away. – Dubspot Instructor Evan Sutton
Introduction to SONiVOX's TWIST – Spectral Morphing Synthesizer:
Spectral Morphing Synthesizer, an innovative new approach to synthesis and sound design from SONiVOX's Nemesynth Audio Research Group. TWIST offers unmatched, yet almost effortless control over some of the most unique sounds you will ever design.
Spectral Morphing Synthesis
A whole new approach to synthesis, Spectral Morphing Synthesis produces a striking, rich, controllable, and constantly evolving sound, perfect for use in pop, hip hop, and even avant-garde electronic music production.
Sound Design Made Easy
The innovation found in TWIST doesnt stop with its sound. Users will delight at the speed and ease of sound sculpting and sonic personalization afforded by TWISTs unique design. Rip, stretch, and contort with a simple TWIST of a knob. Making your own signature sounds have never been so easy!
Realtime Performance Features:
In addition to being completely unique sounding and easy to manipulate sonically, TWIST also includes a nifty pattern generator that transposes to your whim on the fly, as well as SONiVOXs I.R.C. (Intelligent Rhythm Control), putting your performance in perfect time in realtime.
Factory Sound Bank:
SONiVOXs world-class team of sound designers and synth tweakers have programmed up a bevy of over 200 mind-blowing patches that you can easily TWIST away into thousands and save as your very own.
Feature list:
New Patent Pending Spectral Morphing Synthesis engine
Ultra-user-friendly graphical user interface that makes sound creation
and personalization easy
SONiVOX's Intelligent Rhythm Control (I.R.C.) technology
Over 200 factory presets that can be easily personalized into thousands
Onboard tempo-synced variable resolution pattern generator
MIDI Learn & Save Function – Lock TWISTs controls up with any midi
controller.
Onboard chorus, tempo sync delay, and reverb fx
PC Standalone, VST and RTAS Compatibility.
MAC Standalone, AU, VST, and RTAS Compatibility.
The multi-band delay machine FDELAY is an exciting tool for sound design and loop manipulation in realtime. In contrast to the delay machines you're used to FDELAY splits the frequency spectrum of the input signal into 27 bands and applies a separate delay unit to each band. The delay times can be synchronized to the host tempo generating nearly infinite rhythmical and sonic variations of the input signal. For each of the delay bands you can specify the delay time, the level and the feedback amount separately. These parameter changes can even be automized in realtime for glitch free rhythmical morphings.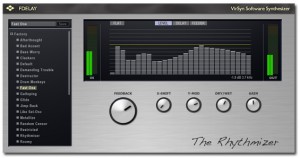 A few high level parameters let you change the delay times and feedbacks of all delays with the turn of a single knob
The Rhythmizer
– 27 band realtime multiband delay.
– Frequency dependant level, delay time and feedback
– Linear phase precision filters for maximal transparency
– Tempo syncable delay times up to 6 seconds.
– Meta parameter for quick access to rhythm variations
– Minimized latency ( 12 ms )
Host compatibility
– VST 3
– VST 2.4
– AudioUnit
– RTAS
Minimal system requirements PC
° Intel Pentium 4 / Intel Core Duo / AMD Athlon 64
° 1GB RAM
° Microsoft Windows XP 32bit or Vista 23/64bit or Windows 7 32/64bit
° USB port required for eLicenser copy protection device
° VST2.4 / VST3 / RTAS compatible host sequencer.
Minimal system requirements Mac
° Intel Core Duo.
° 1 GB RAM
° Mac OS X version 10.5 / 10.6
° USB port required for eLicenser copy protection device
° AudioUnit / VST2.4 / VST3 / RTAS compatible host sequencer.
This is a quick demo of Morphing Shadows' Collage (App Store link), a $.99 interactive music album for iOS.
The album is presented as an application that combines track playback with basic remix and effect options.
Features:
Complete music album with 5 original songs.
Over 100 loops for remixes
Loop include drums, basses, synths and effects
Real time effects – LPF, Flanger and Bitcrusher
XY touchpad.
Five track mixer with level meters
Mute/unmute the tracks in any remix mode
Recording remixes and listening in built-in player
Sharing remixes on SoundCloud and Twitter (WiFi recommended)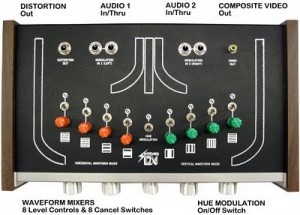 A demonstration of our set of custom modifications for the Atari Video Music video synthesizer/audiovisualizer. The modifications involve controls to glitch out and morph the output shape/pattern, a composite video output, operation as a static image synthesizer, upgraded 1/4″ input and thru jacks for both audio inputs, and a distortion output (in which the guitar is run through in some of these clips.) For more information on purchasing a modified video music, or getting yours modified, please visit http://switchedonaustin.com/other-ins…"
Be sure to see the rest of Switched On for more. "We specialize in vintage synths, drum machines, effects, full service repair & modifications as well as computer music tools & accessories. Not to mention workshops & classes!
Jamming on an iPad using various apps like Shiny Drums, MorphWiz, Filtatron etc.
Shared with us via rishabhrajan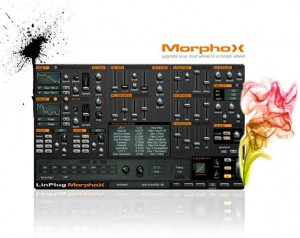 Linplug have released the Morphox synth which features a 'Morph' wheel. Here's what they have to say about it…
Simplicity is the key
Dont get stuck in complexity, with Morphox you just need the modulation wheel and the keys to experience yet unheard expression and transformation in sound. Morphing made simple, in realtime, drastic changes in sound, right at your morph wheel.
Simplicity is the wheel When you play and hear Morphox you won't believe it's just a quite simple subtractive synth with chorus, delay and an arpeggiator. It's dead easy to create your own morphing sounds. To get you started we hired some of the finest sounds designers to create 400 factory presets.
Key Features
the sound can be continuously morphed between two individual sounds including effects using the modulation wheel.
powerful yet easy to operate subtractive sound engine with many extraordinary modulation options (its a LinPlug)
Stereo Filter with simultaneous low pass, band pass and high pass and Filter FM
Modulation Matrix (10 routings, 20+ sources, 40+ destinations)
user programable 16 step Arpeggiator
Microtonal support (TUN file import)
Pricing and Availability:
129 US$ / 99 Euro
More information:
A song using some VSTis and music apps for the iPad.
VSTis: Garritan Steinway, EDIROL ORCHESTRAL, Broomstick Bass and EZ-drummer.
iPad apps: MorphWiz (Lead) and Expression Pad
*The guitar was recorded using a V-amp3.
Listen on SoundCloud.com: http://soundcloud.com/musicapps/vstis…
More about Music Apps and mobile music on www.musicapps.com.br
massTURBOtar is a new hybrid synthesizer that offers unique morphing capabilities.
Features:
Two morphable oscillators.
Lowpass/Bandpass/Hipass (band type and width controlled via 12dB/octave lowpass and hipass filter).
A/R amplifier envelope.
Modulation : sine/pulse lfo and A/DR envelope both with morphable destination.
Voice control: polyphonic/ legato.
Effects: chorus, sample rate reduction, soft saturation, delay.
Parameters are controlled by MORFIKI preset system, velocity to bank modulation with adjustable smoothing included.
Dropdown menus with fixed values for oscillator scale transposition and tempo.
Host synchronization for lfo speed.
Availability
massTURBOtar is available now as a free download.
Link: