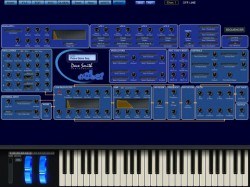 SoundTower has introduced Evolver Editor, a dedicated iPad patch editor for the Dave Smith Instruments Evolver synthesizer.
Evolver Sound Editor is an editor and sound development tool, created specifically for Dave Smith Instruments Evolver synthesizer.
Evolver Sound Editor displays all Evolver Program parameters in a single graphical interface. 
Features:
Real time editing of all Evolver parameters
Program Bank manager
Load/Save of Program Banks
Transmitting and receiving of Program Bank data
Sequencer editor
Resizable on-screen keyboard
Direct USB/MIDI connection with Apple iPad Camera Adapter
Wireless connection possible using MIDI network
Magnified editing panels
The Evolver Sound Editor is available for US $24.99 in the App Store.
In this video 'The Tuesday Night Machines' creates a modular synth patch from scratch in 5 Minutes
MORE INFO:
Eurorack Modular Synth Modules used in this video:
– Doepfer A-138 Exponential Mixer
– Intellijel Dixie 1 VCO
– Music Thing Modular Thonk Turing Machine & Pulses Expander Sequencer
– Intellijel uScale 1 Quantizer
– Malekko Wiard Anti-Oscillator VCO
– Klangbau Wavetable VCDO
– Erika Polivoks VCF Filter
– Synthrotek EKO Delay
– Make Noise Function Generator
– Intellijel Quadra Quad Envelope Generator
Filmed with a Canon EOS 550D (Rebel t2i).
Little demo of the Paraphonic Scene for the Moog Voyager in the iPad app "Patch Morpher" from Jazzman Ltd.
This is not just an editor and a patch morpher allows to create new sound morphing from one sound to another, but allows your Moog Voyager to become a real paraphonic synthesizer, with all the three oscillators perfectly in tune!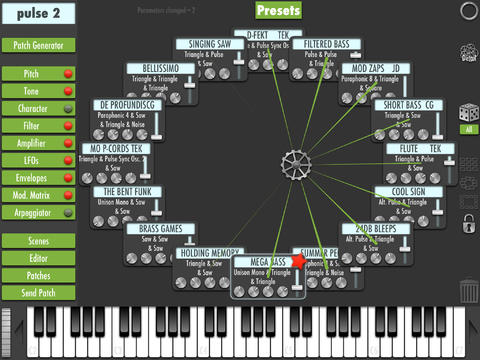 Patch Morpher is a patch librarian & editor for hardware synthesisers – with a twist: its powerful and innovative sound generator allows you to easily create your own totally original sounds without the hassle of editing 100s of parameters by hand.

This is truly innovative technology with all 5-star reviews from enthusiasts to professional sound designers.

Start with your favourite patches, then morph, blend & randomise them to create new sounds – editing 100s of parameters in real-time.

Patches can be organised into scenes for live performance, and you can then morph or mutate between them to create totally original new sounds & patches, controlling hundreds of parameters with one finger, all in real-time. You can even keep playing your synth as the sound evolves.

The fully-featured editor allows you to further tweak your sounds, taking advantage of the iPad's touch screen to give you full control whilst allowing you to view many parameters at a single glance with no hidden menus. Patches can be saved on your iPad so you won't run out of storage slots on your synthesiser.

Play the Moog Voyager paraphonically – addressing each of its three oscillators independently!

Automatically convert patches between the Prophet 08 and the Prophet 12.

Patch Morpher uses Core MIDI: connect to your synth via WiFi, the Apple camera connection kit or a compatible MIDI interface. 

Patch Morpher is compatible with the following synthesisers:
– Moog Voyager
– Access Virus TI
– Waldorf Blofeld
– Waldorf Pulse 2
– Dave Smith Mopho
– Dave Smith Prophet 08
– Dave Smith Prophet 12
– Korg KingKorg
– Mutable Instruments Shruthi-1

Please see our web-site for a video demo, user manual & free patch downloads.

Patch Morpher is an invaluable tool if you own one of these hardware synthesisers. Its revolutionary approach to patch generation makes it very easy & fun to create new & inspiring sounds. Allow your music to stand out with its own totally original sounds!
Plugin Guru has introduced Omniverse III: Aurora – a patch library for Spectrasonics Omnisphere that has its own sci-fi backstory.
Creator John "Skippy" Lehmkuhl decided to something a little different with Omniverse III: Aurora.
The patch library is based around a sci-fi concept story and comes with a 4-page comic of the 'Omniverse Chronicles'.
Demo Songs showing the 100 patches that are included in the Omniverse III: Aurora library for Spectrasonic's Omnisphere.
written by Amin Bhatia and published by Bhatia Music (SOCAN)
www.aminbhatia.com
This is the introduction video showing you the comic, the cool music and the 100 Patches that come with this awesome library for Spectrasonics Omnisphere! Get your copy from my site: www.PlugInGuru.com.
A multi-part segment of improvised patching. "The Intermission Patch" is aptly named due to it acting as an intermission during the regularly scheduled Doepfer A144 series. Stay tuned for a completed version later this month. For now some patching. Sound and Video by Raul Pena.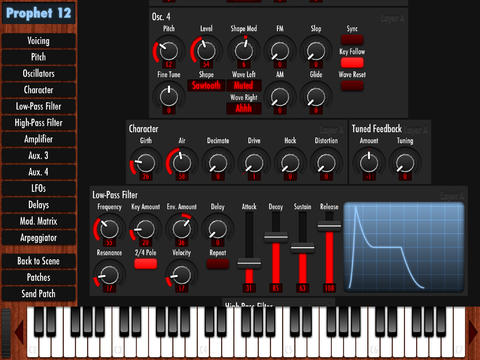 Patch Morpher  is a patch designing tool for these hardware synths by Richard Meyer:
– Moog Voyager
– Dave Smith Prophet 08
– Dave Smith Prophet 12
– Korg KingKorg
– Mutable Instruments Shruthi-1
It is designed to do multiple things – one of it is connecting parameters to one control and being able to move it and to get interpolating " morphing changes like on the Clavia Nord Synths. also it can convert Prophets from an important one to .. no from 12 to 08 and back. and you can also save your sounds to the iPad as is – it's NOT a librarian because it works "in between". but since it has memory it is able to keep the patch.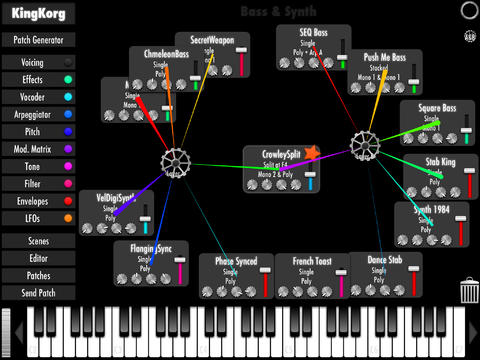 We all enjoy sci-fi so this video of course need to be shown here

Reverb soaked Buchla 100 blips and bloops
Nice tutorial from Kip Kubin, details below:
I was trying to stretch my use of voltage inverters to create more interesting and varied timbres in a sequence using Ring Mod as the sound source.
I also wanted to use the Rene as a playable instrument and allow the grace notes to be random. I'm still wrapping my head around the RENE but it's already has opened me up to new ways of using sequencers in my work.
Here's a patch cord by patch cord demonstration of setting up the Krell Muzak 1 patch from scratch on a Buchla 200e with the following modules: 261e, 266e, 281e, 292e, and 291e. A photo of the original patch, audio and video can be accessed here: m.matrixsynth.com/2012/08/krell-muzak-by-todd-barton-on-buchla.html
Oberheim Xpander playing the Toccata and Fugue in D minor, BWV 565,Johann Sebastian Bach (MIDI sequence).
Starting from the default Oberheim patch, this patch was made with the Xplorer editor, a real time editor for the Oberheim Xpander and Matrix-12.
You can download the sysex of this patch here: http://xplorer.programmer.free.fr/bb/viewtopic.php?id=15
More info about the Xplorer editor: http://xplorer-editor.com