Here are the details:
Another variation on a patch that uses the modular synth to send pitch data via midi to a soft synth (Octopus by Lin Plug). A real-time single track recording in Cubase.
Canis at Wooji Juice shared an interesting demo, embedded above, showing how you can use Grain Science to turn just about anything into a synth patch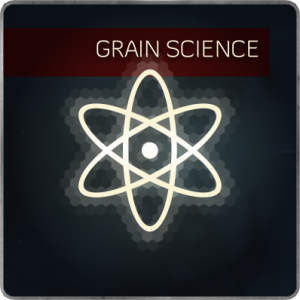 "So, a parcel arrived in the post the other day from IK Multimedia, with some of their gear inside to try out. I spent some time yesterday running around with the iMic plugged in, recording things I find around the office, and then turning them into instruments

I'm not a professional when it comes to miking stuff up, and this wasn't in a studio or anything like that. But I like the results a lot better than the built-in mic, and Grain Science has always stood out for the ways it allows you to synthesise based on captured audio. So it was fun putting that side of it to use with higher-quality sound.
These aren't designed to be presets, they're just me experimenting with different effects and seeing what variety of stuff I can make from a given recording. I've marked the original recordings on the timeline — every sound, no matter how weird it sounds, is based on the same recording (until you reach the next marker)."
Demonstration of the Erthenvar Patch Chord Eurorack module available at erthenvar.com. Functionally, the module is somewhere between an oscillator and a waveshaper – and also can be described as a bank of two octaves of oscillator controlled oscillators
The Erthenvar Patch Chord is a bank of 25 "Oscillator Controlled Oscillators", which can be used to generate chords in a Eurorack system.
The Patch Chord continously samples the cycle duration and duty cycle of the input waveform. It outputs 12 semitone steps above the input note, 12 semitone steps below the input note, and the root note itself (available from two output jacks). All outputs are pulse waveforms with continuously variable pulse width.
An oversized tri-color LED spans the color spectrum in each octave, so each note has a unique color! The input jack is passively multipled to an output jack so the visual effects of the LED can be had even if the module is not part of the current patch.
There four modulation types available, each with an input jack and a three-position switch. The switch can turn off the modulation, allow the CV value to control the parameter, or turn on the modulation. The modulation jacks are all DC coupled and respond to audio rate signals, though the tracked waveform has a lower limit of around 20 seconds per cycle.
The SQR modulation forces the tracked duty cycle to 50%, making all of the 25 outputs into square waves
The INT modulation changes the relationship between each output from a semitone step to an integer or harmonic step
The ZERO modulation resets all of the output counters to 0, similar to a sync function
The HOLD modulation stops tracking the input and keeps the last counted cycle duration and duty cycle values
A self-modulating modular analog patch, "Howler Patch" is designed to drone and change with random patterns over a long stretch of time. In this example, I've fed a recording of Allen Ginsberg's "Howl" into it, using the EH V256 vocoder to modulate the voice with the drone-synthesis from my modular patch.
This example contains no overdubs or live-tweaking of any kind. I just turned it on, started playing the "Howl" track, and walked away.
This iPad DX7 patch editor for TouchOSC, via armatronix, is designed to simplify and speed up programming the 'notoriously difficult' Yamaha DX7, TX7, and TX816 FM synths, via MIDI SYSEX.
It's a free download (.touchosc file).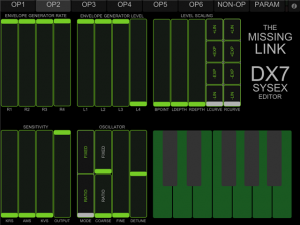 Showing off some synth sounds from this legendary machine. This is to counter the notion of the Mini being a bass machine. Even though it's often used as one…
This is a patch i made in Absynth 5. You can download the original patch at the Ni website Absynth user library.
Boulder based Ableton maestro Mark Mosher is sharing some stuff in time for Xmas
In this video I'm working on an instrument rack that will end up in Ableton Live 8 Livepack format so anyone with any edition of Live 8 will be able to access the patch. The sound in the video start with found sound which I resysnthesize with an additive synth, then resample back into Ableton Sampler. Then lots of programming.

I will then use the same samples to create a version of the patch in either Absynth 5, Alchemy, or Blofeld depending on the results of the reader poll.

Why did I pick Absynth5/Alchemy/Blofeld for potentials in addition to Livepack? They all support using your own samples as OSC source and every patch I'm working is rooted in found sound, or re-synthesis/resampling so harmonic content is original.

Mark Mosher
Using analog sequencers in a modular synth you can create some interesting unique timbres. You need to clock the sequencer really fast with a VCO, since there are 8 steps in this particular sequencer it needs to run 8 times as fast as the note you want to play. Some analog sequencers can run faster than others, yielding higher pitched notes. The highest notes you hear in this example is the highest the synthesizers.com Q119 sequencer can play. By changing the voltage of the individual steps you change the timbre of the sound. And since there's three channels you can use the two others to control other things, like a filter maybe?