This iPad DX7 patch editor for TouchOSC, via armatronix, is designed to simplify and speed up programming the 'notoriously difficult' Yamaha DX7, TX7, and TX816 FM synths, via MIDI SYSEX.
It's a free download (.touchosc file).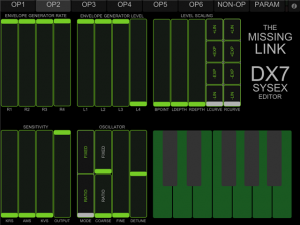 Showing off some synth sounds from this legendary machine. This is to counter the notion of the Mini being a bass machine. Even though it's often used as one…
This is a patch i made in Absynth 5. You can download the original patch at the Ni website Absynth user library.
Boulder based Ableton maestro Mark Mosher is sharing some stuff in time for Xmas
In this video I'm working on an instrument rack that will end up in Ableton Live 8 Livepack format so anyone with any edition of Live 8 will be able to access the patch. The sound in the video start with found sound which I resysnthesize with an additive synth, then resample back into Ableton Sampler. Then lots of programming.

I will then use the same samples to create a version of the patch in either Absynth 5, Alchemy, or Blofeld depending on the results of the reader poll.

Why did I pick Absynth5/Alchemy/Blofeld for potentials in addition to Livepack? They all support using your own samples as OSC source and every patch I'm working is rooted in found sound, or re-synthesis/resampling so harmonic content is original.

Mark Mosher
Using analog sequencers in a modular synth you can create some interesting unique timbres. You need to clock the sequencer really fast with a VCO, since there are 8 steps in this particular sequencer it needs to run 8 times as fast as the note you want to play. Some analog sequencers can run faster than others, yielding higher pitched notes. The highest notes you hear in this example is the highest the synthesizers.com Q119 sequencer can play. By changing the voltage of the individual steps you change the timbre of the sound. And since there's three channels you can use the two others to control other things, like a filter maybe?