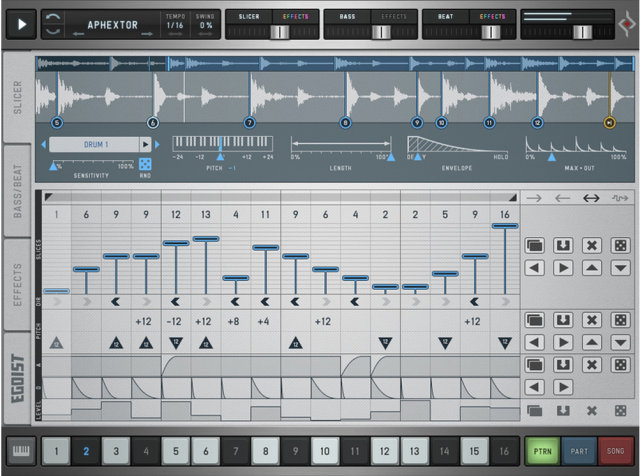 Sugar Bytes has introduced Egoist, a new groove instrument plug-in for Mac & Windows.
Here's what they have to say about it:
Egoist is a groove instrument. Load any audio file and squeeze the groove out of it!
Try your mp3 library and use it a a sound source! The additional onboard bass, beat and fx units make Egoist the perfect track sketch tool in the studio and on the road.
Features:
Quick + Easy track sketching, based on sample slicing
Minimal, yet effective bass line
Unique beat box with more than 1000 drums from vintage to electronic
Effect Sequencer
Randomizers in all areas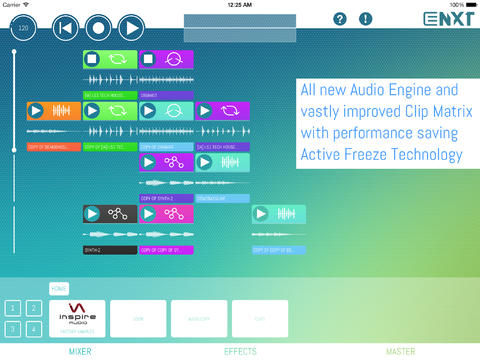 Ingolf Koch has released Electrify NXT, a virtual groovebox for iPad.
Features:
Rewritten and enhanced audio engine.
New session mode lets you perform with loops and clips by creating arrangements on the fly.
New polyphonic FM-style Synthesizer: Electrify NXT comes with a fully fledged frequency modulating synthesizer with 11 Algorithms and wave-morphing oscillators.
The new drumkit combines 8 samplers into one 'grooving loop factory'.
Looper and slicer lets you deconstruct audio loops or rearrange your own clips beyond recognition.
Comes with more than 1600 audio loops and one shot samples
A huge load of effects
Powerful parameter modulation: nearly every parameter of instruments and effects can be modulated by LFOs, Envelopes or by realtime parameter sequencing.
Flexi-Groove templates
Audiobus, AudioCopy and Midi are integrated.
Electrify is back! Electrify NXT turns your iPad into a virtual Groovebox with drum loops, synths and effects. All in realtime! Create musical clips or load samples and loops from the 1600+ samples library and arrange them on the fly in the clip matrix. Create dramatic break downs and build ups with the performance effects.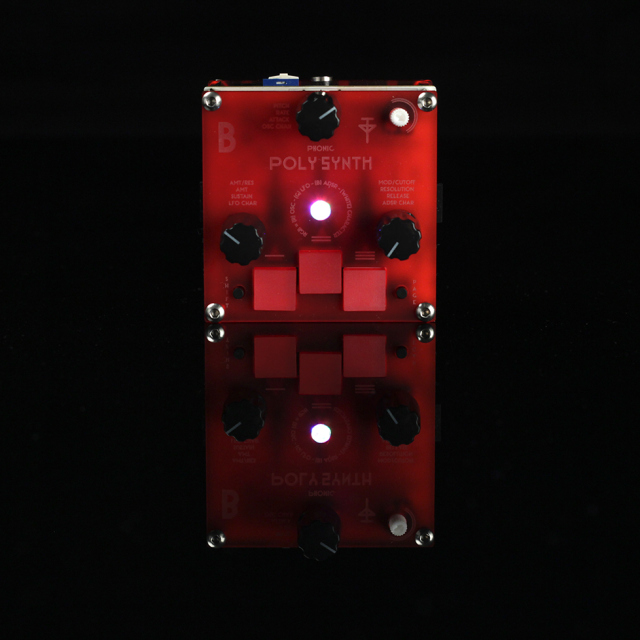 Bastl Instruments has introduced Trinity, a new line of inexpensive modular grooveboxes.
Here's what they have to say about the Trinity modules:
Trinity is a universal musical instrument and original sounding modular groovebox. It can function as any type of digital synthesizer, sequencer, controller, arpeggiator or almost anything that can be programmed into a micro-controller.
Trinity is designed to be connected and combined with other Trinities of different functions in a chain, so you can create your own music making environment. It is ready to communicate with the outer world via MIDI and different sync and CV methods using MIDI Bastl.
We have developed 4 different instruments for Trinity which work great together. They are sequencer, drum synthesizer, polyphonic synthesizer and monophonic FM synthesizer.
All Trinity instruments have the same starting price: 60 Euro for assembled instruments and 45 Euro for a DIY kit. And they're open-source, DIY, hackable and repairable.
Features:
simple interface which makes it playable musical instrument
available assembled or as a soldering kit
MIDI native (note,CC) , MIDI jack and almost endless sync possibilities by MIDI Bastl
software reprogrammable by Arduino (breakout for standard FTDi USB)
hardware expandable and hackable ? including breakouts for sensors or more buttons
chain connectors to share power, audio and communication within more Trinity/Bastl instruments
user memmory for storing presets and patterns (exportable, transferable)
stylish lasercut replacable enclosure with instrument labels
adjustable volume
mono, 16385 hz, 14 bit ? double PWM sound generation
TRS Jack 3.5mm audio output able to drive headphones
powered from 9V battery or 9V positive polarity power supply (2.1 mm) or from the Trinity chain (use switch to select)
running Mozzi library and Bastl library for Arduino
Stated as the next generation groovebox for iPad coming soon, screen shots below: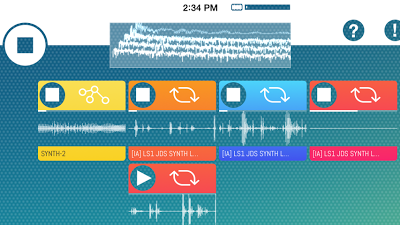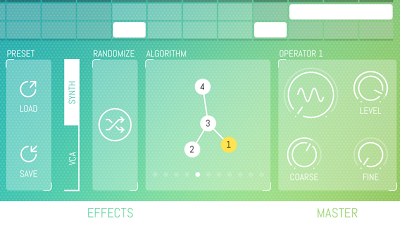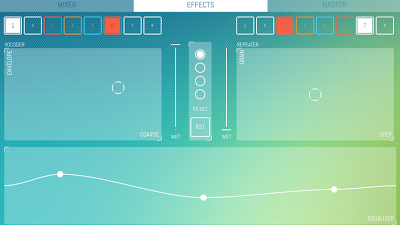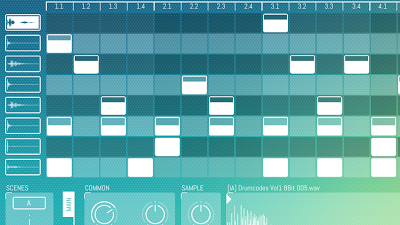 FL Studio Groove is a touch-based music production & performance application. With a 10 pad sample-based drum machine and 5 polyphonic synth channels you get all you need need to compose, arrange, edit, mix and perform professional quality music.
Make complete songs, play & program synthesizers, play drums, add effects, edit musical sequences.
– Windows 8 Touch | Music Production Application
– Sequence Drums
– Powerful piano roll for melodic work
– Flexible mixer with production & performance effects
– Two-tire piano keyboard optimized for touch
– 10 drumpads with dual-sample layering
– FX: Glitch, Flanger/Phaser, Delay, Filters, EQ, Bit-crusher & more
– Five 2-oscillator synthesizer channels
– Create basses, leads, pads or experimental sounds
– Record automation of almost any parameter.
Ever wonder how to use REAKTOR's stunning Sound Generators against a groove? Look no further than this tutorial!
Get the free demo version on Google Play: https://play.google.com/store/apps/de…
Turn your phone or tablet into a musical instrument! RD4 – Groovebox is a music making app with virtual analog synthesizers, drum machines and effects.  Compose and arrange your music in real-time. Choose instruments individually for the 4 channels. Record live or set notes with the dedicated sequencer or piano roll of each instrument. This multi-touch enabled app makes it simple to invent unique loops and musical phrases. Manipulate the sound of the synthesizers by tweaking the oscillators, resonant filters and audio envelopes. Add audio effects like reverb, distortion, phaser, filter and delay to your sounds. Appropriate both for experienced musicians and beginners. Loops you've created and exported with RD4 can also be automatically integrated into mikrosonic's audio mixer app SPC – Music Sketchpad.
Feature Overview
Mixer:
– 4 channel rack mixer
– Instrument selection for each channel
– Volume control with level meter per channel
– Direct audio effect channel assignment
– Tempo control with tap tempo
– Channel mute and solo
Sequencer:
– 2 banks with up two 8 bars per instrument
– Adjustable play modes from 1 to 8 bars and random modes
– Song Mode with a length of up to 99 bars
Choose between two virtual analog synthesizers and the drum machine for each channel:
Analog
– Modeled after legendary monophonic synths of the '70s
– For fat sounding bass and powerful lead sounds
– 3 oscillators with 6 different waveforms
– Each oscillator can be tuned precisely and has a warmth control for the typical analog sound
– Attack, Decay, Sustain and Release envelope generator
– Pitch wheel
– Low-pass filter (24dB/oct, 4-pole) with knobs for cutoff, resonance and an Attack/Decay/Sustain envelope generator
– Recording of played notes in real-time (depending on devices capabilities)
– Piano roll for editing recorded notes comfortably
– Or compose by drawing notes directly with the piano roll in 1/16 or 1/32 resolution
– Piano roll editing features: Transpose Pattern, Shift Sequence and Quantize Pattern
Bassline
– Reminiscent of the legendary 303 synthesizer
– Create bubbling basslines and screaming lead sounds
– High-quality low-pass filter with resonance, cut-off, and envelope controls
– Oscillator with 4 types of waveforms
– Real-time step sequencer with accent and slide
Beats
– Program beats with 10 classic drum kits: 808, 909, 606, CR-78, Linn, KR55, RX11, RZ1, DMX, DPM48
– Booming kick drums, snappy snares and throbbing percussions
– 8 channels per drum kit
– Punch control for volume and envelope adjustments
– Accent programmable for each drum channel
– Free assignable effects for each drum sound
– Channel mute, Closed Hi Hat can mute the Open Hi Hat
– Real-time pattern based step sequencer
Audio effects:
– 5 effects: Reverb, distortion, filter, phaser and delay
– Real-time controllable
– X/Y control field for each effect
– 4 effect sends
– Chaining of 2 effects
Technical features:
– Customized layouts for phones, 7 and 10-inch tablets
– Special additional rack view in portrait mode for 10-inch tablets
– Multi-touch control
– Live session recording
– Audio loop export feature
– SoundCloud Sharing Kit integration
– Session save capability
– Cut/copy/paste pattern
– OpenSL support for low latency*
– App2SD
System Requirements:
– Android 4.0 or higher
– Screen resolution 800×480 (WVGA) or higher
– 1 GHz CPU or faster supporting ARMv7
* Please note that for recording in real-time with the Analog synthesizer you will need a low latency Android device with Android 4.2 like the Google Nexus 4 or 10 or the Samsung Galaxy Nexus. Read more about audio latency on our FAQ: http://www.mikrosonic.com/faq
More details at: http://www.mikrosonic.com/rd4
How to get started with this great app
ELECTRIFY is a virtual sample based Groovebox for your iPad. It was designed to combine the best features of existing hardware grooveboxes and the ease of use of software applications in one creative touchable app.
Features:
* 8-track sequencer with individual track lengths
* 2 chainable effect buses with 8 different effects (more to come soon)
* direct access to the track's main parameters
* Easy to use step sequencer
* pattern matrix
* 7 parameters editable per step
* Professional Sample Library comprising more than 600 high quality samples provided by Mutekki Media.
* Import your own samples (wav/aif)
* Loop mode for playing stretched loops
* Sample editing: truncate, timestretch(pitch) / normalize
* Copy and Paste to other iPad apps
* Bounce patterns as wav
The three new groove boxes from KORG – the Volca boxes –  featured at MusikMesse
Run through of the capabilities and features
Steelberry Clones at MusikMesse
Copyright Stereoklang Produktion
Korg Volca official details
Volca Keys
Analogue Loop Synth
The ideal introductory synthesizer, with a simple – yet powerful – polyphonic analog sound engine and loop sequencer
The polyphonic synthesizer you've been waiting for
Three note true analogue synthesis
Voicing function lets anyone create sounds easily
Delay effect for even more sonic possibilities
Simple loop sequencer
Loop sequencer lets you record phases just as you play them
Motion Sequencer records knob edits in real time
Active Step function and Flux function to add dynamic change to your sequences
Convenient functions for tremendous ease of use
Self-tuning function for constant, stable pitch
Sync In and Out allows clock sync of multiple instruments from the volca Series as well as Korg's Monotribe
Compact size, battery-powered operation, and built-in speaker for enjoyment anywhere
Volca Keys is a long-awaited synthesizer that adds a new chapter to the long and storied history of Korg's analog synthesizers. This 27-key analog lead synth delivers unbelievably powerful sound in a compact body. Starting with a filter section that uses the circuitry of the legendary miniKORG700S (1974), it delivers astonishing sound that takes full advantage of Korg's half-century of know-how in circuit design.
With a simple structure that includes delay effect and a sequencer, it's also an ideal choice for a first analog synth. It offers the richly expressive sounds that are distinctive of analog, providing the enjoyment of simple yet deep sound-creation. The possibilities are endless; you can use the three oscillators to play chords, use them in unison with detune to produce solid lead lines, or apply ring modulation to create far-out metallic sounds.
Volca Bass
Analogue Bass Machine
Powerful analog bass sound creation and an Electribe-inspired sequencer for the ultimate bass lines
Powerful analog bass sound
Three analogue oscillators for thick, huge bass line
Newly designed analog filter for crisp, bright response
Simple structure with single VCF, VCA, LFO, and EG
Loop sequencer distilled from the Electribe series
Electribe-style 16-step sequencer with eight memory patches
Slide function that's indispensable for acid and other types of electronic music
Active Step function generates new bass lines by removing or inserting steps
Convenient functions for ease of use
Self-tuning function for constant, stable pitch
Sync In and Out allows clock sync of multiple instruments from the volca Series as well as Korg's Monotribe
Go-anywhere analogue: play anywhere with the built-in speaker and optional battery power
Aggressive sounds that stand up to the drums; fat sounds that support the rhythm; funky sounds that generate a groove – the volca Bass is an analog groove box that has what you need for a wide range of bass lines.
Although simple in structure, the analog sound engine has an unmistakable presence with subtle nuances that cannot be reproduced by a digital simulation; it's a great choice for acid house and many other styles of music. The step sequencer distilled from the Electribe is not only visually intuitive; it's also a powerful way to generate "free form" bass loops that will stimulate your inspiration.
Volca Beats
Analogue Rhythm Machine
Peerless beats generated by solid analog drum sounds and an Electribe-style sequencer
Powerful analog drum sounds
Real analog sounds created with reference to classic rhythm machines
Six editable analogue parts with one knob per function for easy editing
Maximum effect from minimal parameters – a unique advantage of analog
PCM sound engine expands possibilities when used with analog sounds
Loop sequencer distilled from the Electribe series
Electribe-style 16-step sequencer with eight memory patches
Stutter function generates repeated triggers that dramatically change the sequence
Active Step function generates new bass lines by removing or inserting steps.
Step Jump function instantly plays only the step you're pressing
Convenient functions for incredible ease of use
MIDI In for note entry, plus external sync and control from your DAW
Go-anywhere analogue: play anywhere with the built-in speaker and optional battery power
Even today, more than thirty years after the age dominated by analog synthesizers, we just can't let go of the sound of analog rhythm machines. Those thick sounds have the power to stand up to guitar and acoustic drums, and are still indispensable for track-making or live performance. The volca Beats gives you those analog drums plus the easy-to-use step sequencer of the Electribe; it lets you turn your inspiration into reality and generate beats with the best high quality sounds.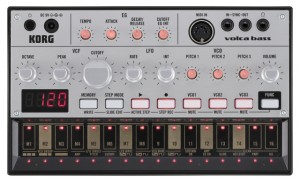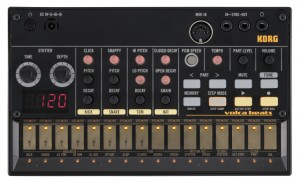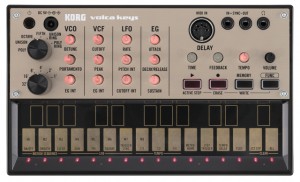 It looks like at least one of the Musikmesse leaks may pan out to be true!
Here are some additional shots of a trio of small Volga boxes. The Korg Volca Bass looks like it may have had some inspiration from a famous bassline synth. If Roland won't make a new 303 and give it three oscillators, it looks like Korg will.