Three Moog analog synths sequenced by Koushion. Koushion is a MIDI Step Sequencer iPad app that allows you to easily program drum patterns, melodies and more using your existing hardware synthesizers, softsynths, samples and other electronic music gear. Works great with Ableton Live and other DAWs.
Quickly sketching a groove on MikroWave, the sequenced synthesizer for Android devices. The video shows how a bubbly bass line can be created and what modifiers are available to the synthesizer and drummachine.
You can get it on Google Play : https://play.google.com/store/apps/details?id=nl.igorski.mikrowave
You can also test drive the FREE version (fully functional with the omission of saving and exporting of songs/audio). You can find it under "more apps from this developer" on Google Play.
Spectralis groovebox +
a microkorg xl pad sound
sequenced by the spectralis
The Spectralis is the first "GrooveBox", which combines the LIVE usability of the latest digital technology with the best elements of proven analog technology. We also have thrown in some other cool features which give the synthesizer much more flexibility than anything seen before. While traditional Sequencers are limited to playing back rhythm patterns and tone sequences, the step Sequencer of the SPECTRALIS makes possible highly complex sound creations which opens up completely new worlds of sound when used in connection with the programmable FIXED FILTER BANK. In addition to its outstanding analog sound possibilities the SPECTRALIS also provides DSP based sound creation, which takes care of all the ancillary needs for drumsounds and polyphonic voices. This sound creation is 48 voice and offers killer drum sounds, creamy pads and a lot of other goodies.
Steelberry Clones reader Dan A from IMEA tipped us on their new Groove Drums Synth that now has been released, here's what he tells about it:
VSTi plugin and Application, its architecture combines a sequencer, a sampler, a synthesizer and the randomization tool of Groove Drums that allows you to create easily and intuitively grooves and drums loops.
The standalone version allows you to use the plugin without the need for a host sequencer and so be able to export drum loops independently.
The difference with GROOVE DRUMS is to affect the channels to a sampler and a synthesizer that allows you to create synthetic percussions.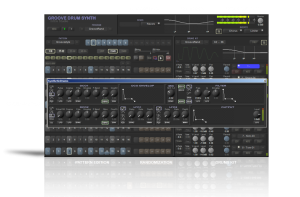 Features:
• Pattern based drum machine engine + Sampler + Synthesizer.
• Innovative tool for randomization.
• Ability to export audio loops.
• 12 channels.
• 3 parametric filters per channel.
• 2 effect sends per channel.
• Independent outputs.
• 16 patterns of 64 steps per channel.
• Drag & Drop patterns.
• SCALE mode for velocity on the tune that selects the closest note in an editable range.
• Master equalizer and insert effects.
• Comes with Chorus, Compressor, Delay, Filter, Flanger, Limiter, Reverb and Overdrive.
• Comes with standalone version allows the use of the VSTi without the need for a host sequencer.
Finally we start to see more quality apps coming also for Android tablets – check out this new Groovebox. Create your own grooves and drum loops with RD3 HD – Groovebox!
Use your Android phone or tablet as a musical instrument and make your own electronic music tracks!
Recreate the sound of early electronic dance music with the RD3 HD — Groovebox that recalls two 303-style analog synthesizers, a drum machine plus distortion, phaser and delay audio effects!
Developed in Berlin, RD3 HD – Groovebox is a pioneering audio app that lets you program your own grooves. This multi-touch enabled app makes it simple to invent unique loops and manipulate them with resonant filters and effects on the go.
Appropriate both for experienced musicians and novices.
Use it for live performances in landscape mode on phones and 7-inch tablets or use the additional special rack view on 10-inch tablets in portrait mode.
RD3 HD is optimized for Android 2.3 (Gingerbread), 3.X (Honeycomb) and Android 4 (Ice Cream Sandwich).
Loops you've created and exported with the Groovebox can also be automatically integrated into mikrosonic's audio mixer app SPC – Music Sketchpad.
Musical Features:
- Two virtual analog synthesizers
- 4 types of waveforms per synth
- Reminiscent of the legendary 303 synthesizer
- High-quality or regular filter modes
- Drum machine with 10 drum kits: 808, 909, 606, CR-78, Linn, KR55, RZ1, DMX, RX11, DPM-48
- Real-time step sequencer for the synths and the drum machine
- 3 effects: distortion, phaser and delay
- 4 bars with 16 steps per instrument
- 3 play modes: Solo, loop or random
Technical Features:
- Special portrait mode for 10-inch tablets
- Multi-touch control
- Live session recording
- Audio loop export as WAV files
- Session save capability
- Cut/copy/paste pattern
- OpenSL support
- App2SD
System Requirements:
- Android 2.3 or higher
- Screen resolution 800×480 (WVGA) or higher
- 800 MHz CPU or faster supporting ARMv7
More details at: www.mikrosonic.com/rd3hd
Nucleus SoundLab would like to introduce you to a brand-new ReFill exclusively built for Propellerhead Reason 6 – Celluloid Beats. Celluloid Beats features an amazingly unique set of cinematic percussion loops suitable for filmscoring, game sound design, IDM and other electronic genres. The loops inside have been specially processed using a proprietary additive vocoding techique to emphasize long, smooth decay stages. Beyond the high-quality loops themselves, Celluloid Beats is also the first ReFill in an innovative new series called Modular Grooves.
Modular Grooves ReFills are meant to provide musicians and producers with a infinitely configurable palette of loops. These loops sound great at virtually any tempo thanks to being sampled using Wide BPM technology – anywhere from 60bpm to 300bpm is fair game. There is no reason to be limited by the original tempo of a loop any more!
Each Combinator patch in a Celluloid Beats contains 8 loops – 1 original loop and 7 creative loop remixes. This is achieved by using the Slice Edit Mode on Dr. OctoRex to change filtering, decay, volume and more on a per-step basis for each loop. Going farther than that, unique FX are added to each patch which are used to effect specific loop slices – so each slice in a loop can have a different distortion, filtering or delay! The resulting loop remixes sound incredibly complex, but they certainly aren't complicated to use. A single Combinator Rotary switches between all 8 loops; and you can also easily dive into Dr. OctoRex to tweak any loop remix to taste! To help users understand the Modular Grooves technology and get the very most out of it, PDF documentation is included.
Celluloid Beats also comes packed with all its loops in raw REX2 format outside the ReFill itself at no additional charge. So users can easily load these loops into other sampler, such as Kontakt, Ableton Live, Battery and more without any hassles.
40 24-bit 44khz REX2 loops form the base of Celluloid Beats
280 loop remixes using all 8 loop slots on Dr. OctoRex
Each patch built exclusively for Reason 6
All REX2 loops included outside the ReFill, for use in other samplers
Detailed PDF documentation on the creation and operation of the ReFill
Download the free Demo ReFill right here.
Casio has introduced two new keyboard synthesizers at the Winter NAMM, the XW-G1 Groove Synthesizer and the XW-P1 Performance Synthesizer, here are the full specs for both of them: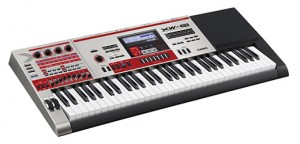 The Casio XW-G1 is a 'groove synthesizer' equipped with a keyboard and designed to offer the various kinds of digital equipment used by club DJs, including the ability to create and play back a variety of rhythm patterns and musical phrases.
Features:
Step Sequencer

100 different rhythm patterns are available for playback in the preset sequences
Up to 100 original rhythm patterns can be recorded as user sequences
Users can improvise using the set of 16 buttons while playing back rhythm patterns
Multiple rhythm patterns—as many as 99—can be connected in a sequence and played as loops using the Chains function

Phrase Sequencer

100 musical phrases can be readily played back using the preset phrases
Up to 100 musical phrases spontaneously played on the keyboard can be stored in memory as user phrases

Live performance functions

A multifunction keys enables users to assign essential functions for DJ performances to keys
420 preset tones including Solo Synthesizer and PCM tones can be quickly accessed in keyboard performances
The Arpeggio function can automatically play arpeggios just by pressing keys

Sample Looper

Sounds performed on the synthesizer as well as sounds input from external source can be sampled and played back in loops of up to 19 seconds long, allowing overdubbing
Sampled sounds that are saved as user tones can be played in keyboard performances

Other features

Wide variety of preset tones or internal PCM and Synth waves to create sounds
Various input and output terminals enable connection of audio equipment and MIDI-compatible devices, such a DJ gear and musical instruments
Portable MIDI devices or audio equipment can be placed on the designated rubber holding space
Specifications are available at the Casio site.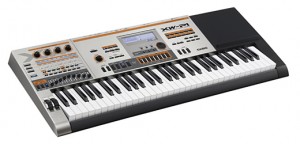 The XW-P1 is designed to be a true performance synthesizer that allows users to create a wide array of sounds from many preset tones, including Solo Synthesizer, Hex Layer, and Drawbar Organ tones, as well as numerous types of internal PCM and Synth waves.
Features:
Wide selection of preset tones ensures quick access in performances

100 Solo Synthesizer presets can reproduce vintage analog synthesizer sounds
50 Hex Layer presets layer as many as six tones for ensemble sounds
50 Drawbar Organ presets can reproduce traditional Drawbar Organ sounds
A total of 420 PCM Melody and PCM Drum presets have been produced from samples of various instrument sounds including pianos, guitars, and drums

Synth features

A total of 311 internal Synth waves reproduce vintage analog synthesizer sounds
A total of 2,158 PCM waves are built in, including wave data from the CZ series, Casio's best-selling digital synthesizers of the 1980s
Users can create integrated sounds by layering analog synthesizer waves and PCM waves
Users can produce original Hex Layer sounds by combining as many as six preset tones
Users can create their own Drawbar Organ sounds by using the nine sliders

Variety of functions useful for live performances

Users can assign performance setups for up to four designated keyboard zones by using the Performance function
The Phrase Sequencer lets users create and play back musical phrases to enhance their performances
The Step Sequencer allows users to create and play back a variety of rhythm patterns
The Arpeggio function can automatically play arpeggios just by pressing keys

Useful features for applications ranging from performance to music production

SMF data or audio data saved on an SD card can be played back while playing the keyboard
MIDI devices, microphones, audio players, and other equipment can be connected using the various input and output terminals
Portable audio equipment or MIDI devices can be placed on the designated rubber holding space
Specifications for the XW-P1 are available at the Casio site.
SampleTank® 1.1 is a universal app for iPhone, iPod touch and iPad that gives you the power to quickly build grooves with its enhanced PADS interface and 4-track MIDI recorder with unlimited overdubbing. The familiar drum machine-style interface lets you lay down beats easily with adjustable quantize values that you can change on the fly as well loop record and a click track that you can turn on and off at will. Put a drum kit on part A, a bass on part B, a piano on part C, sound FX on part D … anything you like! You can export your recording as a stereo audio AAC file via E-Mail or iTunes File Sharing to use it in another app like AmpliTube or VocaLive or a computer DAW like Logic or Pro Tools. You can also export a .MID standard MIDI file. SampleTank 1.1 is a free update for all existing users and is available in the App Store. Check it out today!
http://ikmultimedia.com/sampletankipad/features/
SampleTank® for iPhone / iPod touch is your key to R&B and urban groove construction and performance anytime and everywhere. With over 400 instruments and 900 patterns, you can create the perfect beat, the perfect groove, the perfect lead for modern R&B, classic Hip Hop, old school funk … any style you can think of. The power of SampleTank is now in your iPhone / iPod touch. Check it out today!
http://www.ikmultimedia.com/irigmidi/moreinfo/sampletank.php
More info – http://www.image-line.com/documents/groovemachine.html
Groove Machine is a virtual groove box designed with live performance or composition in mind, or use it as a synthesizer/drum-machine combination.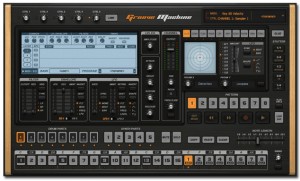 Groove Machine is virtual 'Groove Box' within your sequencer, perfect for live performance or use it as a hybrid synthesizer, drum sampler or to create loops.
Get the groove happening
Groove Machine's power lies in its ability to automate every parameter of the sampler, synth and effects channels on a PER-step basis.
Get a groove happening quickly and trigger samples, loops and bars/patterns on the fly from your MIDI controller or DAW software.
Focused to live performance.
Image Line recommend a MIDI controller if you want to control Groove Machine live. However, it's still possible to use Groove Machine with a computer mouse and keyboard, just less efficient.
Groove Machine features:
5 hybrid  (Subtractive/FM) synthesizer channels
8 flexible sampler channels, each with 4 sample layers
10 DJ-style effects + EQ and Stutter PER channel.
Stepsequencer with per-step automation allowing PER step note sculpting of all interface parameters.
Step / Drum sequencer / Piano roll views
Optimized for live performance
Internal link system for maximum compatibility with all MIDI controllers
Multiple independent outputs for the 5 synth & 8 sampler channels
Ideal for dub-step, trance, house & hip-hop producers
Available in VSTi, AU & Standalone
You can check out the manual and Groove Machine YouTube video play-list to get up to speed on what Groove Machine can do for you.
Download and try the Groove Machine (Windows or Mac) demo here