FunkBox was used by Gorillaz when recording their new album "The Fall", hear it at thefall.gorillaz.com! Also featured in Computer Music Magazine's "Amazing Music Apps" special issue and Electronic Musician magazine's "Attack of the Killer Apps" best music tools for the iPad.
Put a little funk in your pocket with the FunkBox vintage drum machine app from Synthetic Bits! FunkBox is designed to look, feel, and sound like a classic beatbox from the 70s and 80s. It uses original audio samples taken directly from our own personal collection of vintage drum machines.
In this video:
In this tutorial, I show you how to lay down beats with Funk Box. I also cover virtual ports and how to route Funk Box beats to other apps in real time like Electribe, Mo Drums, and Music
iPad and iPhone both running new grüvtron with their tempos locked wirelessly using BeatSync.
Want to create that thumping bass line to fill the dance floor or a heart-wrenching lead line? Want to jam along with your friends – any time, any place and sound superb? grüvtron lets you jam and create in a multitude of styles and in any key all on your iPhone, iPod touch or iPad – whether you're a trained musician or not!

Just as easy as using loops but way more versatile. Just choose a Preset and jam! Change keys, scales, sounds and other musical parameters. The grid-based touch interface lets you create Bass, Lead, Chords, Pads and other musical Parts with control over note density and pitch. Bass part too busy? Too slow and plodding? YOU control the density of the part in real time! From slow whole-note soulful to fast and frenetic 16ths!
Radikal Technologies are showing their hardware synths at NAMM 2011 with the return of the Spectrailis 2 virtual analog groove maker. Also on on show was the debut of the Accelerator synthesizer. Featuring 3 oscillators, 3 multi-mode filters, FM modulation, wave shaping, advance aftertouch and built in accelerometer that modulates the sounds when you move the keyboard.
Via SM
http://www.youtube.com/watch?v=BZINhGDjh-s
"The Rhizome: the groove machine with and for VST has just been released.
The dream to combine the power of a PC and the ergonomic of a real musical instrument is becoming reality.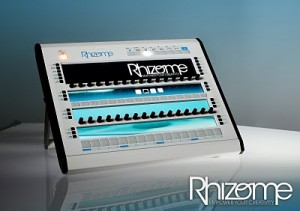 Feeltune announces the release of the Rhizome; one of the highlights of the MusikMesse when it was first presented last March. Many sites and magazines rated it best of the 2010 trade show! The Rhizome is the future of groove machines.
What are the differences with the competition? The Rhizome is a hybrid in which you install virtual instruments and effects in a VST/VSTi format (For Pc). No more limitations in terms of sounds and effects; with the Rhizome you choose the style of sound and instruments you want to play. Once downloaded you can mix your plug-in with the mixing desk; create your sequences, patterns and tracks with the multi modes and multi tracks sequencer which is the brain working behind the scene.
What are the differences with the other hybrids already on the market? The Rhizome is not just a keyboard with a Pc or a Pc Rack; it is a real musical instrument which has been designed for the pleasure to play and compose music and is equipped with software running an innovative interface with numerous displays and controllers.
The Rhizome is a real-time instrument: programming, recording, sampling, adding instruments and effects, tuning; all you do is live! There is no interruption when you play on stage or record in a studio. The objective: to free up your inspiration and creativity.
The development of the Rhizome took several years of R&D; 50 engineers and the validation of around 10 user groups. Today the Rhizome is an aggregate of the best technology and know-how.
For the Audio it is RME that does the job; it has been chosen because of its stability and sound quality which is recognized by everybody.
For the display; forget the small monochrome displays; the Rhizome offers 4 large displays (24 bit colors)
For the controllers; the Rhizome has 102 controllers in which you find 16 dynamic pads and 32 endless knobs
You get the Windows XPE which is a version of Windows XP Pro that has been redesigned and compiled especially for Feeltune. It offers a better stability and a total compatibility with VSTs.
For the effects and instruments; some of them have been developed by Ohm Force, well know key player of the market.
A Design and solid ergonomic; a size and weight that allows bringing the Rhizome with you as hand luggage when you travel by plane.
For its embedded system; you get power and reliability: Intel processor and mother board, server AC, silent fans.
Software, proprietary electronic card and box: build, assemblage and control in France.
Connections: The several in/out allow you to connect and use screens, mousse, midi controllers; hard disk and/or additional audio card.
Communication: The Rhizome is the first instrument to totally implement CopperLan; a new protocol that above the Midi transcription really revolutionize the communication between audio-video machines.
Technical Specifications
Rhizome SE :
- Intel Core 2 Duo 2,93 GHz x 2
- RAM / HD : 2 Go / 250 Go
- Plugs : 1 FireWire, 6 USB, 1 DVI, 1 HDMI, network Gigabit 100/100
- Audio : 1 headset, 2 balanced analog inputs and 2 balanced analog outputs, 1 ADAT, 1 SPDIF/AES, 1 E/S MIDI
- Feeltune software :
o Multitrack sequencer
o Virtual mixing desk
o VST/VSTi Host
o Drum Sampler
o Program Sampler
o Effects: Vocoder, Reverb, EQ, Distorsion, Filter, Flanger, Chorus, Delay, Compressor, Limiter, Bit Crusher, Pitch shifter, Stereolizer, Auto Pan, Enveloper, Multiband distortion, Deeser
o Synths : AcidLiner, SimpleSynth, Napper, TR 8s8, TR 9s9, TR6s6, TR 7s7, TR 7s27, L1nn Drum, DrumLator
- Ohm Force Sympthom synth
- CopperPlug LE (over lan control)
Dimensions : 52,4 x 42,7 x 14,1 cm (20.63 x 16.81 x 5.55 in)
Poids : 12,5 kg (27,55 lb)
Rhizome XE :
The same than SE with :
- Intel Core 2 Duo 2,93 Ghz x 2
- RAM / HD : 2 Go / 250 Go
- 6 balanced analog inputs
- Gforce Oddity
- Gforce Minimonstra
- Tight VNC
- CopperPlug MAX (over lan control)
Rhizome UXE :
The same than XE with :
- Intel Core 2 Quad 2,5 Ghz x 4
- RAM / HD : 4 Go / 500 Go
- Gforce Oddity
- Gforce Minimonstra
- Tight VNC
- CopperPlug MAX (over lan control)
- Other software sequencers or VST host compatible
More informations, medias and customer forum at www.feeltune.com"
Analogue Solutions Telemark triggered by a Doepfer Analog/Trigger Sequencer A-155.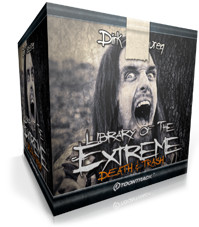 Toontrack has announced the release of Death & Trash, the second installment of Dirk Verbeuren's Library of the Extreme MIDI drum grooves.
The new "Library of the Extreme – Death & Thrash" has all the beats that youd need, meaning the Skank beats, the Carpet Rolls, the D-Beats, all the double-bass stuff, etc, etc. Together with "Library of the Extreme – Blasts & Fills" this pack makes a really unique encyclopedia of metal beats!

This MIDI pack is not for the faint of heart, or the musically meek. We're talking about a collection of MIDI grooves that will pummel your tracks into oblivion. This is the perfect marriage of speed and power.
Library of the Extreme – Death & Thrash is available to purchase for 15 EUR.
More information: Toontrack / Library of the Extreme – Death & Thrash
More information on our forthcoming virtual instrument, Geist, to be released on November 17th 2010. The price will be $249 / £157 / €189.
It appears to be some kind of groove machine or a simplified DAW. The emphasize appears to be on sampling, re-sampling, slicing and sequencing! Perhaps they are heading for the Reason market segment??
audibleobsession has posted this nice KORG Monotron groove session
A simple KORG Monotron groove. All sounds are played with the KORG Monotron Analogue Synthesizer. Additional drums from NI Battery 3 (Preset "Dragon Kit") and convolution reverb from NI Reflektor. Compression and EQ from UAD 1176LN, Helios Type 69 EQ, and Ableton Live's 8-Band (mostly for LPF to get rid of that notorious hum that plagues the Monotron). Line-in recording into my trusty M-Audio Firewire Solo. That's it!
Dancing girls are public domain videos found on archive.org.
Apologies if the bassline and groove get repetitive, really just a quick tune trying to show the kind of badass basslines and leads you can get from the Monotron. It really shines when you get some nice PWM going and push that MS20 filter hard. The LFO self oscillates nicely too. Overall, the best $60 bucks I've ever spent. Looking forward to moding it now.
FXpansion has released a video that previews a new product called offering sampling, resampling, slicing, sequencing, effects and mixing facilities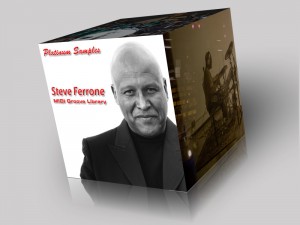 Platinum Samples is honored to announce the release of their Steve Ferrone Multi-Format MIDI Groove Library featuring over 660 MIDI files (over 3,200 bars of unquantized grooves) formatted for BFD2®, BFD Eco®, EZDrummer®, EZplayer®, Superior Drummer 2.0s®, Addictive Drums®, Cakewalk® Session Drummer™ as well as General MIDI which can be used with any GM compatible drum software or hardware.
The Steve Ferrone MIDI Groove Library includes 17 songs separated into complete song structures (intros, verses, choruses, bridges, etc.) as well as 9 additional Groove variations. The library features grooves in 3/4, 4/4 & 6/8 with straight and swing feels as well as song endings.
Steve Ferrone, the former Average White Band drummer, has played with a who's who of the music business, including Mindi Abair, Brian Auger Oblivion Express, Anita Baker, Ray Barretto, George Benson, the B-52's, Johnny Cash, Eric Clapton, Donovan, George Duke, Duran Duran, The Emotions, Bryan Ferry, Roberta Flack, Peter Frampton, Aretha Franklin, David Garfield, Lincoln Goines, Jeff Golub, George Harrison, Michael Jackson, Mick Jagger, Al Jarreau, Chaka Khan, Christine McVie, Pat Metheny, Bette Midler, Keb Mo, Stevie Nicks, David Sanborn, Carly Simon, James Taylor, The Temptations, Robbie Williams, Johnny Winter, and Steve Winwood.
Ferrone recorded Tom Petty's acclaimed solo album Wildflowers in 1992; he subsequently joined Petty's Heartbreakers and has been a bandmember since. Steve's influences include Ringo Starr, Charlie Watts, Tony Meehan (The Shadows), Bernard Purdie, Grady Tate, Elvin Jones, Max Roach, Art Blakey, John Bonham, Clyde Stubblefield, Al Jackson Jr., Harvey Mason, and Jack DeJohnette.
Platinum Samples are one of the foremost producers of drum samples in the world, with over 50 years of experience in the professional music industry. The Steve Ferrone MIDI Groove Library was recorded over a two-day session by Steve Ferrone on a Yamaha DTXtremeIII Special electronic drum set.
Optimized for 1 Kick, 1 Snare, 2 Rack Toms, 2 Floor Toms, 1 Hihat, 3 Crash Cymbals & 1 Ride Cymbal
Please visit the www.platinumsamples.com web site for additional information.