SampleTank® for iPhone / iPod touch is your key to R&B and urban groove construction and performance anytime and everywhere. With over 400 instruments and 900 patterns, you can create the perfect beat, the perfect groove, the perfect lead for modern R&B, classic Hip Hop, old school funk … any style you can think of. The power of SampleTank is now in your iPhone / iPod touch. Check it out today!
http://www.ikmultimedia.com/irigmidi/moreinfo/sampletank.php
More info – http://www.image-line.com/documents/groovemachine.html
Groove Machine is a virtual groove box designed with live performance or composition in mind, or use it as a synthesizer/drum-machine combination.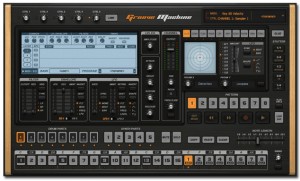 Groove Machine is virtual 'Groove Box' within your sequencer, perfect for live performance or use it as a hybrid synthesizer, drum sampler or to create loops.
Get the groove happening
Groove Machine's power lies in its ability to automate every parameter of the sampler, synth and effects channels on a PER-step basis.
Get a groove happening quickly and trigger samples, loops and bars/patterns on the fly from your MIDI controller or DAW software.
Focused to live performance.
Image Line recommend a MIDI controller if you want to control Groove Machine live. However, it's still possible to use Groove Machine with a computer mouse and keyboard, just less efficient.
Groove Machine features:
5 hybrid  (Subtractive/FM) synthesizer channels
8 flexible sampler channels, each with 4 sample layers
10 DJ-style effects + EQ and Stutter PER channel.
Stepsequencer with per-step automation allowing PER step note sculpting of all interface parameters.
Step / Drum sequencer / Piano roll views
Optimized for live performance
Internal link system for maximum compatibility with all MIDI controllers
Multiple independent outputs for the 5 synth & 8 sampler channels
Ideal for dub-step, trance, house & hip-hop producers
Available in VSTi, AU & Standalone
You can check out the manual and Groove Machine YouTube video play-list to get up to speed on what Groove Machine can do for you.
Download and try the Groove Machine (Windows or Mac) demo here
Here you find a good demo on how to get that groove going on the Sampletank: SampleTank® for for iPhone/iPod touch is the mobile version of IK's SampleTank for Mac and PC, the leading virtual sound workstation for the studio, now available for your favorite iOS mobile device and designed for live performance. It is a 4-part multi-timbral instrument with a sound set of over 900 MB of samples for over 400 acoustic, electric and electronic instruments (including a selection of the best workstation sounds from SampleTank, orchestral sounds from Miroslav Philharmonik and synths sounds from SampleMoog) plus a selection of over 900 melodic and rhythmic patterns that span every musical genre. SampleTank for iOS brings the power of the most popular computer sound module — which has appeared in thousands of award winning records from world-class artists — to your iOS device.
http://www.ikmultimedia.com/irigmidi/moreinfo/sampletank.php
http://www.ikmultimedia.com/irigmidi/moreinfo/sampletank.php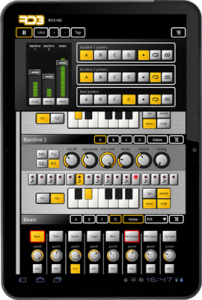 RD3 HD – Groovebox
Use your Android tablet as a groovebox and make your own music tracks!
RD3 HD – Groovebox is an audio application designed for Android tablets that is easy to use. It combines two 303-style synthesizers, a drum machine with different drum kits and three audio effects.
Recreate the sound of early electronic dance music with these legendary machines!
Optimized for Tablets
Take full advantage of your Android tablet with that multi-touch enabled app and use your tablet as a musical instrument.
Use it for live performances in landscape mode or use the additional special rack view on 10-inch tablets in portrait mode. This view is very well suited for editing with the mixer section on top and a scrollable part below for the other panels.
RD3 HD supports both 7-inch and 10-inch tablets and is optimized for Android 3.X (Honeycomb).
Features
Musical Features:
2 virtual analog synthesizers
4 types of waveforms for each synth
Reminiscent of the legendary 303 synthesizer
High-quality or regular filter modes
Drum machine with 10 drum kits: 808, 909, 606, CR-78, Linn, KR55, RX11, RZ1, DMX, DPM48
Real-time step sequencer
3 effects: distortion, phaser and delay
4 bars with 16 steps per instrument
3 play modes: Solo, loop or random
Technical Features:
Designed for 7-inch and 10-inch Android tablets
Special rack view in portrait mode for 10-inch tablets
Optimized for Android 3.x, Honeycomb
Multi-touch control
Audio loop export feature
Session save capability
Cut/copy/paste pattern
OpenSL support
App2SD
System Requirements
Android 2.2 or higher
Screen resolution 800×480 (WVGA) or higher
Screen size 7-inch or higher
800 MHz CPU or faster supporting ARMv7
Tested on: Xoom, Archos 70, Samsung Galaxy Tab, Dell Streak 7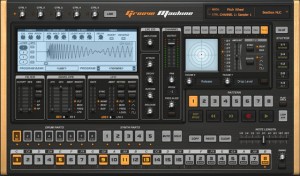 Image-Line has released a beta version of Groove Machine, a groove box instrument plug-in by Maxx Claster.
Groove Machine is a performance-oriented multichannel (drum)sampler, multitimbral hybrid synthesizer, sequencer and last but not least a 'Groove Box' inspired by hardware Groove Boxes. Special attention is paid to live performance via MIDI controllers.
Groove Machine features
Step sequencer with integrated Note Editor driving 8 sampler tracks, 5 synth tracks and 10 performance oriented effects for every track.
Synthesizer features a hybrid additive, FM & RM design.
Per step automation with automation graphs.
Pre-mapped to general MIDI keys.
Stutter, beat repeat effects module.
2 envelopes, 2 LFO's.
Multi-mode filter.
Groove Machine beta is currently available to download as a VST plug-in for Windows for registered Image-Line users.
More information: Image-Line
Beat707 is an Arduino Shield that adds several neat features to your musical arsenal. You get a 32 step machine, (plus 32 double-steps for a total of 64 steps) with 16 step buttons and leds, LCD screen and navigation keys. It's like the classic Roland TR707 but with some twists, as it actually has 64 x 1/32 or 32 x 1/64 steps. Plus, the 2 note-step sequence feature allows you to do bass and/or synth grooves — it's a MIDI groove-box all in one ! The unit doesn't produce any sound, it's all MIDI based, so you can use any MIDI compatible device.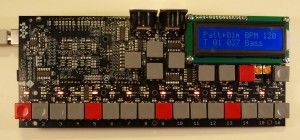 14 Drum Tracks + 2 Accent Tracks (a total of 3 MIDI-note velocities can be sent from each step)
2 Step-Sequence Tracks (each step has its own Note selection, Velocity is set by the accent tracks)
Multi Pattern and Song Mode
Number of Patterns and Songs depends on the total amount of system EEPROM — the base system provision of 32kbytes of EEPROM  has enough for 90 patterns and 99 songs positions. The included Flash Nand memory can hold up to 42 songs. (see more below)
Each pattern has 32 x 1/32 or 32 x 1/64 steps and 14 tracks + 2 accent tracks (V1.2.0 has 64 steps total per pattern)
Each track has a note-number and MIDI-channel number, so you can also use tracks to output regular notes (one note fixed per track)
Optional MIDI echo (set during compilation and uploading of the Sketch)
File Mode for storing up to 20 songs into the internal Flash. With options to Load, Save, Dump to SySex MIDI and Erase
Special Mirror Pattern Editing – allows you to edit a 64 step pattern in a much easier way
FunkBox was used by Gorillaz when recording their new album "The Fall", hear it at thefall.gorillaz.com! Also featured in Computer Music Magazine's "Amazing Music Apps" special issue and Electronic Musician magazine's "Attack of the Killer Apps" best music tools for the iPad.
Put a little funk in your pocket with the FunkBox vintage drum machine app from Synthetic Bits! FunkBox is designed to look, feel, and sound like a classic beatbox from the 70s and 80s. It uses original audio samples taken directly from our own personal collection of vintage drum machines.
In this video:
In this tutorial, I show you how to lay down beats with Funk Box. I also cover virtual ports and how to route Funk Box beats to other apps in real time like Electribe, Mo Drums, and Music
iPad and iPhone both running new grüvtron with their tempos locked wirelessly using BeatSync.
Want to create that thumping bass line to fill the dance floor or a heart-wrenching lead line? Want to jam along with your friends – any time, any place and sound superb? grüvtron lets you jam and create in a multitude of styles and in any key all on your iPhone, iPod touch or iPad – whether you're a trained musician or not!

Just as easy as using loops but way more versatile. Just choose a Preset and jam! Change keys, scales, sounds and other musical parameters. The grid-based touch interface lets you create Bass, Lead, Chords, Pads and other musical Parts with control over note density and pitch. Bass part too busy? Too slow and plodding? YOU control the density of the part in real time! From slow whole-note soulful to fast and frenetic 16ths!
Radikal Technologies are showing their hardware synths at NAMM 2011 with the return of the Spectrailis 2 virtual analog groove maker. Also on on show was the debut of the Accelerator synthesizer. Featuring 3 oscillators, 3 multi-mode filters, FM modulation, wave shaping, advance aftertouch and built in accelerometer that modulates the sounds when you move the keyboard.
Via SM
http://www.youtube.com/watch?v=BZINhGDjh-s
"The Rhizome: the groove machine with and for VST has just been released.
The dream to combine the power of a PC and the ergonomic of a real musical instrument is becoming reality.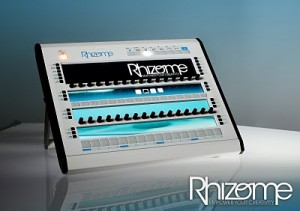 Feeltune announces the release of the Rhizome; one of the highlights of the MusikMesse when it was first presented last March. Many sites and magazines rated it best of the 2010 trade show! The Rhizome is the future of groove machines.
What are the differences with the competition? The Rhizome is a hybrid in which you install virtual instruments and effects in a VST/VSTi format (For Pc). No more limitations in terms of sounds and effects; with the Rhizome you choose the style of sound and instruments you want to play. Once downloaded you can mix your plug-in with the mixing desk; create your sequences, patterns and tracks with the multi modes and multi tracks sequencer which is the brain working behind the scene.
What are the differences with the other hybrids already on the market? The Rhizome is not just a keyboard with a Pc or a Pc Rack; it is a real musical instrument which has been designed for the pleasure to play and compose music and is equipped with software running an innovative interface with numerous displays and controllers.
The Rhizome is a real-time instrument: programming, recording, sampling, adding instruments and effects, tuning; all you do is live! There is no interruption when you play on stage or record in a studio. The objective: to free up your inspiration and creativity.
The development of the Rhizome took several years of R&D; 50 engineers and the validation of around 10 user groups. Today the Rhizome is an aggregate of the best technology and know-how.
For the Audio it is RME that does the job; it has been chosen because of its stability and sound quality which is recognized by everybody.
For the display; forget the small monochrome displays; the Rhizome offers 4 large displays (24 bit colors)
For the controllers; the Rhizome has 102 controllers in which you find 16 dynamic pads and 32 endless knobs
You get the Windows XPE which is a version of Windows XP Pro that has been redesigned and compiled especially for Feeltune. It offers a better stability and a total compatibility with VSTs.
For the effects and instruments; some of them have been developed by Ohm Force, well know key player of the market.
A Design and solid ergonomic; a size and weight that allows bringing the Rhizome with you as hand luggage when you travel by plane.
For its embedded system; you get power and reliability: Intel processor and mother board, server AC, silent fans.
Software, proprietary electronic card and box: build, assemblage and control in France.
Connections: The several in/out allow you to connect and use screens, mousse, midi controllers; hard disk and/or additional audio card.
Communication: The Rhizome is the first instrument to totally implement CopperLan; a new protocol that above the Midi transcription really revolutionize the communication between audio-video machines.
Technical Specifications
Rhizome SE :
- Intel Core 2 Duo 2,93 GHz x 2
- RAM / HD : 2 Go / 250 Go
- Plugs : 1 FireWire, 6 USB, 1 DVI, 1 HDMI, network Gigabit 100/100
- Audio : 1 headset, 2 balanced analog inputs and 2 balanced analog outputs, 1 ADAT, 1 SPDIF/AES, 1 E/S MIDI
- Feeltune software :
o Multitrack sequencer
o Virtual mixing desk
o VST/VSTi Host
o Drum Sampler
o Program Sampler
o Effects: Vocoder, Reverb, EQ, Distorsion, Filter, Flanger, Chorus, Delay, Compressor, Limiter, Bit Crusher, Pitch shifter, Stereolizer, Auto Pan, Enveloper, Multiband distortion, Deeser
o Synths : AcidLiner, SimpleSynth, Napper, TR 8s8, TR 9s9, TR6s6, TR 7s7, TR 7s27, L1nn Drum, DrumLator
- Ohm Force Sympthom synth
- CopperPlug LE (over lan control)
Dimensions : 52,4 x 42,7 x 14,1 cm (20.63 x 16.81 x 5.55 in)
Poids : 12,5 kg (27,55 lb)
Rhizome XE :
The same than SE with :
- Intel Core 2 Duo 2,93 Ghz x 2
- RAM / HD : 2 Go / 250 Go
- 6 balanced analog inputs
- Gforce Oddity
- Gforce Minimonstra
- Tight VNC
- CopperPlug MAX (over lan control)
Rhizome UXE :
The same than XE with :
- Intel Core 2 Quad 2,5 Ghz x 4
- RAM / HD : 4 Go / 500 Go
- Gforce Oddity
- Gforce Minimonstra
- Tight VNC
- CopperPlug MAX (over lan control)
- Other software sequencers or VST host compatible
More informations, medias and customer forum at www.feeltune.com"