Nice new little groovebox for Android phones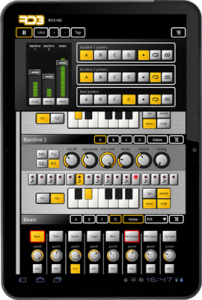 RD3 HD – Groovebox
Use your Android tablet as a groovebox and make your own music tracks!
RD3 HD – Groovebox is an audio application designed for Android tablets that is easy to use. It combines two 303-style synthesizers, a drum machine with different drum kits and three audio effects.
Recreate the sound of early electronic dance music with these legendary machines!
Optimized for Tablets
Take full advantage of your Android tablet with that multi-touch enabled app and use your tablet as a musical instrument.
Use it for live performances in landscape mode or use the additional special rack view on 10-inch tablets in portrait mode. This view is very well suited for editing with the mixer section on top and a scrollable part below for the other panels.
RD3 HD supports both 7-inch and 10-inch tablets and is optimized for Android 3.X (Honeycomb).
Features
Musical Features:
2 virtual analog synthesizers
4 types of waveforms for each synth
Reminiscent of the legendary 303 synthesizer
High-quality or regular filter modes
Drum machine with 10 drum kits: 808, 909, 606, CR-78, Linn, KR55, RX11, RZ1, DMX, DPM48
Real-time step sequencer
3 effects: distortion, phaser and delay
4 bars with 16 steps per instrument
3 play modes: Solo, loop or random
Technical Features:
Designed for 7-inch and 10-inch Android tablets
Special rack view in portrait mode for 10-inch tablets
Optimized for Android 3.x, Honeycomb
Multi-touch control
Audio loop export feature
Session save capability
Cut/copy/paste pattern
OpenSL support
App2SD
System Requirements
Android 2.2 or higher
Screen resolution 800×480 (WVGA) or higher
Screen size 7-inch or higher
800 MHz CPU or faster supporting ARMv7
Tested on: Xoom, Archos 70, Samsung Galaxy Tab, Dell Streak 7
Comments