Electrify NXT – nice virtual groovebox for iPad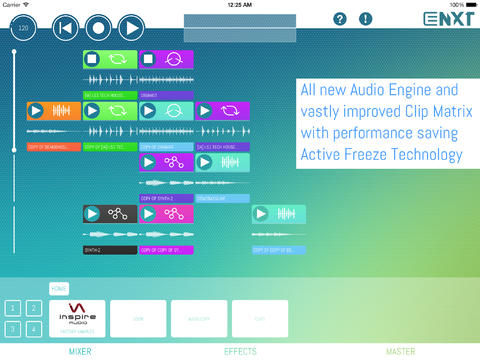 Ingolf Koch has released Electrify NXT, a virtual groovebox for iPad.
Features:
Rewritten and enhanced audio engine.
New session mode lets you perform with loops and clips by creating arrangements on the fly.
New polyphonic FM-style Synthesizer: Electrify NXT comes with a fully fledged frequency modulating synthesizer with 11 Algorithms and wave-morphing oscillators.
The new drumkit combines 8 samplers into one 'grooving loop factory'.
Looper and slicer lets you deconstruct audio loops or rearrange your own clips beyond recognition.
Comes with more than 1600 audio loops and one shot samples
A huge load of effects
Powerful parameter modulation: nearly every parameter of instruments and effects can be modulated by LFOs, Envelopes or by realtime parameter sequencing.
Flexi-Groove templates
Audiobus, AudioCopy and Midi are integrated.
Electrify is back! Electrify NXT turns your iPad into a virtual Groovebox with drum loops, synths and effects. All in realtime! Create musical clips or load samples and loops from the 1600+ samples library and arrange them on the fly in the clip matrix. Create dramatic break downs and build ups with the performance effects.
Comments