More from Native: Traktor Kontrol S5 – the latest incarnation of the all-in-one DJ system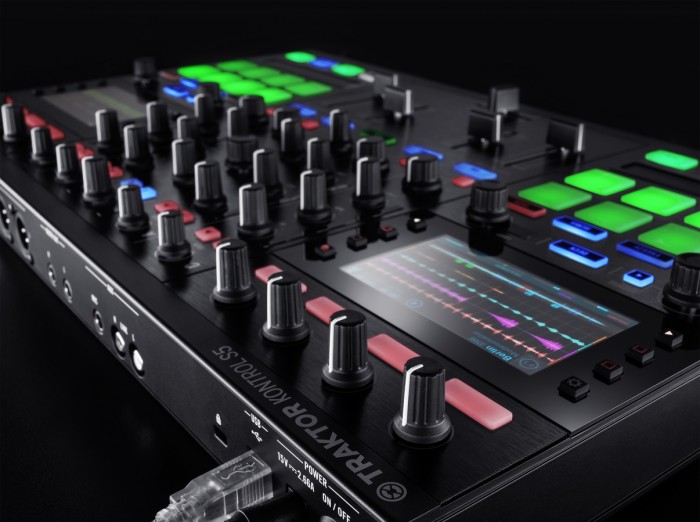 Native Instruments has announced Traktor Kontrol S5, the latest all-in-one DJ system and the next step in the evolution of creative, on-the-go DJing with Traktor.
With a compact size and solid construction, TRAKTOR KONTROL S5 puts familiar hardware control, fluid touch-and-see workflow, and Stems* compatibility into a modern DJ experience. TRAKTOR KONTROL S5 builds on hardware design made popular by the revered TRAKTOR KONTROL S4, with innovative modern technology in a portable format made to feel instantly familiar in the hands of any DJ. TRAKTOR KONTROL S5 will be available online and at retailers worldwide on October 1, 2015.

TRAKTOR KONTROL S5 is designed to provide everything DJing demands – modernized by advanced touch-and-see workflow. The mixer section features key controls such as four channels with EQ and Filter controls, and FX assigns. Touch-sensitive controls bring smart views, performance modes, and pop-up panels to life on two full-color displays – touching an effect knob for example, instantly reveals and hides a deck's FX values. TRAKTOR KONTROL S5's deck types also switch intelligently to match the track, Stem file, or Remix Set being loaded into the included TRAKTOR PRO 2 software. Live remixing with enhanced Remix Decks workflow is seamless – loops can be captured from a running track to instantly sample, for example. And cueing, nudging, or seeking through tracks is made simple and precise with motion-sensitive touch strips that respond naturally to finger swiping.

TRAKTOR KONTROL S5 becomes the fourth addition to the family of Stems-ready TRAKTOR controllers, integrating powerful, customized control of Stems – the open audio format for creative DJ performance.
The Stem View shows Stem files as 4 color-coded, stacked waveforms on the displays. The 16 performance pads map and color-match automatically to each stem when a Stem file is loaded. DJs can mute and unmute different musical elements with the pads or control volume, filter, and effect routing of individual stems, creating spontaneous a cappellas, instrumentals, and mixes that make DJ sets stand out.

TRAKTOR KONTROL S5's compact build and essential on-board connectivity make the unit ideal for mobile professional use. Built using the same premium standards as TRAKTOR KONTROL S8, TRAKTOR KONTROL S5's build quality is designed to resist heavy touring. And it measures to the same size as the popular TRAKTOR KONTROL S4, allowing for protected transport with the TRAKTOR KONTROL S4/S5 FLIGHTCASE**. The built-in 24-bit/48kHz audio interface features both XLR and RCA master outputs, plus one ¼ inch booth output to connect the unit to any type of sound system. And the independent stand-alone RCA or ¼ inch AUX channel input can be used to connect a mic, MP3 player, or any additional line-level device.
Traktor Kontrol S5 will be available on October 1st, 2015, priced at $799 USD / 799 EUR / £579 GBP. Preorder is also available.
Comments