December 14, 2012 · Posted in
Uncategorized
·
Comments Off

on Inside Neo Soul Keys – Virtual Electric Piano powered by HALion
Jamal Hartwell gives you the grand tour of the features to be wowed in Neo Soul Keys Virtual Electric Piano by Steinberg. (Part 1 of 2)
Combining faithful recordings of vintage keys with state-of-the-art technology employed in Steinberg's engines and effects, Neo-Soul Keys proves to be the ultimate electric piano experience.
http://www.steinberg.net/en/products/vst/neo_soul_keys/start.html
Feature overview:
Faithful sampling of original Mark I suitcase piano
Elaborate interface for direct access and intuitive workflows
VST Amp simulation with 6 different classic amp types
Premium effect section: tube distortion, chorus, flanger & more
Vintage modeled vibrato with intensity and speed control
Realistic sounds & authentic bass, mid and treble boost
Adjustable velocity curves for individual playing behavior
Bark samples for classic grit sounds for authentic vintage sounds
December 13, 2012 · Posted in
Uncategorized
·
Comments Off

on Lounge Lizard EP-4 – new versatile electric piano plug-in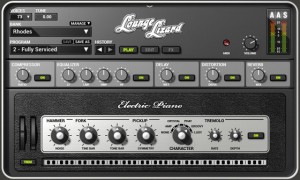 Applied Acoustics Systems has announced the release of Lounge Lizard EP-4, a versatile electric piano plug-in for Windows and Mac.
Authentic tone, action, and feel.

Lounge Lizard EP-4 is an electric piano synthesizer plug-in delivering authentic Rhodes and Wurlitzer sounds in an everything-you-need package.
New in Lounge Lizard EP-4
Completely renewed factory library features the classic Rhodes and Wurlitzer sounds as well as over 200 gig- and mix-ready custom electric pianos making good use of the compressor, equalizer, and multi-effect processor.
Compressor and equalizer added, perfect to add punch and definition to your sound, letting you cut through any dense mix or stage.
Character control provides five classic studio and stage signal path emulations – that's the cabinet, pre-amp, microphone, and recorder chain that follows the piano's output – to easily snug fit your electric piano part into your track.
Output limiter protects your ears and monitors during experimentation with the piano's physical modeling parameters while providing a maximum of distortion-free dynamics.
Redesigned from the ground up, the new interface now divides Lounge Lizard EP-4 into Play, Edit and FX panels.
New bank and program manager allows simple and efficient organization, backup, and sharing of your sounds.
Overhauled effects, reinvigorated, polished, and tuned especially for the electric piano.
Native 64-­bit Audio Unit (AU) and VST plug­-ins.
Lounge Lizard EP-4 for Windows and Mac (VST/AU/RTAS) is available to purchase for $199 USD.
November 29, 2012 · Posted in
Uncategorized
·
Comments Off

on Old Busted Granny Piano and Tuned Micro now available for Reason 6

Soundiron has announced the arrival of their first two ReFill Packs for Reason. They tell us that they've worked with Propellerhead to carefully optimize and redesign their  Old Busted Granny Piano and Tuned Micro libraries specifically for the Reason 6 platform, with Combinator and NN-XT presets that truly capture the playability and advanced control functionality that people have come to love with these popular instruments.
A spokesperson told SBC, "While ReFills and Kontakt presets have very different capabilities and strengths overall, you'll find many of the same familiar UI features, a variety of matching presets, stylized artwork and the same great sound. And don't worry, we'll be adding new offerings to our Reason catalog as time goes on to expand the selection for our Reason users. And existing customers of the Kontakt versions of these libraries are eligible to receive low cost cross-grades to the Reason version."
Here's Soundiron's description of the new ReFill packs…

Tuned Micro Reason ReFill Edition
Tuned Micro is a compact yet powerful multi-instrument collection focuses on a variety of our unique stringed and tuned percussion instruments. We took a dozen of the popular instruments found in our Stringed and Tuned Percussion Bundles for Kontakt and selected a core set of samples from each that offer a good introduction to the signature style, flavor, tone and quality you can expect from our full libraries. You'll find a useful variety of bamboo log drums, wooden box drums, plucked zithers, prepared piano, steel bells, music box, PVC tube drums, wine glasses, kalimba/mbira, toy glockenspiel, waterharp and a modified twine-strung cello.
We've designed a dual-layer mix control for each instrument category preset that allows you to create custom blends with selected layered pairs from the 20 different articulations. Each preset comes with dual layer volumes, attack, release gating, filter, Echo, Reverb and other shaping and special FX parameter controls that can be automated and changed in real-time, allowing truly unique sonic possibilities.
Granny Piano Reason ReFill Edition
The Old Busted Granny Piano is a unique instrument that goes way back with us. This classic beat-up, worn-down, rickety upright piano is just the kind of faded old beauty that your grandmother had collecting dust and creepy porcelain dolls in her living room when you were a kid. With a watery and faded tone, wobbly hammers and a few broken strings, you'll hear and feel every creak and groan as it plays. Clearly, the years have not been kind to her looks or her voice, but her soul truly has aged like a fine wine. This old girl has heart, so give her a whirl.
We've included plenty of Combinator patches that feature front panel controls to easily reshape the action and tone right at your fingertips, with note attack to simulate pad-like sounds, note release, release sample volume and the volume of the pedal sound effect that plays when you use the sustain pedal. We also included a couple of nifty reverb effects and an awesome "Grahammy" mode which makes Granny sound like she's coming out of an old phonograph, complete with vinyl record pops. We also included a selection of ambiences we call Geriatrocities – various sustaining pads and evolving drones derived from the source.
Pricing and Availability:
You can download each for $29. Existing owners of the Kontakt version of each library can order the Reason ReFill Edition as an add-on for only $9. All ReFill Editions require Reason version 6.0.2 or later.
More information:
November 15, 2012 · Posted in
Uncategorized
·
Comments Off

on Radical Keys: New Rack Extension instrument that recreates Rhodes, Pianet and Wurlitzer
For more information: http://shop.propellerheads.se/product/radical-keys/
Introducing Radical Keys, a new Rack Extension instrument for Reason that faithfully recreates three classic electromechanical keyboards—Rhodes, Pianet and Wurlitzer. Based on the same 'Radical' technology as our Radical Piano instrument, Radical Keys goes beyond flawless emulation, by enabling you to sculpt your own instruments from the originals.
Disclaimer: All product names used are trademarks of their respective owners, and in no way constitutes an association or affiliation with Propellerhead Software. All trademarks are solely used to identify the products whose sound was sampled and studied during the development of Radical Keys.
September 30, 2012 · Posted in
Uncategorized
·
Comments Off

on Live OP-1 + Piano (Crank)
Tryggve Stakkeland is testing out the crank. OP-1 runs through el cap and cathedral. Polar controlling NI The Giant.
—-
soundcloud.com/trygvestakkeland
September 25, 2012 · Posted in
Uncategorized
·
Comments Off

on iPad JAM: GarageBand, Geo Synthesizer, iRig MIDI e Yamaha P95
Marcus Padrini is out with a new video featuring some nice interaction between Ipad synths, the iRig and a Yamaha P95, details below:
Here is a JAM playing with just one iPad running GarageBand and Geo Synthesizer, with the support of Yamaha's P95 Digital Piano and iRig MIDI. Everything was made live. A little drum loop on SmartDrums, a GB Pad called moonrise and my Lead, released with Geo Synth (Padrini Lead), with some modifications (delay, cutoff and gain).
The custom lead can be downloaded here: https://dl.dropbox.com/u/13574893/Padrini%20Lead%20LP%20MA%20delay%202.geosynth
September 24, 2012 · Posted in
Uncategorized
·
Comments Off

on Piano One Special Edition free piano plugin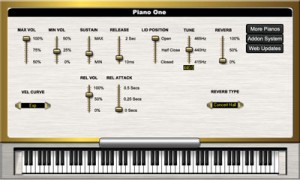 Sound Magic has announced Piano One Special Edition, a free virtual piano instrument for Windows and Mac.
In order to Celebrate Piano One is selected as one of the 27 best free VSTs by music radar! Sound Magic releases Piano One Special Edition. The Special Edition contains all the presets published up to Sep 2012, 20 presets in total and most important, adds previous hidden key noise and harmonic controls into automation list, which previous only available on our commercial products.

The Sound of Piano One comes from the Yamaha C7 concert grand, a true workhorse in the professional piano world, appearing on famous concert stages, in international competitions and in prestigious music events throughout the world.

By utilizing the Sound Magic Hybrid Modeling Engine, Piano One offers both the Realistic Sound of Sampling and the Playability of Modeling. Hybrid Modeling provides an instantaneous feeling – no delay – and a truer and richer sound than canbe created with either sampling or modeling alone. What's more, Piano One utilizes only 160MB, which is quite a small footprint, making Piano One usable even on older PCs. There is no waiting time when loading and the CPU usage is so small that it's virtually unnoticeable.
Piano One is available for Windows and Mac (VST/AU) at no cost.
Features
Sound Magic Hybrid Modeling Technology
32 Polyphony Limited
Add-on System (needs internet connection)
Actual modeling and soft pedal samples vividly present the sound of three
kinds of pedals.
Actual Modeling of the key release sound
Built-in professional Reverb Engine simulates resonances with environment
and soundboard, adding extra realism to the sound.
Faster load times. Smaller hard drive footprint, less memory and less CPU
usage.
September 2, 2012 · Posted in
Uncategorized
·
Comments Off

on John Cage Piano – for iPad
http://ios-music.homewoke.net
It is John Cage official application. As for you it is possible to enjoy the prepared piano . It is difficult to do music expression, is. But data very it is significant.
Celebrate John Cage's 100th birthday by playing the John Cage Piano app on your iPad. One of the many ingenious innovations of American composer/writer/artist John Cage was his creation of the "prepared piano", in which he placed objects beneath and between the strings of a grand piano to create an entirely new instrument.
The sounds of John Cage's prepared piano are now available for you to play on your iPad with this innovative app. Play meticulously sampled sounds of a piano prepared with the actual materials used by John Cage in the preparations for his Sonatas and Interludes (1946-48) as sampled under the supervision of the John Cage Trust.
August 28, 2012 · Posted in
Uncategorized
·
Comments Off

on Propellerhead Reason: Radical Piano as a Send Effect
In this video, Line 6's Propellerhead Product Specialist Matt Piper shows you how to use Propellerhead's new Radical Piano Rack Extension as a Send Effect for processing audio. Although the example in the video shows the effect being used on drums, this effect can also sound great on vocals or solo instruments.
August 24, 2012 · Posted in
Uncategorized
·
Comments Off

on Reason rack Extension: Radical Piano Sound Examples
In this video the Propellerheads will walk you through some of the sound sculpting potential in Radical Piano, a new Rack Extension available for Reason 6.5.
http://shop.propellerheads.se/product/radical-piano/
More Info:
Radical Piano gives you three sampled pianos paired with the technology to make an infinite number of your own. Thanks to its blend between sampling technology and physical modeling, Radical Piano is a lightweight, flexible, and bendable piano instrument that provides sounds for every situation and every song, from ultra-clean to creakingly natural — and beyond.
With Radical Piano you can do things that are otherwise impossible; not only in multi-gigabyte sample libraries but even in the recording of actual acoustic pianos. Do you wish your close mic'd grand piano sounded just a little bit more like a vintage mono upright piano? Use the microphone blend to create a hybrid sound. Route audio, like a vocal, through the jacks on the back of Radical Piano to hear it resonate the strings as if you had recorded piano and vocals together live, in the same room. What if with the turn of a knob you could transform the tonal characteristics of your piano, shifting from a soft intimate performance to a bright aggressive instrument that will cut through your mix? We've got that knob and it's called "Character."
Features
– Three pianos: Home Grand, Deluxe Grand, and Upright
– Choose a blend of vintage mono, ambience, floor, jazz and close mics
– Go from horror movie soundtrack to sharp cut-through-the-mix piano with the Subdued and Agitated Character settings
– Adjustable velocity response puts you in control of the performance — play quietly or with exaggerated dynamics
– Set the amount of resonance, and key and pedal noises you want for a natural or surgically clean sound
– The built-in EQ, reverb and compressor lets you tweak your sound further to sit perfectly in the mix
– Tons of preset sounds included — Pianos for every situation and every song