Improvisation with Rhodes SeventyThree Mark I, ARP Omni-2, and Roland SH-1000.
Effect: Eventide H3000-D/SE patch 155 "ANALOG DELAYS2″.
The Fender Rhodes product line evolved quickly as the 1970′s began. The 73-key Electric Piano was renamed the Fender Rhodes Suitcase Piano in 1969, featuring a black harp cover and a stereo 80W amp, and by 1970 the Fender Rhodes Mark I Stage Piano was available. The Stage Piano was the piano top from the Suitcase model, modified for use with an external guitar or bass amplifier. The Stage model featured detachable legs (parts from a Fender pedal steel guitar), a sustain pedal and pushrod (part of a Rogers hi-hat stand), and a simplified front panel with only volume and bass EQ controls. Internally, the Stage Piano was nearly identical to the Suitcase model.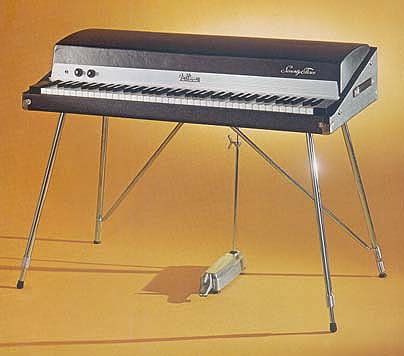 Major changes were made to the piano action between 1969 and 1971. Around 1970, the wooden teardrop piano hammers used in previous models were replaced with hybrid wood-plastic hammers. These new hammers were designed with replaceable tips, because the teardrop hammers were prone to developing grooves over time and were difficult to repair. Originally the tips were made of felt-covered wood and glued into a slot in the hammer head. In early 1971 the factory switched to using Neoprene (rubber) tips, which were proven to be more durable.
The tone generators were also greatly improved during this time. The tonebars were redesigned to be thinner and lighter, with the lower octaves having a 90-degree twist in the middle. This helped to both reduce the weight of the piano and improve tone quality overall. Additionally, the tines were tapered using a "centerless grinding process", making them hundreds of times more durable than the original Raymac tines. These tines produced a more stable sound while retaining much of the bell-tone that characterized the Rhodes. But the biggest accomplishment was the introduction of full-size, 88-key pianos in 1972. The Rhodes engineers had finally found ways to stabilize the tone and pitch of keys in the extreme registers of the piano, with the lowest bass notes not needing tonebars and the highest notes requiring wood-core hammer tips.
Free Ableton Live Pack #70: Rusty Fender Rhodes Pack by AfroDJMac and Robert Chambers. This free Ableton Live Instrument Rack was created with samples from a Fender Rhodes electric piano.
Free Download @ http://bit.ly/freesynth70
Robert Chambers: http://soundcloud.com/robertchambers
Six brand-new soft synths with the brilliant depth and character of classic hardware. Instantly call up inspiration from : the Yamaha CS-70M, CS-40M and CS-20M, the crazy Italian Elka Synthex, the Rhodes Chroma, the king of FM – the Yamaha DX1, the rare DK Synergy and the classic K250 revisited.
From modern prog and pop to dance, electro, hip-hop and experimental, Vintage Legends is a deep and versatile sonic resource that's sure to inspire artists working in any style.
Special introductory price : $299 instead of $349
❐ UVI Official Website : http://www.uvi.net
❐ Buy Vintage Legends : http://bit.ly/uvi_vintage-legends
———————————————————————————
Take 6 iconic vintage synthesizers, carefully restore them, create a massive array of presets and deeply multi-sample them, professionally process and master the sounds, infuse them into the industry proven UVI Engine — giving you endless sound shaping options, then wrap the results in immaculately prepared GUIs and you've got UVI Vintage Legends.
At UVI we've been producing sound for over 20 years and designing our own software for over 12.
We've found that virtual instruments with a foundation in sampling have a more defined character and distinct sound quality than those based on digital modeling. The trouble with sample-based instruments is that they're typically lacking in expression and flexibility; one sample, one sound.
UVI hybrid instruments are more flexible than a conventional ROMpler and more authentic than a simulation, giving you the best of both worlds. Vintage Legends integrates over 30,000 samples from classic synths into the acclaimed UVI Engine, giving you the distinct character of hardware with the added control, convenience and power of a modern digital instrument.
Taking these classic tones into new sonic territory, the UVI Engine delivers massive unison spreads, abundant polyphony, thick-modeled filters, drive, reverbs, modulation, FX and much, much more. These instruments will never need to be serviced or go out of tune, and they're far easier to lug around than hardware.
———————————————————————————
SIX POWERFUL VINTAGE MACHINES REVISITED
Vintage Legends comes packed with over 800 presets expertly crafted by our sound design team, giving you a huge library of unique sounds and textures.
Each instrument features an intuitive and evocative GUI with a versatile and easy-to-navigate control set helping you to quickly shape sounds to fit your needs, transform them for wild inspiration or crack open the unit and design your own.
Timeless sounds. Infinitely customizable. Compatible with everything.
◆ UVI CS-M – Vintage Japanese Power
◆ UVI SYNTHOX – The Real Italian Stallion
◆ UVI KROMA – Premier Analog Synth
◆ UVI FMX1 – The Gem of FM
◆ UVI U1250 – Dawn of the ROM Age
◆ UVI ENERGY – Additive Fury (bonus only available in Vintage Legends)
CS-M, SYNTHOX, KROMA, FMX1 and U1250 are available as individual instruments for $99 each.
More info & screenshots : http://bit.ly/uvi_vintage-legends
———————————————————————————
COMPATIBILITY
With the free UVI Workstation 2.0.8 (required version), UVI Vintage Legends can work:
• as a stand-alone instrument, compatible with Mac & PC
• as a VST, AudioUnit, RTAS and MAS plug-in.
With MachFive 3 – make the most of all editing features included!
———————————————————————————
* Yamaha, Elka, ARP, Rhodes, Kurzweil, D.K, CS70M, CS40M, CS20M, DX1, Synthex, Chroma, K250, K1000 and Synergy are trademarks of their respective owners and are not affiliated, endorsed, connected or sponsored in any way to UVI or any of our affiliate sites; therefore do not be confused between UVI and these brands.
For more information: http://shop.propellerheads.se/product/radical-keys/
Introducing Radical Keys, a new Rack Extension instrument for Reason that faithfully recreates three classic electromechanical keyboards—Rhodes, Pianet and Wurlitzer. Based on the same 'Radical' technology as our Radical Piano instrument, Radical Keys goes beyond flawless emulation, by enabling you to sculpt your own instruments from the originals.
Disclaimer: All product names used are trademarks of their respective owners, and in no way constitutes an association or affiliation with Propellerhead Software. All trademarks are solely used to identify the products whose sound was sampled and studied during the development of Radical Keys.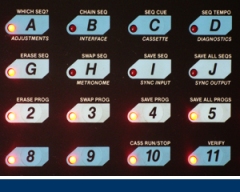 Detunized has announced Chropolis, a sound library for Ableton Live.
Chropolis brings another facet of early eighties flair to your snuggery. The Pack contains a rich collection of more than 30 instruments that capture the spirit of the Rhodes Chroma Polaris.
The original 1984 RCP combines analog sound with precise and reproducable digital control. The heart of the RCP is an 80186 microprocessor while his buddy Curtis does what this synthesizer makes sounding so great.
The Live Pack instruments come with precisely adjusted parameters on the macros. In addition the main devices in each chain are kept open. This way instant tweaking is absolutely easy-going.
Chropolis for Ableton Live 7 or higher is available to purchase for 7 EUR.
"This is a song made entirely from a Chroma Polaris synthesizer (with a bit of FX during mixdown). Not the most thrilling video from a visual perspective (these are just some pics I had taken awhile back for an eBay auction), but uploaded mostly for an example of its sound."
Hardware close up: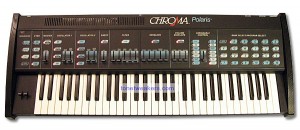 The Chroma Polaris was the second synthesizer made by Fender/Rhodes after they took over ARP, following their classic Rhodes Chroma. It has a classic analog ARP-like sound, kind-of tinny but also fat. Sounds can be layered up to 6 voices. It has typical analog synth controls including a cool 'sweep' knob for sweeping through the LFO or analog filter cutoff parameters. It also has a simple real-time sequencer and 132 memory patches.
There's also a nice and colorful layout with sliders similar to Roland Juno synths, membrane push-buttons and a large velocity sensitive 61-note keyboard making the Chroma Polaris a very nice synth. Fully MIDI-equipped, the Polaris will transmit and receive all its edit controls through MIDI as well as the ability to play up to three patches at once. Unfortunately they are rare and usually hard to find.
Jazz session with Jupiter-8, (split patch Bass/Xylo) and Motif-6: Vintage 74 Rhodes and Korg Emx preset drum pattern.
This song came about when searching for a random pattern on the drum machine that was completely different and out of the ordinary.
Synths used: Jupiter-8: Bass/Xylo split Motif-6: Rhodes Vintage 74
For those of you who missed out the live performance featuring the classic Rhodes at last weeks MusikMesse, check this one out. The signature electric piano is back with all the great sounds of the classics and now with extensive MIDI control that includes a polyphonic after touch and a patented highly accurate sensing technology to capture every nuance played.