Fender Rhodes: Forgotten sounds of yesteryear
Improvisation with Rhodes SeventyThree Mark I, ARP Omni-2, and Roland SH-1000.
Effect: Eventide H3000-D/SE patch 155 "ANALOG DELAYS2".
The Fender Rhodes product line evolved quickly as the 1970's began. The 73-key Electric Piano was renamed the Fender Rhodes Suitcase Piano in 1969, featuring a black harp cover and a stereo 80W amp, and by 1970 the Fender Rhodes Mark I Stage Piano was available. The Stage Piano was the piano top from the Suitcase model, modified for use with an external guitar or bass amplifier. The Stage model featured detachable legs (parts from a Fender pedal steel guitar), a sustain pedal and pushrod (part of a Rogers hi-hat stand), and a simplified front panel with only volume and bass EQ controls. Internally, the Stage Piano was nearly identical to the Suitcase model.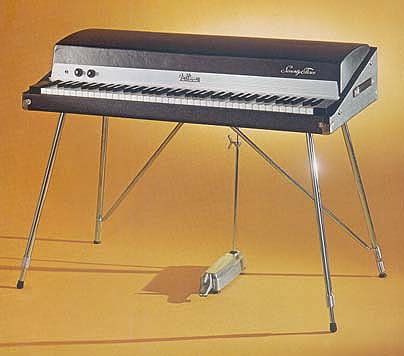 Major changes were made to the piano action between 1969 and 1971. Around 1970, the wooden teardrop piano hammers used in previous models were replaced with hybrid wood-plastic hammers. These new hammers were designed with replaceable tips, because the teardrop hammers were prone to developing grooves over time and were difficult to repair. Originally the tips were made of felt-covered wood and glued into a slot in the hammer head. In early 1971 the factory switched to using Neoprene (rubber) tips, which were proven to be more durable.
The tone generators were also greatly improved during this time. The tonebars were redesigned to be thinner and lighter, with the lower octaves having a 90-degree twist in the middle. This helped to both reduce the weight of the piano and improve tone quality overall. Additionally, the tines were tapered using a "centerless grinding process", making them hundreds of times more durable than the original Raymac tines. These tines produced a more stable sound while retaining much of the bell-tone that characterized the Rhodes. But the biggest accomplishment was the introduction of full-size, 88-key pianos in 1972. The Rhodes engineers had finally found ways to stabilize the tone and pitch of keys in the extreme registers of the piano, with the lowest bass notes not needing tonebars and the highest notes requiring wood-core hammer tips.
Comments