The Beatles Day Tripper
arranged by YMO
KORG DS-10 cover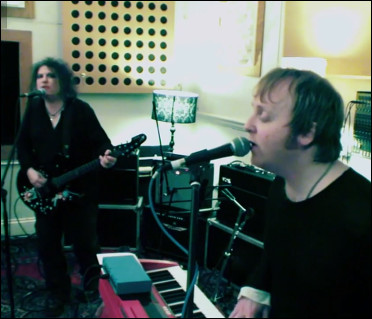 The Guardian exclusively revealed yesterday that The Cure had recorded a Beatles cover with James McCartney, son of Paul McCartney, on keyboards.
The band recorded "Hello Goodbye" from the forthcoming all-star tribute album to Paul McCartney out on November 17. Apart from The Cure the 34-song tribute 2CD "The Art of McCartney" also features the likes of Billy Joel, Bob Dylan, Brian Wilson, Kiss, Barry Gibb, Dr John, BB King and many more
The full tracklisting:
Maybe I'm Amazed – Billy Joel
Things We Said Today – Bob Dylan
Band On The Run – Heart
Junior's Farm – Steve Miller
The Long and Winding Road – Yusuf / Cat Stevens
My Love – Harry Connick, Jr.
Wanderlust – Brian Wilson
Bluebird – Corinne Bailey Rae
Yesterday – Willie Nelson
Junk – Jeff Lynne
When I'm 64 – Barry Gibb
Every Night – Jamie Cullum
Venus and Mars/ Rock Show – Kiss
Let Me Roll It – Paul Rodgers
Helter Skelter – Roger Daltrey
Helen Wheels – Def Leppard
Hello Goodbye – The Cure ft James McCartney
Live And Let Die – Billy Joel
Let It Be – Chrissie Hynde
Jet – Robin Zander & Rick Nielsen of Cheap Trick
Hi Hi Hi – Joe Elliott
Letting Go – Heart
Hey Jude – Steve Miller
Listen To What The Man Said – Owl City
Got To Get You Into My Life – Perry Farrell
Drive My Car – Dion
Lady Madonna – Allen Toussaint
Let 'Em In – Dr John
So Bad – Smokey Robinson
No More Lonely Nights – The Airborne Toxic

Event

Eleanor Rigby – Alice Cooper
Come And Get It – Toots Hibbert with Sly & Robbie
On The Way – B. B. King

Birthday

– Sammy Hagar
http://www.insideout.co.jp/apps/
The applications that we used…..
– Super Manetron (Mellotron Simulator for iPhone /iPad) as Flute, Brass, Cello
– GarageBand for iPad as Giutar, Bass
– Sitar Piano as Sitar
– iLectric as Piano
Personnel:
Koya Matsuo – Voice
Junichiro Yamasaki – iPad
Super Manetron is the Mellotron for iPhone and iPod touch. Genuine sound sampled from Mellotron M400S (serial number 761) manufactured in the 70's.
The Mellotron is an vintage sampling keyboard by analog tapes. The Mellotron had a strong impact on rock music, becoming a trademark sound of the progressive rock bands.
You can see an internal mechanism (tape running animation) and can enjoy simulation of Mellotron with eyes and an ear.
Features:
– Core MIDI compatible
– 35Kyes of sampled sounds from Mellotron M400S serial number 761 manufactured in the 70's.
– 8 sec PCM full sampling sounds each Key
– Scrollable Keyboard & dual Keyboards with switchable key width
– No loop sounds (real performance feeling)
– Pre-loaded with 7 instruments including Flute, 3violins (Strings), Cello, Oboe, 8-voice Choir, Vibes, Brass
– 7 instrument sounds can be set as the favorite position of A,B,C position on setting screen
– A+B, B+C mix sounds position
– The sound of motor and tape rewind mechanical noise
– Tape running animation
– Pitch control by accelerometer
– Built-in Reverb that simulates spring reverb
– Original sounds source are recorded by 96KHz/24 bits
– Compiled under the supervision of Fumitaka Anzai (Famous vintage keyboard player & collector of Japan)
Out now for the US market is the Tangerine Dream album "Under Cover" via Cleopatra Records. The 14-track collection features founding Tangerine Dream member Edgar Froese and the band re-imagining songs from David Bowie, The Beatles, The Eagles, Chris Isaak, Pink Floyd, Kraftwerk, the Goo Goo Dolls, Leonard Cohen, Depeche Mode, and more.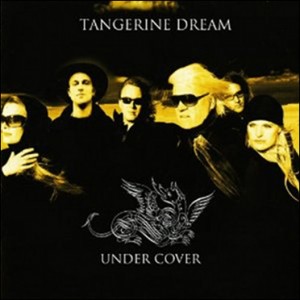 If you want to hear what to expect, you can already check out "Space Oddity".
Each member of the band selected the tracks that resonated the best with them. Froese chose "Everybody Hurts," Space Oddity," and "Heroes" on which he played synth, mellotron, and provided vocals. Percussionist/drummer Iris Camaa selected "Wicked Game," "Hotel California," and "Iris." Flutist and singer Linda Spa chose "The Model," "Suzanne," and "Forever Young." Thorsten Quaeschning, main vocalist and synth/guitar player, chose "Cry Little Sister," "Precious," and "Hallelujah." Guitarist Bernhard Beibl elected to cover "Norwegian Wood" and "Wish You Were Here."
"Under Cover" track list:
Cry Little Sister (Gerard McMann)
Everybody Hurts (REM)
Precious (Depeche Mode)
Space Oddity (David Bowie)
The Model (Kraftwerk)
Wicked Game (Chris Isaak)
Hotel California (The Eagles)
Suzanne (Leonard Cohen)
Heroes (David Bowie)
Forever Young (Alphaville)
Iris (Goo Goo Dolls)
Norwegian Wood (The Beatles)
Hallelujah (Leonard Cohen)
Wish You Were Here (Pink Floyd)
You can order the album on Amazon USA, Amazon UK and Amazon DE.
Via SL
This is a taste of one of the songs from Citizen One. Citizen One has created electronic pop versions of six classic Beatles songs. Search for Citizen One on Facebook and iTunes.
Four of Drexel's HUBO robots perform the Beatles' "Come Together" in a demonstration that combines cutting-edge engineering technology and research with creative expression, produced by the Music & Entertainment Technology Laboratory (MET-lab). The HUBOs are operating autonomously (not human-controlled). Their movements are directed by student-developed software to perform the gestures necessary to produce the appropriate notes and beats as dictated by a musical score. Every sound in the video was performed by the robots.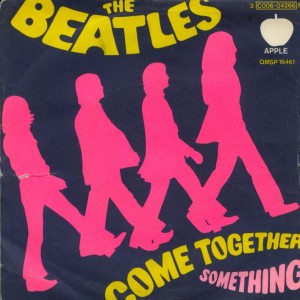 MET-lab student Matthew Prockup created the musical arrangement for drum kit and three "Hubophones", novel percussion instruments designed and constructed by the lab for this performance.
HUBO was designed and developed by the Korea Advanced Institute of Technology (KAIST) Hubo Lab (Dr. Jun Ho Oh, Director). Drexel Engineering kicked-off National Engineers Week by unveiling seven HUBO humanoids at an unprecedented showcase event on February 20, 2012. Their presence at Drexel is part of a large collaborative project with KAIST and seven other U.S. universities with the goal of rapidly advancing humanoids research.
More information: http://drexel.edu/engineering/news/archive/2012/RoboticsAtDrexelTheCenterpiec…
"I wanted to do a track with polyphonic playing, poly vibrato (!), etc and this well-known (ahem!) piece seemed like a good fit for that… An imperfect performance but really fun to play! Check out the part near the end (2:05 & 2:15) when I get to bring out the other synth line just with poly pressure–Way cool!
Don't judge the sound of this incredible instrument by my camera's cheesy mic… It is gorgeous in person (or in a decent recording.)
Be sure to check out Lippold Haken's incredible instrument at hakenaudio.com"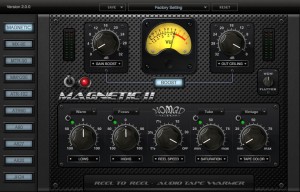 Nomad Factory has released Magnetic 2, a virtual reel-to-reel audio tape warmer effect for Windows and Mac.
The plug-in features pure analog reel-to-reel tape speeds, tape/tube saturation and tape color effects, as well as a dedicated vintage style EQ and a built in Boost mastering section. The result is a creamy, warm sound that can only be achieved by MAGNETIC II.
New in Magnetic 2
9 tape models that give you the authentic sound of the famous vintage tape machines:

Otari MX-80 2-inch 24-track
Otari MTR-90 2-inch 24-track
Ampex MM1200 2-inch 24-track
Ampex ATR-102 half-inch two-track
Tascam ATR60-16 1-inch 16-track
Studer A80 Mk II 2-inch 24-track
Studer A827 2-inch 24-track
Studer A820 2-inch 24-track
MCI JH24 2-inch 24-track

Real Tape Model Mode: To engage the new Real Tape Model mode, simply turn the Reel Speed knob between 1 and 30 and it will activate the selector buttons on the left.
Wow & Flutter Knob: Turning the Reel Speed knob between 1 and 30 also activates the Wow & Flutter knob which gives you the irregularities in the playback speed of analog recordings.
Magnetic Tape Color: When the Reel Speed knob is set to DASH, this engages the original Magnetic Tape-Color sound. Any other Reel Speed Knob setting allows you to select between different Tape Model modes, including Magnetic.
Magnetic 2 is available to purchase for the introductory price of $79 USD. The upgrade from Magnetic v1.x is $20 USD for a limited time.
The Story of Reel-to-Reel Tape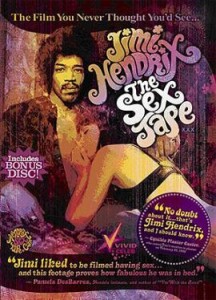 Every hit album made before the 1990's was recorded on some form of Tape… The Beatles, Jimi Hendrix, Led Zeppelin, The Doors, Queen, the list goes on and on. That's why those songs still sound so good today, because the way they were recorded. Even today, some artists of all genres prefer analog tape's "musical", "natural" and especially "warm" sound. Due to harmonic distortion, bass can thicken up, creating the illusion of a fuller-sounding mix. In addition, the high end can be slightly compressed, which is more natural to the human ear. It is common for artists to record to digital and re-record the tracks to analog reels for this effect of "natural" sound. In addition to all of these attributes of tape, tape saturation is a unique form of distortion that many artists find very pleasing.
Before large hard disks became economical enough to make hard disk recorders viable, studio digital recording meant recording on digital tape. Mitsubishi's ProDigi and Sony's Digital Audio Stationary Head (DASH) were the primary digital reel-to-reel formats in use in recording studios from the early 1980s through the mid 1990's. With the MAGNETIC, Nomad Factory has captured the essence of DASH technology and made the sound of high-fidelity digital tape recording available in plug-in format.
Here's a preview of a new vocal synth for Windows:
My vocal synthesizer VstPlugin in action.
The sounds are completely synthesized / modifyed (no samples used) .
Beatles Moog vs. Synthesizers.com by RossT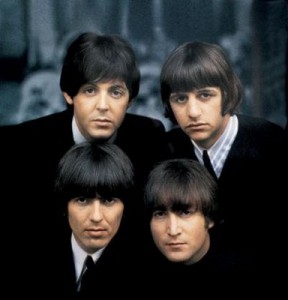 Track details:
Beatles 'Here Come the Sun' Moog and Synthesizers.com experiment
"This is an attempt at emulating the Moog parts from The Beatles song Here Comes the Sun using a Synthesizers.com modular system. The Left channel is the original Moog track ( with some strings bleeding in). The Right channel is the Dotcom modular. The emulation turned out pretty good considering that I'm not using the same recording equipment Abbey Road had to offer at the time. One particular challenge was to emulate a certain vibrato effect heard at certain places. My guess is that the vibrato was not from the Moog itself, but I suspect from the Artificial Double Tracking tape effect which The Beatles employed often and George Harrison was a particular fan of."
Beatles 'Because' Moog vs Synthesizers.com experiment
"Here I take a stab the the Moog sound from 'Because'. First, the original is heard, followed by the original on the Left channel and the emulation on the Right channel, finally the emulation is played on it's own."
Beatles 'Maxwell's Silver Hammer' Moog vs Synthesizer.com experiment
"My attempt at emulating Moog sounds from The Beatles song 'Maxwell's Silver Hammer'. First the original Moog sound is heard followed by the Synthesizer.com emulation. I'm relatively satisfied with the brass ensemble but the rest could have been better. There were just some tricky thing going on I could figure out about some sounds. My suspicion is that some of these sounds were played through guitar amplifiers, giving them certain resonant characteristics I couldn't emulate on a modular synth alone."