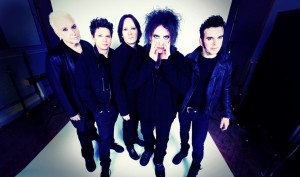 The Cure frontman Robert Smith has announced that a new The Cure album is in the pipeline. It will hold several tracks from the canceled 2CD record they had planned to release earlier but which remained unreleased. Something that really pissed of Robert Smith because The Cure had cancelled their upcoming North American tour so they could polish off their new double album.
Robert Smith: "I was so fucking angry that they wouldn't release a double album that I wouldn't give them the other songs."
More info as it leaks out.
Gear used:
Roland AIRA TB3
Korg electribe EMX-1
Korg Volca Bass
Korg Volca Keys
Arturia Microbrute
Korg MicroKorg
Mini Kaoss Pad 2
TC Electronic Flashback
Background video description:
Here is a video of some friends and I recording our version of "Just like Heaven" by The Cure. We all three used to play together in high school and decided to reunite a couple of months ago to do an 80's reunion. It's such a great pleasure to play with these guys after 27 years. Being in a band with great friends, rather than just other musicians, means everything to me! I played drums and obviously keyboards on this recording, and covered all backing vocals. Drums used were a Roland TD20SX set. Recorded using a Yamaha AW4416 Digital Recorder. We are "A Buck Twenty-Five".
Curtis Ryan – Lead Vocals
Jimmy Pound – Keyboards, Vocals, Drums
Wesley Garner – Guitar
Jason Terry – Bass
Thank you for watching!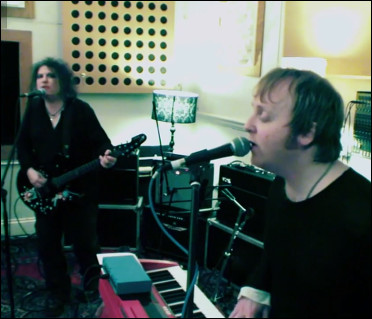 The Guardian exclusively revealed yesterday that The Cure had recorded a Beatles cover with James McCartney, son of Paul McCartney, on keyboards.
The band recorded "Hello Goodbye" from the forthcoming all-star tribute album to Paul McCartney out on November 17. Apart from The Cure the 34-song tribute 2CD "The Art of McCartney" also features the likes of Billy Joel, Bob Dylan, Brian Wilson, Kiss, Barry Gibb, Dr John, BB King and many more
The full tracklisting:
Maybe I'm Amazed – Billy Joel
Things We Said Today – Bob Dylan
Band On The Run – Heart
Junior's Farm – Steve Miller
The Long and Winding Road – Yusuf / Cat Stevens
My Love – Harry Connick, Jr.
Wanderlust – Brian Wilson
Bluebird – Corinne Bailey Rae
Yesterday – Willie Nelson
Junk – Jeff Lynne
When I'm 64 – Barry Gibb
Every Night – Jamie Cullum
Venus and Mars/ Rock Show – Kiss
Let Me Roll It – Paul Rodgers
Helter Skelter – Roger Daltrey
Helen Wheels – Def Leppard
Hello Goodbye – The Cure ft James McCartney
Live And Let Die – Billy Joel
Let It Be – Chrissie Hynde
Jet – Robin Zander & Rick Nielsen of Cheap Trick
Hi Hi Hi – Joe Elliott
Letting Go – Heart
Hey Jude – Steve Miller
Listen To What The Man Said – Owl City
Got To Get You Into My Life – Perry Farrell
Drive My Car – Dion
Lady Madonna – Allen Toussaint
Let 'Em In – Dr John
So Bad – Smokey Robinson
No More Lonely Nights – The Airborne Toxic

Event

Eleanor Rigby – Alice Cooper
Come And Get It – Toots Hibbert with Sly & Robbie
On The Way – B. B. King

Birthday

– Sammy Hagar
Background video description:
My second version of the classic Cure song.
I was not satisfied of my first run uploaded some weeks ago….so,
this time some changes on Volca Keys patterns, different bass sound whit FX., different ending.
And finally sound from the mixer.
Main Melody : Korg Volca Keys
Bass line : Arturia Microbrute , through Digitech BP 50 digital FX.
Added flanger and a little reverb
Drums : Korg Volca Beats
no overdubbing, no DAW.
what you hear is what I play.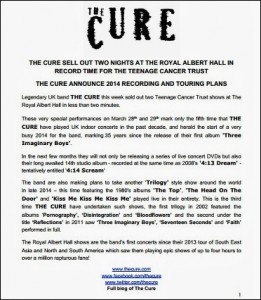 The Cure fan website Chain of Flowers has one hell of a scoop. The site received a press release from the band in which they announce the release a series of live concert DVDs in the next few months. The same press release also announces the band's 14th studio album, with working title "4:14 Scream". Apparently the album will be a collection of songs recorded at the same time as "4:13 Dream". Expect the material to be much darker than what was released on "4:13 Dream".
And that's not all, The Cure is preparing for another Trilogy-style tour, this time featuring full performances of the 3 albums released between 1984 and 1987. Those who witnessed the band's 4 hour and a half gig in Mexico in October 2013 (like we did) already have an idea what to expect.
Let's see if all this will effectively be concretized because we are still waiting for a couple of other previously announced The Cure releases: DVD reissues of "The Cure in Orange", the BBC recordings boxset "Show" and the follow-up to the 1990 remix collection "Mixed Up".
More info as we get it.
Via SL Mag
Here's a nice video featuring true old-timers on the music scene – The Cure
Enjoy!
The Cure 'Bestival Live 2011' released 5th December on Sunday Best Recordings. The full concert available on 2xCD and Digital Download at a very special price.
32 Cure classics including "The Lovecats", "Close To Me", "Friday I'm In Love", "Lullaby", "The Caterpillar", "Just Like Heaven" & "Boys Don't Cry"
All profits from the sale of this album will go to the Isle of Wight Youth Trust.
"We had such a great time in the Isle of Wight at Bestival that we wanted to release this show as a way of thanking fans and islanders alike. Bestival is the best!" Robert Smith
Said Smith: "We had such a great time in the Isle of Wight at Bestival that we wanted to release this show as a way of thanking fans and islanders alike."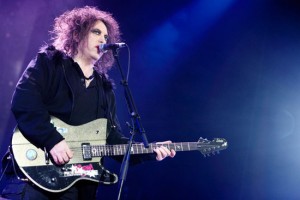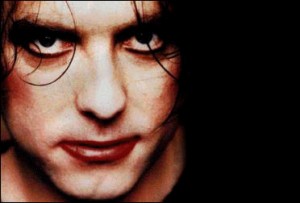 According to The Sun, ex-Beatle Paul McCartney has been shopping a Paul McCartney tribute around and is asking famous musicians to cover one of his songs. He already had arranged for The Clash to collaborate with his son James for one of the songs and now also hooked him up with The Cure. McCartney is said to have a good relationship with the band's frontman, Robert Smith. So The Sun says.
Other artists on this Paul McCartney tribute include Billy Joel, BB King, Garth Brooks, Paul Rodgers and even KISS. Rumour has it that The Police declined.
Via SL
The Japanese Popstars have assembled quite a strong line-up for their new album. The album includes guest performances by Robert Smith (The Cure), Tom Smith (The Editors), Morgan Kibby (M83) and James Vincent McMorrow next to Lisa Hannigan, Chicago house legend Green Velvet and Jon Spencer. Honestly we wonder a bit why this act has deserved this because their material so far could not impress us at all.
The Japanese Popstars are an electronic act from Derry, Northern Ireland, consisting of Declan McLaughlin aka Decky Hedrock, Gary Curran, and Gareth Donoghue. They are signed to indie label, Gung-Ho Recordings (Gus Gus, Zoo Brazil) in the UK, and Beatink in Japan (home of Underworld, Aphex Twin, and Cinematic Orchestra).
The band will release their new single "Song For Lisa" on Positiva/Virgin on 4 April 2011. The release features Mercury Prize-nominated Irish singer-songwriter Lisa Hannigan.