Hot news on The Cure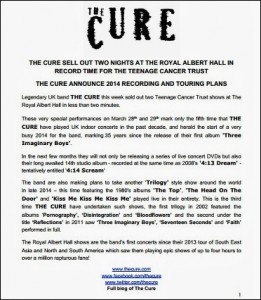 The Cure fan website Chain of Flowers has one hell of a scoop. The site received a press release from the band in which they announce the release a series of live concert DVDs in the next few months. The same press release also announces the band's 14th studio album, with working title "4:14 Scream". Apparently the album will be a collection of songs recorded at the same time as "4:13 Dream". Expect the material to be much darker than what was released on "4:13 Dream".
And that's not all, The Cure is preparing for another Trilogy-style tour, this time featuring full performances of the 3 albums released between 1984 and 1987. Those who witnessed the band's 4 hour and a half gig in Mexico in October 2013 (like we did) already have an idea what to expect.
Let's see if all this will effectively be concretized because we are still waiting for a couple of other previously announced The Cure releases: DVD reissues of "The Cure in Orange", the BBC recordings boxset "Show" and the follow-up to the 1990 remix collection "Mixed Up".
More info as we get it.
Via SL Mag
Comments