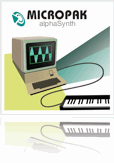 A library of old-school computer sounds captured from a late 1970s 8-bit Apple ][ with an Alpha Syntauri music system."
The Alpha Syntauri was a music system designed around the expansion capabilities of the Apple ][. The hardware consisted of an external piano-style keyboard, with a 3-card set that plugged into the Apple ][, including a keyboard interface card, and the two-board Mountain Computer Music System. Software was designed to support music composition and performance.
Puremagnetik has captured the 8-bit charm of this early home computer music system and reprogrammed everything for the modern music workstation. Whether you are looking for aliased chippy sounds, lo-fi leads or quirky percussion, alphaSynth brings one of the best things about 1982 right to your desktop!
Available at Puremagnetik
This set comes from Chris Randall of Analog Industries & Audio Damage, with more to follow: "It is a heavily re-tooled and much improved version of the sample set I used to have here that I made from the alphaSyntauri. They are much, much better at that sort of thing than I, what with doing it for a living and all, and the alphaSynth set is available in several formats, including Live Rack, Kontakt, and ESX Universal.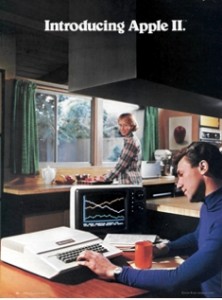 "I've made a bunch of other samples for them with various pieces of Apple ][ based kit, and you can watch out for those in the future."

alphaSynth Features:
• Over 20 multi-sampled instruments with expressive articulations
• Hundreds of expertly recorded multi-samples
• Advanced Ableton Live Racks with customized Macro Controls
• Kontakt KSP easy edit GUI
• Logic EXS version includes Channel Strip Settings with Logic effect
• EXS Universal file format for easy importing into any audio host
Apart from the launch of the new iPad, Apple has also released GarageBand 1.2, a significant update that adds MIDI note editing – a feature that's been on most users' wish list from the start.
Previously, the only way you could fix a mis-timed recording was to use GarageBand's quantise features, but note-by-note editing is now confirmed.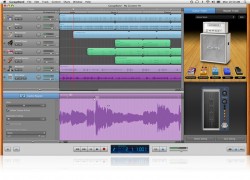 This isn't the only new feature, we also have a new Touch Instrument in the shape of Smart Strings, while Jam Sesssion enables you to play with up to three other GarageBand for iOS users wirelessly.
Here are the highlights:
GarageBand 1.2 introduces Jam Session, a feature that lets groups of people wirelessly connect their iOS devices to play instruments and record live music together. Jam Session automatically synchronizes the tempo, key and chords of your Touch Instruments. After jamming, everyone's tracks are automatically collected on your iOS device for you to edit and mix.
GarageBand also introduces Smart Strings, a new Touch Instrument that allows you to 'play' a string orchestra with one finger.
The new Note Editor is probably the most welcome addition. It allows you to fine tune a Touch Instrument recording instead of replaying it from scratch.
Integration with iCloud keeps your GarageBand songs up to date across your iOS devices, and you can share your finished songs directly to Facebook, YouTube and SoundCloud.
GarageBand 1.2 will be released today for $4.99. Updates are available for free to existing customers.
Bringing several of the goodies from iOS into the laptop might mean that we will have an even smoother experience when producing music and do import/export of your music between the two platforms.
Subscribe and Like.New Ipad 3 Keynote will upload in this channel soon as it released/
Mountain Lion — version 10.8 of the Mac's OS X operating system — comes more closely on the heels of its predecessor than other updates. While each of the last four Mac upgrades has come about two years after its predecessor, Version 10.7 was released just seven months ago.
Schiller said Apple was able to get an early start on Mountain Lion because of all the work done to prepare Lion, which reviewers said marked the most sweeping changes in OS X since its 2001 inception. He said the company has so far shipped 17 million copies of Lion, making it the company's best-selling release ever
Good old days

A short demo of our Apple ii D.M.S. Drummer Chipmusic drum machine software.
BUY IT HERE: http://8BITWEAPON.COM/store.htm
Apple II DMS Drummer Software
by MJ Mahon & 8 Bit Weapon
Introducing the amazing DMS Drummer for Apple II personal computers! The DMS Drummer is the only wavetable based Drum Sequencer for the Apple //e, IIc, IIc+, and IIGS computers. It comes complete with 8 drum sounds: Bass, Snare, Rim Shot, Hand Clap, Tom, Hat Open, Hat Closed, and Lazer. DMS Drummer also has a massive sequencer built-in for song writing or just some creative noodling. The DMS Drummer monophonic sequencer patterns have 16 spaces. You can create up to 16 unique drum patterns and arrange them into 256 available arrangement slots. Each drum sound can also be re-pitched or "tuned" to the users preference inside the "Tone" section of any pattern. For example, you can take the single tom sound and create a rich sequence of multiple toms in various pitches like in our demo song. Each song sequence can be saved on disk as well for safe keeping.
Features: 8 Drum Sounds (tune-able)
16 Programmable Patterns
256 Arrangement Slots for Patterns Programmable Tempo
Saves your work
3 Demo Sequences by 8 Bit Weapon & ComputeHer
Requirements: Apple //e, IIc, IIc+, or IIgs computer with 80-column capability
5.25″ floppy disk drive
Monitor.
For more info please visit us at
http://www.8bitweapon.com
http://www.computeher.com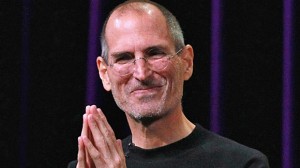 Well what can one say? Expected – Yes, but still…
Steven P. Jobs, the charismatic technology pioneer who co-founded Apple Inc. and transformed one industry after another, from computers and smartphones to music and movies, has died. He was 56. Apple announced the death of Jobs — whose legacy included the Apple II, Macintosh, iMac, iPod, iPhone and iPad.
"We are deeply saddened to announce that Steve Jobs passed away today," Apple said. "Steve's brilliance, passion and energy were the source of countless innovations that enrich and improve all of our lives. The world is immeasurably better because of Steve."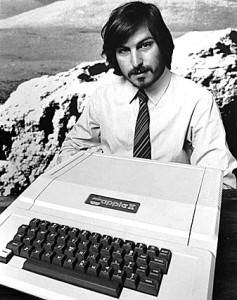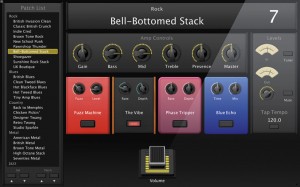 So far no apparent plans to turn Logic into Garage Band, as many have feared
Apple is reportedly finishing an update to Logic Pro 9, its professional digital audio and music sequencing program, taking care not to rile existing users with significant changes.
The new update is reportedly called Logic Pro X to maintain the same branding as Apple's recent Final Cut X. However, according to a report by Japanese blog Macotakara, Apple's Logic team is making great efforts to stress that it will not shift toward a GarageBand interface, heading off fears that Logic Pro might lose its professional edge.
Like Aperture and Final Cut Pro X, the new Logic Pro X package will be released via the App Store. In the move, the Logic Pro accessory app MainStage (used to manage virtual instruments during live performances) will reportedly spin off into a separate app, while WaveBurner (a standalone app used to master audio CDs) will have its functionality incorporated into Logic Pro X itself.
SoundTrack Pro 3, formerly included in both Final Cut Studio and Logic Studio as a tool for synching background audio to video, is reported to have a replacement but the report has not filled in any details regarding that program. The new app will likely be added to the Mac App Store alongside Final Cut Pro X, Logic Pro X, MainStage and the existing Aperture.
Via Apple Insider
The Spectralis 2 hybrid synth, fueled by the latest DSP- and true analog technology, delivers maximum tonal capabilities and leads you into a radical new world of sounds full of life and animation. The Spectralis 2' oscillator section takes sound design to new extremes. The 4 oscillators offer continuously variable waveshapes plus time linearity modulation, FM, PM, oscillator synchronisation, bit reduction and independent pitch and volume envelopes. The self resonating filters, a 4 pole lowpass and a 2 pole multimode filter with LP, HP, BP and notch outputs, use two highly improved true analog circuit designs to overcome the restrictions of modelling based synths. The way players can interact with the destinc-tive user interface makes the Spectralis 2 hybrid synthesizer a killer live instrument with unbeatable richness and stunning flexibility. The synthesis engine takes advantage of a sophisticated step sequencing system – 32 independent parameter control lines with up to 192 steps let you explore an universe of previously unheard rhythmic effects and atmospheric textures. Punchy high resolution envelopes, are the cutting edge of todays synthesizer technology. They are the perfect weapon for the creation of floor pounding kicks, state of the art sequencer staccatos and numerous percussion effects.
In this video:
This was a test-run for midi-clock syncing, done with a Spectralis 2, Cubase 4, a Midex Steinberg and an old Apple G5, my main problem with the new compstuff is that it forgets that a lot of musicians like to work with midi and external gear, not only with plug-syns….my one cent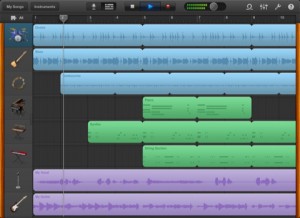 Perhaps the newly released FL Studio for the iPad has made Apple release an upgrade

Apple has updated Garage Band for iPad to version 1.0.1. GarageBand turns your iPad into a collection of Touch Instruments and a full-featured recording studio. Use Multi-Touch gestures to play pianos, organs, guitars, drums, and basses on your iPad. They sound and play like their counterparts, but let you do things you could never do on a real instrument.
Version 1.0.1 brings the following features and fixes:
• Support for audio output over AirPlay, Bluetooth devices and HDMI with the Apple Digital AV Adapter.
• Import of AIFF, WAV, CAF audio files and Apple Loops (16 bit, 44.1 kHz).
• Allows copy and paste of audio from supported apps into GarageBand.
• Addresses occurrences of GarageBand freezing while playing Smart Instruments.
• Improves overall stability and addresses a number of minor issues.
Garage Band for iPad's original features offer:
Play your iPad like a musical instrument.
• Perform on dozens of musical instruments on the innovative Multi-Touch keyboard.
• Tap out beats from the seat of acoustic and electronic drum kits.
• Recreate legendary guitar rigs on your iPad with 9 amps and 10 stompbox effects.
• Record your voice using the built-in microphone, and apply fun sound effects.
• Use the Sampler to create an instrument from sounds you record, then play them on a keyboard.
Sound like a virtuoso with Smart Instruments.
• Tap chords to instantly create keyboard grooves with the Smart Keyboard.
• Strum chords on acoustic and electric Smart Guitars, or trigger fingerpicking patterns for popular chords.
• Groove with an onscreen electric or upright Smart Bass by tapping on chords.
• Drag drum instruments onto a grid to create your own beats with the Smart Drums.
Create a song anywhere you go.
• Arrange and mix your song with up to eight tracks using Touch Instruments, audio recordings, and loops.
• Trim and place musical regions exactly where you want them to play.
• Use the Mixer to fine-tune each track's volume – solo or mute any track, or adjust pan, reverb, and echo.
• Use over 250 professionally prerecorded loops as a backing band to your song.
Share your songs.
• Email songs right from your iPad (AAC).
• Export your song and add it to the iTunes library on your Mac or PC.
• Send a project to your Mac and open it in GarageBand to continue refining your song.
Available through iTunes at http://itunes.apple.com/us/a…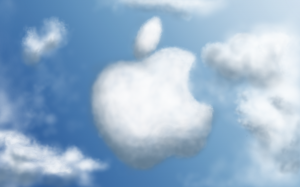 Steve Jobs and a team of Apple executives will kick off the company's annual Worldwide Developers Conference (WWDC) with a keynote address on Monday, June 6 at 10:00 a.m. At the keynote, Apple will unveil its next generation software – Lion, the eighth major release of Mac OS® X; iOS 5, the next version of Apple's advanced mobile operating system which powers the iPad®, iPhone® and iPod touch®; and iCloud®, Apple's upcoming cloud services offering.
Apple has confirmed maybe the worst kept secret in Silicon Valley: It's been working on a cloud service, and will announce it at the June 6 Worldwide Developers Conference.

So now we know annual developer's conference will unveil "iCloud®, Apple's upcoming cloud services offering," but we don't know yet what it is, or what exactly will reside at the domain name it may have bought for $4.5 million in April.

iCloud could be the mythical iTunes streaming service, a possibility that is looking increasingly likely now that Apple has most of the major record labels signed up for it, in a space pioneered by Amazon and Google, which has no such deals. Or it could be Apple's version of DropBox, the amazing sync and storage service that currently glues together the whole iOS ecosystem along with its desktop service.

Or it could be yet another abortion of an internet service, like Mobile Me, iDisk and Ping before it.

Whatever it is, it'll have to be good. DropBox is already the default file system for iOS, and can be used by any developer, on almost any other OS. If iCloud is to succeed, it needs to be just as available to developers. ITunes streaming, too, needs to be something special. A "cloud locker" service like Amazon and Google's is almost pointless, and we already have amazing streaming services like Spotify and Rdio.
WWDC will feature more than 100 technical sessions presented by Apple engineers. Mac® developers will see and learn how to develop world-class Mac OS X Lion applications using its latest technologies and capabilities. Mobile developers will be able to explore the latest innovations and capabilities of iOS and learn how to greatly enhance the functionality, performance and design of their apps. All developers can bring their code to the labs and work with Apple engineers.
For more details, visit the Apple Worldwide Developers Conference 2011 website at developer.apple.com/wwdc.
"I've been sneaking around Apple's garden for a long time, dating back to the Apple II motherboard hacked into my code-munching poly-synth of the early '80's. I've modded iMacs, towers, endless accessories, and I've drastically bent mac-centric code with wonderful result. This movie loosens another brick in Apple's wall, and opens the iPad's usability tremendously.
I know I'm not the only individual appreciating the experimental music apps available on the iPad. I'm anxious to support the developers' fine work. But for musicians, the iPad's interface can be frustrating. Do you really want to use dongles, mini-jacks and flimsy wire to get in and out of the thing?
This audio breakout solves these problems, is easy to do, and is inexpensive.
No bending here, just a quick, theory-true hack based upon iPad docking charts I found online. Not a superdock. No competition for the Alesis breakout. But if you want a slick, basic and functional DIY audio desk, on the cheap, check this hack out!
The breakout board is available at kineteka.com
Be sure to see the photos and REVISIONS, and pick-up the printable schematic at my iPad Audio Desk flickr gallery:
http://www.flickr.com/photos/moonbear3325/sets/72157626688587705/
This audio desk is really fun to use. Hacking the apple is always a good thing. I hope you'll enjoy the movie! (Let it download for full-screen 1080).
-Reed Ghazala