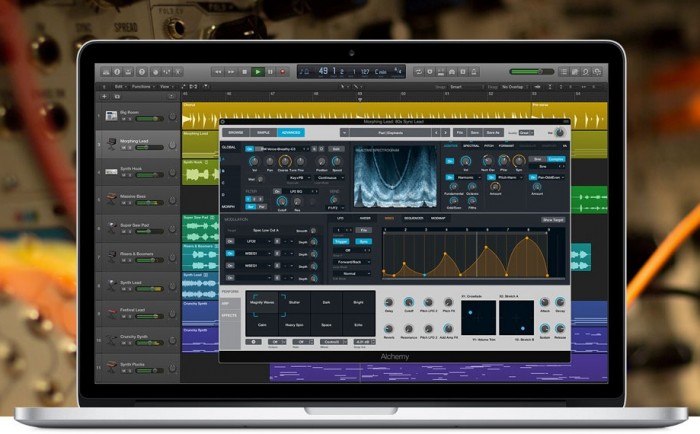 Logic Pro 10.2 gives you even more power to create electronic music with Alchemy, a next-generation synthesizer. Alchemy works hand in hand with all the beat-making and music-production features introduced in Logic Pro 10.1 to create all types of music, including EDM and Hip Hop.
Changes in Logic Pro 10.2
Introducing Alchemy – the ultimate sample manipulation synthesizer

Next generation synthesizer plug-in with multiple sound generators including; additive, spectral, formant, granular, sampler, and virtual analog.
Over 3,000 presets for all types of electronic music including electronic dance, hip hop, rock, and sound for picture.
Integrated keyword preset browser for finding the right sounds quickly.
Performance controls like the Transform Pad make it easy to explore and reshape sounds.
Combine up to four synth modules to create complex multi-layered sounds.
Virtual analog oscillators produce authentic recreations of iconic synth sounds.
Wide selection of modeled analog and special effect filters for producing sounds with vintage character and tonal complexity.
Create animated, dynamic instruments using over 100 modulation sources that include flexible LFOs, AHDSR and MSEG envelopes, and step sequencers.
Manipulate and combine samples in new ways using a collection of morphing and resynthesis tools.
Import EXS24 instruments or create your own using a robust set of sampler features.
Apply independent arpeggiators to each of the 4 sound sources to transform simple chords into elaborate performances.
Integrated effects rack with reverb, modulation, delay, compression, and a range of distortion effects.

New tabbed Transform Pad and X/Y Pad Smart Controls for Alchemy instruments.
Share directly to Apple Music Connect (Requires Apple Music Connect account).
Adds support for Force Touch trackpad.
Create custom track icons with your own image files.
1,000 new Apple Loops from a variety of popular instruments and genres including EDM, Hip Hop, Indie, Disco, Funk, and Blues.
Expanded MIDI clock options improve sync compatibility with external MIDI devices.
Multiple additional enhancement and stability improvements.
Logic Pro X is available for purchase for $199.99 USD.
We're excited to announce that Gobbler is now integrated in Logic Pro X – you can sync, version, and share your projects with Gobbler, all without leaving Logic!
Get started with Gobbler and Logic Pro X at http://www.gobbler.com/logic
Steamworx,  a sound library for Alchemy by Camel Audio, has been adapted and optimised for Alchemy Mobile.
Steamworx's 50-preset library of "cinematic netherworld" features keyboard instruments made from clocks, drum kits built with "steam-powered machines, fog-shrouded soundscapes and gothic" choirs. Created by game soundtrack designer, Steamworx sounds are suited to soundtrack, delicate ambient, sci-fi, industrial and, says Camel Audio, the "supernatural."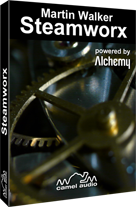 Pricing and availability. Camel Audio's Steamworx for Alchemy Mobile is available now, as an in-app purchase for 4.99 USD / 3.99 EUR / 2.99 GBP. Also included are three demo projects, to remix or use as the basis for new songs.
Camel Audio has announced Artificial Intelligence, the 30th Sound Library for their sample manipulation synthesizer, Alchemy. They tell us that Artificial Intelligence draws inspiration from the futuristic, glitch-driven side of electronic music and is packed full of twisted, abstract soundscapes, intricately detailed sound effects, stuttering digital rhythms and warped synths and basses. They say that, with eight carefully designed remix variations for every preset, it's easy to tweak the sounds to fit your music, and with a full set of tags, finding the right sound is just a click away.

The desktop version of Artificial Intelligence contains 150 presets and works with both Alchemy and Alchemy Player. Artificial Intelligence for Alchemy Mobile contains 50 presets.

Pricing and Availability:
The desktop version of Artificial Intelligence is available now from the Camel Audio shop for 59 USD / 49 EUR / 39 GBP. It's also included in Alchemy Complete which comprises Alchemy and 30 Sound Libraries at a discount of over 50%.

Artificial Intelligence for Alchemy Mobile is available as an in-app purchase for 3.99 GBP / 4,49 EUR / 4.99 USD.
Just a quick little demo to show the Mother of ALL Sequencers controlling four virtual instruments in Abelton Live 8. The plugins where: Arturia MiniV, Artutia ModularV, 2 instances of Alchemy and drum Impulse
While sequencers are machines to control synthesizers, Octopus stands out for a broad user base as a musical instrument. The merit lies in the directness, intuitiveness and creativity that gets unleashed by interacting with Octopus.
User experience and musical creation are the centerpieces of the Octopus design: a no-compromise machine built from metal, wood, and modern real-time software technology. The thorougly structured user interface, its stunning looks, the materials and our care going into hand-assembling every unit make each Octopus a unique piece to stand the test of time.
Octopus' tactile and visual feedback is a physical experience so typical for traditional musical instruments. Music is being felt, heard and played with Octopus. And the numbers behind it all.. no display? Well, do you really care? Yes, computers love them. We love light, color, and most of all music!
The family of Octopi has three members which differ in the enclosure they come in: Octopus New Classic for the piano lacquered wood look, comes with white painted panels and a red-green-yellow LED matrix. Octopus Lion Head carries on the nature wood look legacy that our original (and now discontinued) model has set, and which many users still long for. And finally Octopus The Shell– thisone you will never have to leave again! Built in an industrial strength road case, it features black anodized panels, and sparkles with red-green-yellow LEDs.
Proof of concept: three track recording played live utilizing prepared pedal steel guitar, eBow; Gestrument on iPad; Alchemy Pro on iPhone.
A look at the new upgrade for Alchemy Pro which now has Audiobus Compatabilty and lots of new features including a four track recorder, drum pads and lots of new sounds..This video concentrates on the sounds and playability via a midi keyboard.
Russ takes a look at the Wave Alchemy Pro II synth.
Inject your mix with a comprehensive collection of fully editable and beautiful sounding analogue synth sounds…
Driven by a custom scripted Kontakt 4 engine, intuitive graphical interface and over 6500 carefully recorded samples, Pro II is a limitless source of screaming bass lines, lush synth tones and powerful sequences.
Inspired by one of the most popular synths of its time, Pro II combines classic sounds with modern sound shaping tools to achieve a versatile and fully programmable hybrid synthesizer!
Pro II ships with a 3.9GB core sound library and includes 195 expertly programmed presets, all of which are editable via our extensively scripted instrument panel and stunning GUI controls.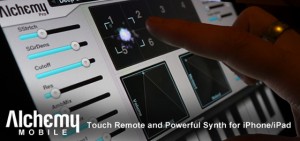 Mobile includes everything from evolving soundscapes and fat bases to lush pads and pulsing arpeggios, and is available for free from the iTunes App store. This is the iOS version of Camel Audio's award-winning Mac/PC Alchemy synth – the leading sample manipulation synthesizer which can be heard on thousands of records and films by world-class artists. With the Pro Upgrade, you can remotely control Alchemy or the free Alchemy Player on your desktop computer. This is the first iPhone App to offer a dedicated touch remote feature for a desktop synth! Easy one touch access to the remix pad and preset selection means you'll spend more time getting inspired and less time reaching for your mouse.
Alchemy Mobile Free features
Remix pad to morph between sound variations and create your own sound.
16 performance controls so you can easily tweak sounds to fit your music.
Most powerful iOS synthesis engine with VA, sampler, granular and additive resynthesis.
External MIDI keyboard support.
Loop player with 25 drum loops included.
Copy and paste support for easy integration with sequencers.
iPad native version included.
Built in keyboard with scalable keys.
One touch major and minor chords.
25 sounds with 25 more free when you register.
Add on sound libraries available as in-app purchases.
Alchemy Mobile Pro features
Remote control of Alchemy or free Alchemy Player on your desktop computer.
Free download of Mobile version (if available) of desktop sound libraries you own.
125 sounds.
50 loops.
Alchemy Mobile Free is now available for iPhone/iPad. The Alchemy Mobile Pro Upgrade is available for iPhone/iPad for $19.99 USD / 15.99 EUR / £13.99 GBP. The Pro Upgrade is available as in-app purchase from the free version.
Dan Worrall has done it again and created a great tutorial on granular synthesis with Alchemy. It covers all aspects of the granular engine as well as explaining in detail how the position and stretch knobs can be used to create all kinds of effects. All Alchemy videos are now available for everyone to watch, even if you don't own Alchemy yet.
Below is a nice video tutorial featuring the classic virtual instrument; Camel Audio Alchemy. The video is also interesting since sound designer Jim Stout is running Alchemy via an Open Labs Neko and the video gives you a good sense of how this system works. NeKo XXL is virtually all of the major components of a professional studio fused together in seamless, coherent instrument that is the quintessential definition of style and functionality. You can compose, record, mix, master and even distribute music of the highest quality only using the NeKo XXL and the tens of thousands of included sound presets.