Steamworx – new cinematic sound library for Alchemy
Steamworx,  a sound library for Alchemy by Camel Audio, has been adapted and optimised for Alchemy Mobile.
Steamworx's 50-preset library of "cinematic netherworld" features keyboard instruments made from clocks, drum kits built with "steam-powered machines, fog-shrouded soundscapes and gothic" choirs. Created by game soundtrack designer, Steamworx sounds are suited to soundtrack, delicate ambient, sci-fi, industrial and, says Camel Audio, the "supernatural."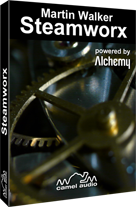 Pricing and availability. Camel Audio's Steamworx for Alchemy Mobile is available now, as an in-app purchase for 4.99 USD / 3.99 EUR / 2.99 GBP. Also included are three demo projects, to remix or use as the basis for new songs.
Comments