British electronic music label Warp Records have recently been adding a large chunk of their back catalog to Spotify. Boards of Canada will be a welcome addition for many, but as a long-time fan of the label there are several other new additions from the Warp archive that I think are well worth checking out.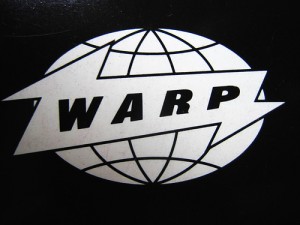 Here are but a few examples as recommended by Spotify:
Boards of Canada – Geogaddi
Edinburgh's finest IDM band Boards of Canada finally arrive on Spotify, with both Twoism and Geogaddi now available. They're sometimes a bit too ambient and IDM for my tastes, but they're one of Warp's biggest bands and a group who's absence from Spotify was often lamented.
Broadcast – The Noise Made By People
Broadcast are one of my favourite bands and this is perhaps their finest album. Available now for the first time on Spotify, The Noise Made By People is psychedelic sixties electro that's at turns ethereal, haunting, timeless and retro-futurist.
I was so sad to hear that lead singer Trish Keenan had died after catching swine flu a few months ago. Her voice was quite unique and I'll never tire of listening to this album in particular: it means a lot to me.
Red Snapper – Reeled and Skinned
Warp band Red Snapper added jazz and other "real" instruments to the electronic mix of Warp's mid-90s sound. I'm no fan of jazz but I loved Reeled and Skinned when it came out, with its dirty sax and intricate drumming. You could say I was hooked
The Sabres of Paradise – Haunted Dancehall
The Sabres of Paradise (and later Two Lone Swordsmen and The Aloof) were bands whose singles and albums I all eagerly bought back in the 1990s. The Sabresonic sound is dubbed-out dance music with a heavy dose of electro-experimentation; 1994′s Haunted Dancehall is probably their triptastic classic.
LFO – Frequencies (Stereoklang personal favorite)
The Low Frequency Oscillation kick-started the whole Warp success story, with the single LFO hitting the UK Top 20 back in 1990. It might sound a little dated in parts now, but just you wait for the forthcoming acid house and techno revivals…
I guess this comes as no surprise given the recent announcements of reduce playtime on the free Spotify service
Spotify has announced a raft of significant changes to its software, moving the service away from streaming and toward direct competition with iTunes. The changes come in the wake of significant cutbacks to its free streaming service. Spotify, based in Sweden, currently offers service only in Europe. It seems Spotify has decided that MP3s, rather than streaming, are the future. An updated version of the desktop and mobile software will be released shortly, which places far greater emphasis on playing music that you've already got, rather than streaming it from Spotify's catalog.
If you haven't imported your MP3s into Spotify already (the functionality has been available for more than a year), then it'll prompt you to do that first of all, along with any iTunes or Windows Media Player playlists that might be lurking around your hard drive. That music can then be synced to Android and iOS devices, and — for the first time — even to old-school iPod Classics, Nanos and Shuffles. If you plug in any of those devices, they'll appear in the left-hand column and you'll be able to sync playlists to them, either automatically or by manually selecting which ones you want copied across.
The Android and iOS mobile apps are getting some changes too. The biggest is that they'll now be available to Spotify Free users, who'll be able to download and install them and use them to listen to MP3s. Streaming from Spotify's catalog won't be available to free users, only to Premium users, as before.
Finally, Spotify is launching an MP3 store. Previously, MP3 purchasing had been available from a partnership with 7Digital, but Spotify's brought it in-house and built a download store into the client. Users will be able to buy bundles of MP3s — 10 for 8 pounds (approximately $13.25), 15 for 10 pounds ($16.50), 40 for 25 pounds ($41.35) or 100 for 50 pounds ($82.70). All songs that are available on Spotify's catalog will be available to download — it won't be as patchy.
Here's our new playlist for Spotify. We've been scanning the Spotify database for 8-bit pop songs and conluded there are 666. It's just got to mean something!
A new threat to Spotify?
MSpot – the service allows people to upload their music — be it purchased, ripped or downloaded for free — and access it from any Mac, Windows or Google Android device. MSpot's model avoids the stumbling blocks of licensing deals which have repeatedly delayed the release of a U.S. version of Spotify
Today, how people sync music is they're manually connecting that USB cable, they have to transfer all their files, and any time your library changes, you've got to sync up," Tsui told Wired.com. "With the music now in the cloud, we believe you don't have to do that anymore. Any changes happen in the background, and you see that on your mobile device.
There's a healthy number of electro artists on Spotify including one of our favorite electro act The Blotnik Brothers, but no presence of Skweee what so ever AFAIK. Therefore we'll share these cool Skweee mixes for your bleeping pleasure!
A Beginner's Guide to Skweee by Allenheimer
Metropol Skweee #3 Pt. 1 by Marcus Price BASUTBUDET
Now all music lovers with Nokia phones can finally have what the iPhone users has been treated with for the past 6 months or so.