June 18, 2013 · Posted in
Uncategorized
·
Comments Off

on Artificial intelligence: Warp Records – (Motion) [VHS rip]
Matt Brock has put out this nice retro-futuristic video, Motion, 'electronic listening music for the eyes', details below:
"Warpvision presents an Artificial Intelligence video – (Motion) – electronic listening music for the eyes"
Video by David Slade and Phil Wolstenholme: (Nanotechnics.1); (Mirage); (Corpus Porpoise Posthumous Non Polhemus); (Lifespan); (Sim)(biotics).
Audio: Scanner – Untitled; Link – Arcadian (Global Communication Remix); Beaumont Hannant – Utuba; Polygon Window – Polygon Window; Richard H. Kirk – Reality Net; Speedy J – Symmetry; Mark Franklin – Release To The System (Beaumont Hannant Remix); Autechre – Basscadet (Bcdtmx).
© & ℗ 1994 Warpvision
May 11, 2011 · Posted in
Uncategorized
·
Comments Off

on Finally !! Warp Records on Spotify
British electronic music label Warp Records have recently been adding a large chunk of their back catalog to Spotify. Boards of Canada will be a welcome addition for many, but as a long-time fan of the label there are several other new additions from the Warp archive that I think are well worth checking out.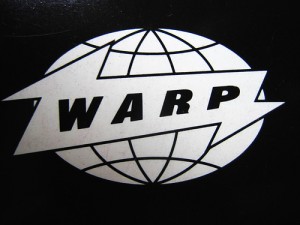 Here are but a few examples as recommended by Spotify:
Boards of Canada – Geogaddi
Edinburgh's finest IDM band Boards of Canada finally arrive on Spotify, with both Twoism and Geogaddi now available. They're sometimes a bit too ambient and IDM for my tastes, but they're one of Warp's biggest bands and a group who's absence from Spotify was often lamented.
Broadcast – The Noise Made By People
Broadcast are one of my favourite bands and this is perhaps their finest album. Available now for the first time on Spotify, The Noise Made By People is psychedelic sixties electro that's at turns ethereal, haunting, timeless and retro-futurist.
I was so sad to hear that lead singer Trish Keenan had died after catching swine flu a few months ago. Her voice was quite unique and I'll never tire of listening to this album in particular: it means a lot to me.
Red Snapper – Reeled and Skinned
Warp band Red Snapper added jazz and other "real" instruments to the electronic mix of Warp's mid-90s sound. I'm no fan of jazz but I loved Reeled and Skinned when it came out, with its dirty sax and intricate drumming. You could say I was hooked 😉
The Sabres of Paradise – Haunted Dancehall
The Sabres of Paradise (and later Two Lone Swordsmen and The Aloof) were bands whose singles and albums I all eagerly bought back in the 1990s. The Sabresonic sound is dubbed-out dance music with a heavy dose of electro-experimentation; 1994′s Haunted Dancehall is probably their triptastic classic.
LFO – Frequencies (Stereoklang personal favorite)
The Low Frequency Oscillation kick-started the whole Warp success story, with the single LFO hitting the UK Top 20 back in 1990. It might sound a little dated in parts now, but just you wait for the forthcoming acid house and techno revivals…