Echo Pad for iPad/iPhone (universal) coming soon!
http://www.holdernessmedia.com/home/ios-applications/music/echo-pad
Echo Pad is a realtime Echo effect processor featuring a unique delay + sound on sound looper controlled by a multi-touch XY interface on your iPad, iPhone and iPod touch device.
Use the built in mic on your headphones, plug in a guitar, microphone, synth, drum machine, iOS device, or whatever you want using an audio interface such as the Apogee Jam or MIC, or one of the many other compatible iOS and USB audio interfaces. (Verified up to date list of compatible audio interfaces below.)
Echo Pad was born out of love for tape echoes, sound on sound loopers and noisy, dirty analog delay pedals. Echo Pad excels at hands on warping delay tones and controlled feedback, and is not afraid to get loud.
Great for both live performance and sound design, Echo Pad was designed to have fun with the ability to sculpt a wide range of delay tones from subtle rhythms to heavy, dubbed out ambient swirls, to aggressive feedback explosions.
Mode Machines App is used as a MIDI controller with virtual instruments.
Coming soon!
Will definitely put this one up on my download list for the Ipad
The new DJ Rig from IK Multimedia that we have been featuring earlier this week has now been released in the AppStore. They say that DJ Rig for iPad takes professional mobile DJ mixing to a completely new level, providing a comprehensive suite of professional DJ mixing tools, all in one convenient app. DJ Rig for iPad greatly expands the feature set from DJ Rig for iPhone, offering numerous new capabilities that previously have only been available on professional DJ software for the Mac and PC.
With DJ Rig for iPad, mobile DJs will possess the virtual equivalent of a full professional DJ setup — two turntables or CD players, a DJ mixer, a DJ multi-effects unit, a phrase sampler and more, all in an portable package to take their spin to the next level, anytime and everywhere. With DJ mixer, a DJ multi-effects unit, a phrase sampler and more, all in a portable package to take their spin to the next level, anytime and everywhere.
DJ Rig for iPad is a fully self-contained DJ environment that can be directly connected to a sound system, but even more functionality is available when it's used in tandem with IK's new iRig MIX ultra-compact mobile DJ mixer. iRig Mix offers complete physical track control, thanks to its full-length channel faders and crossfaders, additional EQs, and direct connections for headphones, microphones, loudspeakers or a PA system. When used together, DJ Rig and iRig MIX provide a comprehensive DJ setup that packs all the features the most demanding DJs need — all in an ultra-light combo rig that can be up and running in seconds.
Professional DJing for the first time on iPad
Familiar double Deck configuration with a triple twist — When first launched, DJ Rig for iPad looks and feels very familiar — its interface accurately replicates a full dual-deck hardware rig with each deck routed through the audio output jack on the iPad (split stereo). What's different is that each deck has three visual modes: "Vinyl" for traditional creative scratch effects, "Digital" jog for a more traditional CD manipulation and the new "Waveform" view for accurate cue placement, synchronization and visualization of beats.
Sync, mix & scratch — DJ Rig for iPad with CloneDeck™ technology allows DJs to mix and scratch on their iPads, just like they would with hardware counterparts. The built-in dual-deck system with a crossfader allows them to mix with ultra-accurate precision, and the Tempo Sync, X-Sync and Beat Match functions automatically align the beats from any two sources for flawless transitions. The new AutoMix feature will automatically crossfade and mix music to keep the beat going even when the DJ steps away.
New creative DJ effects provide unlimited sonic possibilities – DJ Rig for iPad features 18 available BPM-synced DJ effects for customizing mixes and build-ups, always at the perfect tempo. Effects include Delay, Flanger, Crush, HP filter, LP filter, BP filter, Compressor,Wah, Phaser, Fuzz, Reverb, and Stutter, plus 6 completely new effects: Noise, Tail, Brake, Spin, Twist UP and Twist DOWN. The X/Y effects interface provides full creative control and real-time manipulation that will inspire DJs to be their creative best.
On-board sampler with expandable sound banks – DJ Rig for iPad features an "on-the-fly" sampler with 9 accessible and assignable pads for adding sound bites and samples to mixes. For even more creative flexibility, DJ Rig for iPad provides "live sampling" and "looping" functions for completely customizing and personalizing the mix.
DJ Rig for iPad features:
Customizable deck display with Vinyl, Waveform or Digital Deck interface with accurate scratching engine with CloneDeck™ technology
Waveform display mode for ultra-precise visual cueing
Fast BPM detection and beat map analysis with Tempo Sync and Beat Match
X-Sync mode detects the BPM from external audio sources and automatically syncs the audio/tempo of internal decks to external devices (when used with iRig MIX)
Advanced looping section with continuous loop surface; create loops with tempo divisions always to the beat; manual and slip mode available
18 effects: Delay, Flanger, Crush, HP filter, LP filter, BP filter, Compressor, Wah, Phaser, Fuzz, Reverb, Stutter and more, with X/Y touch interface control
6 new creative effects: Noise, Tail, Brake, Spin, Twist UP and Twist DOWN
On-the-fly expandable sampler machine with 9 pads and 4 banks slot
Live sampling functionality with volume and pitch control
5 visual cue points per song and Auto Cue for automatic first beat positioning
3 crossfader curves for customizing fades and crossfade filter
Direct access to iPod Music library and playlists
AutoMix Feature for automatic mixing of playlists or entire library
Live recorder allows recording of full mixing gigs
Supports/plays all major digital audio formats including MP3, AAC, WAV, AIFF
Multiple output configurations for virtually any audio setup
Pricing and Availability:
DJ Rig for iPad is available at an introductory price of $19.99/€15.99 from the App Store on iPad. A limited free version of DJ Rig for iPad is also available for download.
More information:
Virsyn describes their new Harmony Voice app as a pitch shifter and harmonizer with professional features including automatic tuning correction.
Virsyn says that you can sing and Harmony voice will add up to four voices according to the chords you play with the piano keyboard or, alternatively, instead of playing the chords yourself you can let Harmony Voice play the chords automatically to enrich the sound of your voice in a musically pleasant way.
The voice character can be adjusted in a way that you can turn a female voice into a male voice and the other way round, while a realtime visual intonation-display gives you feedback of the tunes you sing.
Features:
Four part realtime Harmonizer / Pitch corrector
Different Harmonizer modes:
Manual harmonization by playing chords with up to four notes while singing
Automatic harmonization ( Kraehenbuehl )
Play base note and Harmony Voice adds appropriate chords
Directly play the tunes for up to four voices with the keyboard.
Select key note and scale for harmonization and pitch correction.
Harmonies can be in just ( Barbershop ) or tempered tuning.
Mix your original voice with the harmonized parts.
Change the voice character.
Play background track from your iTunes library.
Hi-end reverb effect for room simulation.
Chorus and Delay effect.
Use a CoreMIDI compatible Interface to control Harmony Voice with a MIDI Keyboard.
Audio recorder with Metronome.
Upload to SoundCloud and File Export.
Audio pasteboard for exchange with other Apps
Pricing and Availability:
$5.99
More information:
Scape
Available now for iPad
http://www.generativemusic.com
Scape makes music that thinks for itself. From Brian Eno and Peter Chilvers, creators of Bloom, Scape is a new form of album which offers users deep access to its musical elements. These can be endlessly recombined to behave intelligently: reacting to each other, changing mood together, making new sonic spaces.
Can machines create original music? Scape is our answer to that question: it employs some of the sounds, processes and compositional rules that we have been using for many years and applies them in fresh combinations, to create new music. Scape makes music that thinks for itself.
- Brian Eno, Peter Chilvers
Includes 15 original scapes
Scapes can be saved into a gallery and added to a playlist
Plays in background of other apps (excluding iPad 1)
Generates random scapes
Scapes can be shared by email
Supports AirPlay and Retina display
Headphones or external speakers recommended
Brian Eno
Synthesiser, found sound, bells, bass guitar, strategies, images, art direction
Peter Chilvers
Synthesiser, chapman stick, structures, probability networks, additional images, software design
Here's something that has the potential of driving innovation in the tablet space relative to music creation

Coming VERY soon to the App store. Borderlands Granular has been submitted and is currently waiting for review by Apple.
Stay tuned for a step-by-step tutorial video, which will be posted on release day.
Twitter: twitter.com/BorderlandsiPad
Facebook: facebook.com/BorderlandsGranular
Xylio has released this new app for performance sampling, here's there description in their own words:
BeatSpiral is an innovative sample performance instrument for the iPad, iPhone and iPod touch.
Chop samples, make beats and perform them live. Choose from the included library or import your own.
Take it for a spin. Give it a whirl. It's a Groovebox with a twist.
FEATURES:
● Create new sequences by rearranging and looping sample slices
● Hold the wave stripes at different locations to play slices, slide out to record
● The two waves on the left get recorded to one track, the others to the second
● Select different loop regions on each track, change their length, copy and erase content
● Mute pads for temporary silencing, erasing track content and deactivating waves
● Eject buttons for selecting sample files and setting volume and panning
● User sample import via iTunes File Sharing (mp3, wav, aiff, m4a)
● Animated metronome shows tempo controls (20-200 BPM) with Tap Tempo
● Zoom, Undo and Rotate tracks
● Audio engine featuring high quality interpolation and low latency
● Sample library and handy user guide to get you started
● Crossfader
● Autosave
Available now on the App Store: http://itunes.apple.com/us/app/beatspiral/id543138242
Here's the basic description of the app:
Make your Glitch sound in real-time from your Microphone or Song File!
Glitch1 re-builds your music and audio dynamically with innovative 6 FXs.
Glitch1 Ver.1.0 includes 6 effects
-CRUSHER (Low-SamplingRate Effect)
-SHORT DELAY (10-40ms Delay)
-BEAT REPEAT
-GATER
-TAPE STOP (Tape Stop/Vinyl Break Effect)
-AUTO PAN
And 3 Global effects.
-LIMITER (Hard-knee limiter)
-DELAY (1/4 , 1/8 dot)
-STEREO (Stereo Enhancer)
On ver.1.1, Glitch1 will support Audio Copy/Paste.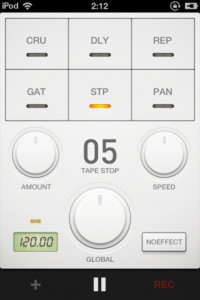 Music Ipad App first look at this amazing collection of 3 synthesizers
Great for making strange sounds and odd noises. Get it for $0.99 from the itunes store.