Yello's Boris Blank has teamed up with Swedish producer Håkan Lidbo for the new Yellofier app, which can turn any sound into music.
Use preinstalled tracks by music giants like Carl Craig, Trentemøller, Booka Shade, Matt Johnson and many more and take them to where you like or upload and mash your own tracks!
Head over to the App Store and try it out!
For everything else, head over to electronicbeats.net, follow us on facebook or Twitter @EBnet !
CasioTron Beats re-creates the rhythm patterns found on the vintage home keyboards of the 70's and 80's. These popular keyboards were analogue and have now become collectors items because of their warm sound.
This particular version takes the drum sounds from the then popular Casiotone MT-70 which although was more modern than the earlier models, it is still analogue as you will be able to tell from the sound.
Remember those bossa-nova and samba beats? Well here they are!
Fingerlab has announced Musyc, the a fun and innovative music application where touch turns into music, details below:
Discover the new music application by Fingerlab, winner of the Apple Design Award 2012 for DM1 – The Drum Machine.
Musyc on the AppStore :
https://itunes.apple.com/us/app/musyc…
Musyc is a fun and innovative music application where touch turns into music.
No use of piano keyboard or partitions, draw shapes and listen to your piece of music while viewing sounds bouncing on the screen.
Enjoy the 64 instruments (organized into 16 groups) exclusively created and produced at Fingerlab music studio as well as all the exciting and new physical and music tools provided in Musyc.
Musyc is free and its full version is available through in-app purchases.
WARNING: Musyc is not compatible with iPhone 4, iPhone 3GS, iPod touch 3 and iPod touch 4.
Features:
-Graphic design by Jonas Eriksson
-Retina Display
-Optimized for iPhone 5 and new iPad
-High quality sound engine
-Ultra-realistic physical engine
-Audio track mixer (level, pitch, length, pan, mute)
-2 effect channels with 5 effects (Delay, Overdrive, Reverb, Dalek, Compressor)
-Physical sequencer
-Motion recorder
-Advanced physical objects (planet, black hole, modulator, …)
-Real-time audio recording
-High-quality or compressed exports (DropBox, SoundCloud, Mail, AudioCopy and iTunes)
Watch Musyc video trailer:
http://vimeo.com/channels/musyc
Coming soon in next updates:
-iPhone4 & iPodTouch optimization
-Import & Export song project (DropBox, Mail, iTunes)
-User sound kit with samples import
-Audio background support
-Wist synchronization
-Midi synchronization
-AudioBus support
BitWiz Audio Synth / Gestrument / Audiobus / Anytune Pro+ – Music Practice Perfected. / Genome MIDI Sequencer / DrumsLive — touch and MIDI multisample drums / DrumJam / ThumbJam / LiveFX • DJ Effects Kit / Brian Molko – Placebo – Battle for the Sun
This is a quick demo of Yet Another Touchscreen Music App.
"I'm trying to come up with a global live performance / songwriting app for the touch interface, and this is my seventh attempt. Definitely getting closer. Still have to add the sound-sculpting interface; this is just a quick demo of the step sequencer scene switching."
Background video description:
This is "Fair Light" – original composition by Andy Barrow on the Fairlight IOS App. First attempt at sampling, sequencing and creating my own instrument inside the Fairlight App from Peter Vogel Instruments – the creator of the legendary Fairlight CMI 1 – 3. And now up for grabs is the latest CMI 30AX – upgraded from the 30A. still an expensive tool, but no where near as much as its predecessors (approx $60,000 or more… ish maybe, give or take a few cents, pennies Gold Bullion…quite a few years ago…1980's)
So, first time at really getting to grips with this IOS App, I sampled my Voice into the Fairlight, adjusted the trim, saved the sample and imported that into my New instrument in the App, Then set about playing with Page R – yep the Sequencer. Once you get used to the way it is laid out in the app, its fairly easy to use.
Recorded into Garageband and added the Orchestra Hit as a latter addition to the track. This is available as a download from my Soundcloud Channel should you desire.
Please note, all the images were taken from Screenshots on My iPad 3 and imported into the video editor. This is an original composition by me.
If you get a feeling that the Voice beat sounds familiar, I remembered a certain group of Gentlemen, who did a Soundtrack for Ferris Bueller's Day off…remember that.???..
Sadly I do, however, the app also contains a certain Racing Car engine sound from another Track that "Yello" Did.."The Race" yes the sound is in there…I am not going to try and recreate that…they used real Fairlight equipment, sadly I have about as much chance as owning a Fairlight as I have Angels flying out of my ass…
So, until such time that I see a winged creature of heavenly persuasion flying from the darkest regions of me, I will have to make good with the IOS App… Enjoy
Music and Video is sole property of ©2013 Andy Barrow
Just a test! For more info see:
http://www.apple.com/ipad/
http://www.faberacoustical.com/ios_ap…
http://www.behringer.com/EN/Products/…
http://cs80-com.myshopify.com/product…
http://www.synthtech.com/motm.html
And ALL your questions can be answered on the best forum on Earth (especially for modular synthesizers and cats . . . . but mostly cats . . . ):
http://www.muffwiggler.com/forum/inde…
Go here for more information and CODE to unlock more sounds: http://synthuniverse.com/dubstep-maker/
Go here to listen to app: http://www.youtube.com/watch?v=r4OSDd…
Dubstep Maker is an iPad app for making dubstep music. It features 38 assignable PADS,
a 8 note keyboard and a synth wobble modulator. There are over 100 drum loops, synth loops, vocal samples and fx sounds.
Dubstep Maker is an iPad app for creating dubstep music. It features 38 assignable PADS, a 8 note keyboard and a synth wobble modulator. The wobble modulator is placed where you would normally find a mod or pitch wheel. Next to that you have a selection of 6 synth sounds to modulate and create wobble sounds.

There are over 100 drum loops, synth loops, vocal samples and fx sounds. From a design point of view it's is simply laid out. Buttons are as big as a finger tip and spread out nicely.

The edit screens are where you assign different sounds to different pads.This is simply done by selecting a button to edit and pick your sound by touching the + button.

The only other functions available to change is the master volume, the tempo and the rate of the synth wobble using the sliders.

While there are lots of dubstep apps available none of them really stand out. WHOMP is perhaps the best and oldest of them but still not a stand out app one might expect. Dubstep Maker is an intriging app that it is well laid out (perhaps too simply? I'm not sure.) Its sounds are your standard dubstep sounds that doesn't set itself too far apart from the rest although there is a lot of variation.

The synth wobble section is probably where it will find its fans. Fair enough playing a wobble sample but to actually adjust
the wobble to suit is great. Maybe more sounds to play around with would not go amiss, or a dedicated page just to create wobbles would be nice.
DevoBots is here. DEVOBOTS is a DEVO-authorized iOS app that is a combination robot maker and synthesizer. Users will be able to create their own DEVO-inspired robot characters from a library of 10,000 robot parts. The designs can be applied to apparel, posters, and other merchandise. The synthesizer app will allow users to create their own music from sounds taken from the DEVO archives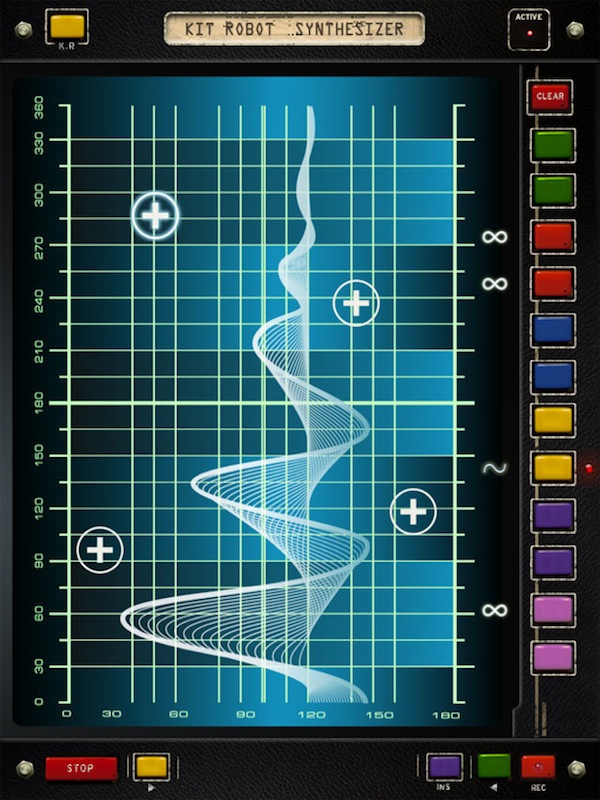 available on iTunes: https://itunes.apple.com/us/app/devob…
Music by Devo from the App DevoBots.
The undulating noise machine comes with 2 modules. A player which loops samples of white, pink and brown noise (the sound at the same speed as the resting human heart rate (60 bpm) ). The second module allows you to create an ambience by adding effects and rhythmic motions by simply drawing a motion on the dedicated pad. Unfortunately, there is no record feature, despite this I will rate it as a Killer App, because of its great UI and for the fun that you have in creating an ambience.