On the analog side:
MFB osc-2 triple oscillator
is controlled by Maths and FUNCTION
these two are controlled by 4MS P.E.G.
ring mod out is filtered with monotron-e
MFB osc-2 individual outs and filtered out are mixed with MFB drum 99 mixer
On the digital side:
FX
dr device by Audio Damage
SoundHack +pitchsift
Audio Damage BigSeq2
drums
Audio Damage Tattoo
BASS
Circle – Future Audio Workshop
sequenced by max for live device
ML-185 Stage Controlled Sequencer
synth
Atomic – AlgoMusic
HP compaq L2105tm touchscreen under win7 64bit
ableton live 8
This is a quick demo of Yet Another Touchscreen Music App.
"I'm trying to come up with a global live performance / songwriting app for the touch interface, and this is my seventh attempt. Definitely getting closer. Still have to add the sound-sculpting interface; this is just a quick demo of the step sequencer scene switching."
We get a demo of Sonar X2a – touch enabled running on the Lenovo Thinkpad Twist.
Oliver Davis from Roland UK dropped in to show us around.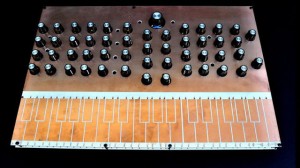 Modular synthesis maestro Ken MacBeth, has revealed this yet-unnamed instrument on Facebook this weekend. Of the new design, MacBeth says that it has "four oscillators, two noise generators, one LFO, a dual stage variable filter, four envelope generators, two VCAs (Stereo) and a stereo tape delay".
It seems that this synth is something that Ken has had in mind for a while, too: "It's been a long term development over years," he says. "The micromac series has been designed for those who wish for the vintage 'Moog-like' sound – this is a completely different design!"
No news on when we can expect the synth to come to market, but SBC will be monitoring its progress.
Yet another promising video with updates from MacBeth, details below:
Life's not all grim! Touch keyboards are real fun and they make you think in a completely different way about keyboard playing- odd at first- but the technique starts to change and grow. Here is me playing the MacBeth micromac-r unit and the olde 'vaporware' protoype unit with the mere 1 octave prototype job. To your right the planned three octave controller- now with now stylus, earthing yourself to ground or anything like that-0 it's now 'touch capacitative' and pure analogue!
Playing the Orphion iPad app through a Moog MF-102 Ring Modulator and MF-104Z Analog Delay. Moogerfooger parameters are controlled with the Moog Voyager Touch Surface CV outputs. Learn more at www.experimentalsynth.com
Background information:
The final release candidate version of the TouchContinuum!
I'm playing my Nord Modular G2X synth over MIDI.
The two solos were improvised over self made jamtracks.
Thanks to the new rounding algorithm, the intonation isn't that bad this time

###################
HOW TO GET IT
###################
There is NO DOWNLOAD AVAILABLE so far, but I'm working on it! The source code will be released on github.com under the GPLv3 licence.
###################
For more Informations about the multitouch table hardware I refer to my other videos.
There have been lots of requests for showing the misa kitara connected to an external software synthesizer via MIDI:
"So in this video I have connected the kitara to my PC running my favourite open source synthesizer – zynaddsubfx (I recommend checking it out, it has some really interesting features). Also in this video, I show you how to sustain notes – you just drag upwards and any strings you have pressed down will not stop playing when you release them. Pressing another button on the string will set the sustained note to the newly designated one.
Also you can see "tap mode" in this video, where the screen is red. in this mode you can press the buttons on the neck and hear a sound, without pressing the touchpanel. it's good for two handed tapping technique (although you can see how important using the touch panel is to re-attack the notes you are playing).
ps. use headphones if you want to hear the bass!! :)"
This Sunday has been fun. I have thought about this idea a lot. I've played with various ideas on this for a few years. Last week- I got the parts in for the last thoughts I had on it- the great news is – it works! This is a purely analogue design and it opens the door for new touch controlled stuff! I'm using this 5 note test device to play my Mk1 Syetem- Barabus! I fully intend to have a fully functioning synth out of this guy- micromaccers watch out!
Ken M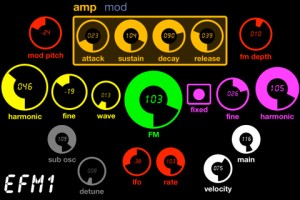 Midi Touch for iPhone – an Phone version of the popular iPad app Midi Touch – is now available. The app is designed to turn your iPhone or iPod Touch into a powerful wireless MIDI controller.
MIDI Touch for iPhone lets you create your own custom controllers by placing knobs, sliders and other controls onto the screen wherever you want, and then send MIDI over Wi-Fi with latency as low as 2-5ms.
Features:
Design & save your own MIDI controllers by dragging and dropping sliders, buttons and more where you want them to create personalised control surfaces
Excellent responsiveness & performance – measured latency over WiFi: 2-5ms.
Support for CC, Note, Program Change, SYSEX, NRPN & RPN messages (SYSEX not supported by DSMIDIWiFi)
Support for multiple messages per control
Midi Feedback – keeps the controls synced to your incoming messages (SYSEX, NRPN messages not supported for feedback yet)
Many different control types – Vertical sliders, horizontal sliders, knobs, buttons (momentary or latched), drum-pads, X-Y-Z controllers, transport controls and preset-jump buttons
Easily change the settings of each control – CC number, note number, minimum & maximum range, channel, invert, size, label & more
All new tab control – easily organise your controls
Choose from 14 different theme colors
Import/export & share controller setups via Email, Safari, Dropbox etc
Multi touch – control multiple knobs/sliders etc at once
Full screen mode to reduce distractions and maximize usable space
Controls snap to each other to help create aligned layouts
Invert values mode – perfect for drawbar organs
Editor controls – copy, cut, paste, duplicate (between presets also)
Multiple control selection – select multiple controls to move/cut/duplicate/edit
Nudge controls to make pixel perfect controllers
Intuitive gestures – great for fine tuning controls
New SYSEX message editor allows entering custom SYSEX strings with the value of the control embedded into the message
Robust RPN/NRPN support – simply select the MSB & LSB and the app does the rest
Turn inputs/outputs on or off selectively
Advanced control options to change how controls respond to incoming messages
Pricing and Availability
MIDI Touch for iPhone is available now for $$12.99.
Link: