"I finally grabbed all my small screen casts i made of synthmate as i developed it. It begins with the original concept, inspired by and using Matt Gemmell's multi-touch demo (mattgemmell.com/2010/05/09/ipad-multi-touch/). It then moves on to the control panels and initial look and feel. Later, there are some different visual ideas i played with before arriving at the final look."
A very brief test of Sphero as a controller for Shapesynth
Fabio performing Out The Water on an Emulator DVS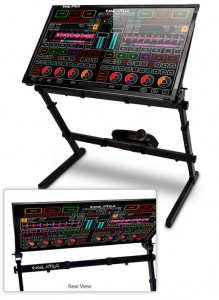 Emulator Dual View System (DVS) is the most revolutionary experience for on-stage performers in the last 30 years! Emulator DVS is the first REAL and USABLE Multi-Touch MIDI Control System that allows the crowd to see exactly what the artist is doing on a huge transparent touch screen. Whether you are a VJ, Lighting Programmer, Controlling Lasers or the DJ, you can use the Emulator DVS to control your software all while the audience watches in awe!

The art of performing on stage is now part of the clubs lightshow, this is the next level in performance!

The Emulator DVS can also be used as a multi-touch podium & presentation tool for meetings, conferences, lectures and any public address situations. Corporate events are made more interactive because the podium is transparent and the audience can see right through it while watching the presenter. Audience attention is increased, presenters feel enlivened with new technology!

What is the backbone of Emulator DVS?

Emulator is multi-touch midi control software for Musicians, DJ's, Lighting Designers, Video Editors, VJ's, Radio Broadcast Stations, Recording Studios and much more.
Our patent-pending technology allows you to make a custom multi-touch layout on top of any software you wish to control. Our easy to use control editor gives you unlimited options for how you create your dream midi interface. Emulator really is the best midi controller you will ever own. When new versions of your software come out, you can quickly and easily change your multi-touch controller so your hardware NEVER becomes obsolete (well, unless we invent something that doesn't require a screen).

Emulator Modular & Emulator for Traktor (FT) software come bundled with the DVS hardware.

Emulator for Traktor is a complete multi-touch midi controller software. Emulator for Traktor contains over 130 buttons, knobs and faders covering all common features of the underlying software. Emulator Modular includes a complete set of objects so you can completely custom design your own multi-touch interface with buttons, sliders, circular knobs, jog wheels and even your own custom graphics.

You have NEVER seen a crowd react to DJ equipment like this before.
The reaction is simply incredible.
This video features Moi from Los Macuanos demonstrating the MIDI Controller Jacket. Then he talks with MACHINA's electronic artist Leslie Garcia about his conception of interacting with music using the jacket.
Machina plans to sell the jacket in two different colors, with and without the technology, through www.machina.cc.
Listening to the sounds from the older gaming systems is a great way to both reminisce and create cool sounds for a song or just to have fun.  There is a large community that has been working with these sounds for many years and we thought we could make a hardware interface that would give more people the chance to play and hear these unique era centric sounds again.  From hard bass lines to awesome 8bit waves there will be something that everyone will enjoy.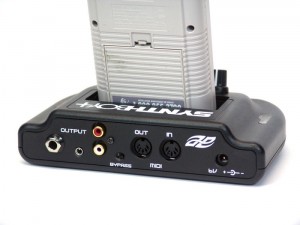 We have lots of audio connectors on the back of the synthboy+.  Whether you are an experienced DJ or connecting it to your home stereo there are plenty of options. We have midi in and out of the synthboy+ so you can connect a midi compatible keyboard and be able to directly play the Gameboy as an instrument.  If you don't wish to 'play' the Gameboy as a instrument, there is a tracker style program that allows you to enter in note information and the program will cycle through these notes and sounds. The knobs do different things depending on what you are doing.  If you are playing the Gameboy as a traditional instrument, the top three knobs allow you to quickly change parameters that will immediately effect the sound.  If you are using the tracker style program the bottom two knobs will allow you to manipulate the flow and style of your song in real time.
Pocopoco is a new musical interface that users can control by pushing, holding and turning – very intuitive and tactile actions.
"To create Pocopoco we developed original solenoid units with built-in sensors and assembled 16 of them in a box-shaped container to serve as a universal input/output device.
Through the use of their up and down movement we have created a new form of musical expression. The resulting device is a versatile interface whose physical movement is appealing to both performers and audiences."
http://ideea.jp/index.php?p=pocopoco&lang=ja
Curtis – Turns any recording into a totally unique synthesizer! Curtis uses an unusual hybrid of wavetable and granular synthesis to create tones and timbres quite apart from the standard FM or subtractive synthesis fare. Add this app to your arsenal to create sounds you simply cannot squeeze out of any other synth, no matter how much you've twiddled its knobs.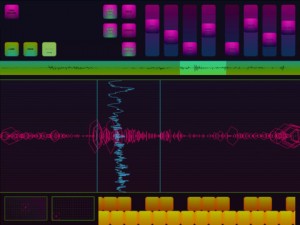 Granular synthesis works by combining many tiny grains of sound from an existing recording, creating new sounds with the texture of the original, now with endless temporal possibilities. Play the sound forward, backward, or even at a single point!
Unlike scratching a record, pitch doesn't depend on how quickly you move through the recording. Try with spoken word, singing, synths. Mangle your recordings or create soft, gentle textures! If scratching is your thing, Curtis now also includes a scratch mode, letting you shred your recordings turntablist style.
About:
The Strange Agency designs and builds sites and software. We focus on apps for mobile devices, and we make everything from rich media banners to heavily trafficked websites to small music-making robots. We love open-source, standards-compliant, platform-spanning code.
Blip Shaper Walkthrough
a) creating percussive patterns with monome b) shaping the individual sounds that make up the patterns with multitouch gestures c) recording touchscreen gestures as automation d) storing, duplicating and navigation patterns e) recording the resulting audio to a dynamic buffer f) manipulating the buffer with a multitouch cut-up approach g) visualizing everything with dual screens
more information at subcycle.org and arxi-creative.com
"Combining sophisticated, beautiful visualizations, elegant mode shifts that move from timbre to musical pattern, and two-dimensional and three-dimensional interactions, it's a complete visualization and interface for live re-composition."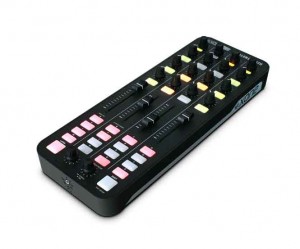 Allen & Heath has introduced the Xone:K2, a MIDI controller and audio interface with a 4-channel internal soundcard, configurable MIDI surface with tri-colour LED illumination, USB bus power, and incorporating A&H's proprietary X:LINK to connect with other Xone equipment.
The K2 is designed to work with all MIDI-enabled DAW applications and interface with popular DJ software packages, such as Ableton, Traktor Pro and Serato Scratch Live. It has 52 physical controls – including 12 analogue and 6 endless rotary encoders with push switch, 4 linear faders, and 30 back lit performances switches – providing up to 171 MIDI control commands across 3 layers. The K2's MIDI interface can be configured by the user, so the unit can be left in 'Open Architecture (Latching Layers off) Mode' or set to 'Latching Layers Mode'.
K2 has an internal 4-channel high quality soundcard, that can operate at 44.1 and 48kHz, and all channels run from the PC to the unit, configured to provide 2 stereo channels, one for headphones one for master out L and R, allowing headphone cueing without interrupting the master out. There is also a dedicated 3.5mm headphone jack, and a master out on RCA phono connectors.
It is possible to link two K2 units together to double the control area using Allen & Heath's proprietary X:LINK protocol. X:LINK uses a standard RJ45 connector and distributes power and data, which means two units can be connected to your DAW using only one USB port.
Xone:K2 is constructed with a strong plastic base and steel front panel employing A&H's nutted pot construction to be both lightweight and hard-wearing. Finally, the K2 comes with a carry case that doubles as a stand for ease of use for travelling DJs.
Pricing and Availability:
SRP: £199 ex VAT
Availability: Jan '12
More information: