"Essentially EMULATOR, provides a front end for creating multi-touch interfaces for existing MIDI controllable software. With a new modular editor enabling the design of custom interfaces, its possible to overlay your own control set while showing parts of the program if you wish (in thius case the Traktor waveform display is shown).
In this demo Alan Smithson (its creator) uses NI's Traktor – DJ software, you can see the potential for some really great looking performances.
The system demonstrated here, comprises of the software package EMULATOR (£299) plus this 42 inch glass screen, stand plus projector its a great looking setup. (approx £5k)"
http://youtu.be/k4QS1xAWvU4
Emulator FT 1.5 now supports Native Instruments, Traktor 2 Professional DJ Software.
With the introduction of Emulator FT 1.5 for, DJ's now have sample decks, loop recorders and more amazing effects literally at their fingertips.
Emulator gives the DJ all the functionality of Traktor 2 with a full multi-touch experience.
We tried to make Emulator more intuitive and easy to use so DJ's can begin playing on a touch screen interface immediately. Whether they use a tablet PC, touch screen monitor or our holographic looking transparent touch surface, the DJ is now in total control"
This video demonstrates the brand new MIDIbox SEQ V4L, a variant of MBSEQV4 with minimalistic user interface. Buttons and LEDs are directly connected to the MBHP_CORE_LPC17 module (which is under the small table). An external keyboard is required to enter Notes, Pitchbender and CCs.
MBSEQV4L controls a virtual Mk II with Seq1, and a Wurlitzer with Seq2. Both sequences have been recorded live and at once, only the Stylus RMX based drums have been added later in Logic Pro to make this video a little bit less boring. 😉
What happens:
[0:05] configuring Seq1 for 32 steps (2 bars)
[0:14] a basic pattern is entered in Live Recording mode to define the basic rhythm
[0:19] now this sequence is automatically looped
[0:25] switching to Step Recording mode
[0:27] and entering additional notes for selected steps
[0:32] activating force-to-scale: Pentatonic Minor (previously forgotten)
[1:05] yes, we can also enter chords!


[1:55] activating the Humanizer with extreme settings (random keys/velocity/length – always in scale!)
[2:04] activating Groove with Shuffle feel and modified Delays/Velocities/Lengths
[2:11] now it gets more funky!


[2:12] trying some magic LFO presets – affecting note and velocity
[2:36] trying different Step Progressing presets – affecting step increment/decrement/repeat
[2:35] some different LFO presets again
[3:08] break
[3:17] entering a second sequence, played by a virtual Wurlitzer
[3:26] notes are entered in Step Recording mode
[3:57] trying different MIDI Echo effects on Seq1 with Note increment (but forced to scale)
[4:28] introducing our special guest! 😉
[4:32] my beloved app "Pianist Pro" is running on the iPad, it sends OSC messages to MBSEQV4 which are converted to MIDI and thereafter sent to Logic Audio via USB
[5:21] additional notes are entered, making the sequences more complex
[5:33] muting Seq1, the Wurlitzer plays alone
[5:58] all MIDI effects are activated – MBSEQV4L jams a bit out of human control meanwhile, but it still sounds nice 😉
[6:40] unmuting and modifying the MIDI effects of Seq1
[7:04] slowly some steps are disabled to thin out the sequences
This is really funny, but serious – check out this card board type interface
Audio d-touch is a collection of applications for real-time musical composition and performance, with very special user interfaces. The collection includes a drum machine and a sampling sequencer, both are controlled by spatially arranging physical objects on an interactive table surface. Each object represents a sound, and its position with respect to the surface is mapped to certain playback parameters. For example, the horizontal position of an object represents the timing of the sound. The system is extremely low cost and now it can be freely and fully downloaded from http://www.d-touch.org/audio. All is needed to get audio d-touch to work is a standard computer (PC or Mac) with a webcam and a printer.
The following video shows the d-touch sequencer and the drum machine in action:
Enjoy and stay creative
This video shows a Netduino connected to a Arduino MIDI shield and a Nintendo DS touch screen. X controls filter cutoff and Y controls filter resonance, that in combination create some quite dramatic effects. Of course and MIDI control can be assigned to X or Y. Just add some software.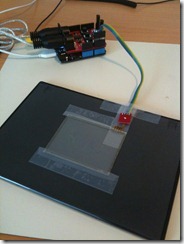 The prototype uses an off-the-shelf MIDI shield and a Nintendo DS touch screen connected piggy back on the shield.
The Netduino runs a simple "convert X/Y touch values to MIDI control changes" application. Right now it sends volume as X and modulation (in practice vibrato) as Y, but that's easy to change in the code. If no finger is touching the screen the last setting will stay. I also filter so that MIDI data is only sent when there's an actual change in any direction.
The touch screen is not very sensitive, but works as a demo of what can be achieved with no additional electronics beyond what's mentioned and very little software too.
Here are the details:
Introducing a REVOLUTION: use gestures to perform music on your iOS device with amazing precision! Simply use your right hand to control the pitch and your left hand to control a selected sound parameter. It may look magical, but AirVox is actually our product of cutting-edge computer vision technology crafted for mobile devices.
Now available in the iTunes store for devices with a front-facing camera: iPhone 4, iPad 2, and iPod Touch 4th Gen.
Features:
Move right hand up and down to control musical note / pitch
Move left hand back & forth to control any one of 9 tonal parameters like volume or vibrato (you can turn this feature on or off: it is turned off by us on the first-launch preset to make starting out easier)
Use other hand motions or gestures for even finer control
AirVox has 50 musical scales, each with settable root note and octave range.
AirVox has a complete sound engine, made of dual oscillators, many waveforms, musical filters and audio FX, including vibrato, delay, and tremolo.
AirVox has 48 built-in presets. Tweak knobs and save any number of your own.
Record and share your music via email, wifi or SoundCloud (also Twitter & Facebook via SoundCloud)
AirVox is available in the App Store for $2.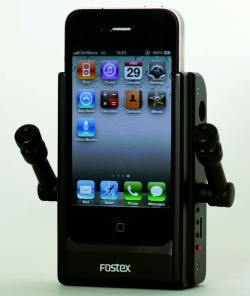 Your iPhone clearly looks like a tiny robot dressed up in this new audio interface. Fostex has announced a new audio interface for the iPhone 4, the AR-4i, designed to improve the quality of recordings made with the iPhone.
Features:
3 microphone inputs with plug-in power for vertical or horizontal use.
Input level control and EQ can be done using the dedicated App.
2 x cardioid plug-in microphones come as standard.
Third-party microphones can be used.
LED Level Meter for input level monitoring.
Microphone gain control.
Headphone jack for input monitoring.
2 x AAA batteries for more than 10 hours operation.
External power can be fed via USB.
Ergonomic design for secure holding.
Screw hole provided for optional camera gears such as tripod, grip etc.
Pricing and availability are to be announced.
via Fostex, Palm Sounds
http://www.youtube.com/watch?v=ug-9Wz2E_vo
Dark Matter Audio release the DMA1. This incredible audio device is anything you want it to be — guitar effects processor, high quality studio tool or performance instrument — thanks to its open architecture and Online Store that lets you wirelessly update DMA1 with a growing range of pro audio apps.
The DMA-1 is basically designed to be the iPad of audio interfaces.
It's a software-powered audio interface with a touch-screen interface. Because it's software-powered, the DMA-1 can be a guitar effects processor, a multi-FX processor, a digital multitrack recorder, MP3/4 player, MIDI interface, a 5.1 digital mixing desk and whatever else developers imagine.
According to Dark Matter Audio, you'll be able to wirelessly download applications to make DMA1 into a drum machine, sampler, loop recorder, digital patchbay, video tutorial device, chord and scale matcher, database of transcribed music, lyric organizer or a composition sketch tool.
But unlike iPhones or iPads, DMA1 is built from the ground up for music making.
Main features:
7-inch Touchscreen
Studio Quality Processing
Wi-Fi and Ethernet
3 x USB, 2 x Analogue and 2 x SPDIF connections
HDMI support
5.1 Surround Sound Mixer
4 Channel Architecture
Battery and Mains powered
Open Developer Community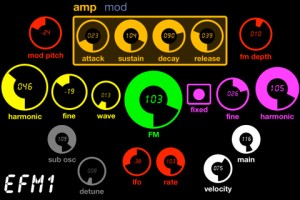 Midi Touch for iPhone – an Phone version of the popular iPad app Midi Touch – is now available. The app is designed to turn your iPhone or iPod Touch into a powerful wireless MIDI controller.
MIDI Touch for iPhone lets you create your own custom controllers by placing knobs, sliders and other controls onto the screen wherever you want, and then send MIDI over Wi-Fi with latency as low as 2-5ms.
Features:
Design & save your own MIDI controllers by dragging and dropping sliders, buttons and more where you want them to create personalised control surfaces
Excellent responsiveness & performance – measured latency over WiFi: 2-5ms.
Support for CC, Note, Program Change, SYSEX, NRPN & RPN messages (SYSEX not supported by DSMIDIWiFi)
Support for multiple messages per control
Midi Feedback – keeps the controls synced to your incoming messages (SYSEX, NRPN messages not supported for feedback yet)
Many different control types – Vertical sliders, horizontal sliders, knobs, buttons (momentary or latched), drum-pads, X-Y-Z controllers, transport controls and preset-jump buttons
Easily change the settings of each control – CC number, note number, minimum & maximum range, channel, invert, size, label & more
All new tab control – easily organise your controls
Choose from 14 different theme colors
Import/export & share controller setups via Email, Safari, Dropbox etc
Multi touch – control multiple knobs/sliders etc at once
Full screen mode to reduce distractions and maximize usable space
Controls snap to each other to help create aligned layouts
Invert values mode – perfect for drawbar organs
Editor controls – copy, cut, paste, duplicate (between presets also)
Multiple control selection – select multiple controls to move/cut/duplicate/edit
Nudge controls to make pixel perfect controllers
Intuitive gestures – great for fine tuning controls
New SYSEX message editor allows entering custom SYSEX strings with the value of the control embedded into the message
Robust RPN/NRPN support – simply select the MSB & LSB and the app does the rest
Turn inputs/outputs on or off selectively
Advanced control options to change how controls respond to incoming messages
Pricing and Availability
MIDI Touch for iPhone is available now for $$12.99.
Link:
playing around with THICKET for the iPad — one of the most unique audio iPad apps with a great user interface. also controlling FX through ableton live & a novation nocturn.
Via Keenan Gaynor
Some basic testing of a raw disc-based display for the enigmatically named "Project Wheel".
Some tuning is needed: for example, the blocks generated from the sine wave audio show attenuation, due to some averaging code in the drawing algorithm, all of which needs a bit of refinement to improve alignment of visual and audible transients.
No, we're not just implementing a circular looper. The next video we upload should give a hint of what's to come.
Via http://wheel.loadbang.net/