Midi Touch for iPhone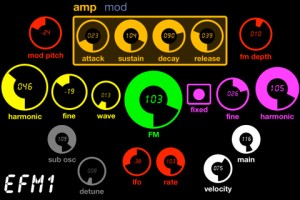 Midi Touch for iPhone – an Phone version of the popular iPad app Midi Touch – is now available. The app is designed to turn your iPhone or iPod Touch into a powerful wireless MIDI controller.
MIDI Touch for iPhone lets you create your own custom controllers by placing knobs, sliders and other controls onto the screen wherever you want, and then send MIDI over Wi-Fi with latency as low as 2-5ms.
Features:
Design & save your own MIDI controllers by dragging and dropping sliders, buttons and more where you want them to create personalised control surfaces
Excellent responsiveness & performance – measured latency over WiFi: 2-5ms.
Support for CC, Note, Program Change, SYSEX, NRPN & RPN messages (SYSEX not supported by DSMIDIWiFi)
Support for multiple messages per control
Midi Feedback – keeps the controls synced to your incoming messages (SYSEX, NRPN messages not supported for feedback yet)
Many different control types – Vertical sliders, horizontal sliders, knobs, buttons (momentary or latched), drum-pads, X-Y-Z controllers, transport controls and preset-jump buttons
Easily change the settings of each control – CC number, note number, minimum & maximum range, channel, invert, size, label & more
All new tab control – easily organise your controls
Choose from 14 different theme colors
Import/export & share controller setups via Email, Safari, Dropbox etc
Multi touch – control multiple knobs/sliders etc at once
Full screen mode to reduce distractions and maximize usable space
Controls snap to each other to help create aligned layouts
Invert values mode – perfect for drawbar organs
Editor controls – copy, cut, paste, duplicate (between presets also)
Multiple control selection – select multiple controls to move/cut/duplicate/edit
Nudge controls to make pixel perfect controllers
Intuitive gestures – great for fine tuning controls
New SYSEX message editor allows entering custom SYSEX strings with the value of the control embedded into the message
Robust RPN/NRPN support – simply select the MSB & LSB and the app does the rest
Turn inputs/outputs on or off selectively
Advanced control options to change how controls respond to incoming messages
Pricing and Availability
MIDI Touch for iPhone is available now for $$12.99.
Link:
Comments