This sure looks interesting, if you have tried it please leave us your thoughts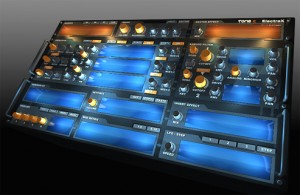 ElectraX means not only having four powerful synthesizers in one interface – it's the next generation of high-end audio equipment.
Explore the vast musical universe of multi-synthesis oscillators, analog modeled filters, chaotic fractals, samples, psychoacoustic processing, flexible modulation and an immense sonic range.
Combine multiple polyphonic or monophonic synthesizers and 13 different synthesis methods to create incredible results.
All this comes with an easy-to-use interface, high-end sound quality and remarkable low CPU usage for an instrument as feature-rich as ElectraX.
The comfortable preset management provides instant access to a large library of sounds by professional designers.

Oscillators

At the heart of ElectraX are the multi-synthesis oscillators with up to 18 oscillators per voice. With ElectraX you combine classic synthesis types like Virtual Analog, FM, Phase Distortion, Ultrasaw, Sync, Waveshaping, Wavetables, AM, and completely new oscillator types. It also opens unheard acoustic possibilities with its exclusive Fractal synthesis, which can be used to mimic the behavior of organisms or analog circuits.
Samples and Wavetables
You can use ElectraX' sample oscillator to import your own waves, a quick import option is available to create custom patches or vocoder sounds based on your own samples with a mouse click.
ElectraX ships with a large selection of licensed wave content, including morphable analog and digital wave types.
In addition to this you can automatically resynthesize your own waveforms from samples or import custom wavetables.
Filters
Each synth's filter section consists of two multi-mode filters with 23 unique filter types and multi-mode distortion.
ElectraX comes with excellent analog modeled filters, high precision digital filters, vocal filters, comb filters, phasers, equalizers and other exotic types.
The warm sounding filters are able to self oscillate and deliver a wide range of timbres due to the variable degree of analog behavior.
A dual distortion unit offers six different modes. It can produce tube sound, known from analog pre-amp boxes, model a fuzzbox or do waveshaping.
Effects

ElectraX' master and insert effects sections include 18 high quality effect processor, built and fine-tuned specifically to compliment the synth's sound such as: High-end Reverb, Multitap Delay, Vocoder, Chorus, Ensemble, Phaser, Flanger, Rotary, Surround encoder, Trancegate,…
Modulation

ElectraX' modulation makes use of punchy, analog sounding envelopes. Its high quality LFOs are syncable to BPM and can modulate up to the audible range. You can create rhythmic sequences or custom wave shapes with the step LFO.
The flexible Modulation Matrix is easy-to-use and provides a good and instant overview of the active modulations.
With the built-in 'midi-learn' feature it is possible to assign controllers with a single click.
Arpeggiator
One preset setup can handle up to four full featured synthesizers with four independent arpeggiators and step sequencers. The arpeggiator supports autochord, swing, glide and keyboard splitting. This allows you to create impressive sequences with several instruments playing at the same time, providing a creative and hands-on experience for a life performance.
Features – summary
Four synthesizers in one interface
High-end sound quality
Huge sonic range
High flexibility
13 different synthesis methods which can be combined
Psychoacoustic processing
Low CPU, multicore processor support
Easy to use
4x multitimbral
555 presets by professional sound designers
23 exclusive analog modeled filter types
45 oscillator types
18 effect types; Master effect section with Equalizer
More than 1000 waveforms
64×4 voices
Midi learn
Customizable user interface with 4 skins
Expandability
Standalone version for PC
Flexible preset management
Context sensitive help
January 25, 2011 · Posted in
Uncategorized
·
Comments Off

on Control is here
Intro to Control: Free MIDI / OSC software for iOS
One More Muse has released Control, a new controller app for iOS that allows you to create custom interfaces.
Control enables users to create their own interfaces for controlling musical, artistic and virtual reality applications. It is built on top of Apple's WebKit rendering engine and allows users to define their interfaces via JSON files.
Control features
Outputs both Wireless MIDI and Open Sound Control (OSC).
Reads and outputs data from Accelerometer, Gyro and Compass sensors (on applicable devices) with adjustable update rates.
The ability to script behaviors for widgets using JavaScript.
Auto-discovery of wireless networks via Bonjour.
Interfaces can be pushed to the phone via OSC or downloaded from the web.
Supports both portrait and landscape interface orientations.
Interfaces work on both iPhones and iPads.
Control is available as a free app for iOS 4.2 or later.
More information: One More Muse / Control
December 15, 2010 · Posted in
Uncategorized
·
Comments Off

on Documentary on Reactable
A four minute documentary displaying the concept behind the invention of the reactable: an electronic instrument based on a touch-screen table-top interface
The Reactable is a revolutionary new electronic musical instrument designed to create and perform the music of today and tomorrow. It combines state of the art technologies with a simple and intuitive design, which enables musicians to experiment with sound, change its structure, control its parameters and be creative in a direct and refreshing way, unlike anything you have ever known before.
The Reactable uses a so called tangible interface, where the musician controls the system by manipulating tangible objects. The instrument is based on a translucent and luminous round table, and by putting these pucks on the Reactable surface, by turning them and connecting them to each other, performers can combine different elements like synthesizers, effects, sample loops or control elements in order to create a unique and flexible composition.
June 7, 2010 · Posted in
Uncategorized
·
Comments Off

on The Odu concept and the LUM
Nicole Weber's (Germany) Odu was probably the most stunning design work in the lot, including a full physical mock-up and UI design concepts. It's an unusual combination of physical interface and Web-based sonic engine. On the Web side, users find sample content through a browser interface. On the physical side, a handheld interface turns those samples into tangible objects for manipulation and performance.
LUM is a music interface that translates the position in space (xyz) of luminous spheres in to sound.
Each axis is given a parameter, X = pitch, Y = loudness & Z = effects, although these may change.
The "controllers" incorporate 2 different colored LEDs each one activated by different buttons, allowing the user to handle 2 instruments simultaneously. The project was born in 2007 but is professionalised in late 2009.
October 2, 2009 · Posted in
Electronic Music
·
Comments Off

on The secret behind Siftables
Siftables are cookie-sized computers with motion sensing, neighbor detection, graphical display, and wireless communication. They act in concert to form a single interface: users physically manipulate them – piling, grouping, sorting – to interact with digital information and media. Siftables provides a new platform on which to implement tangible, visual and mobile applications.
Check out the video below:
[youtube=http://www.youtube.com/watch?v=ZgF2rRzTg8Q&feature=player_embedded]
There are three "voices" – lead, bass and drums. Each voice has four variations, accessible via the four sides of the siftable. You can also apply reverb, filter, volume and tempo changes.
Not to forget a pretty cool song too

And if you are a fan of these types of stuff, make sure to follow this blog >>
July 8, 2009 · Posted in
Electronic Music
·
Comments Off

on Feel like drawing or painting your music?
HighC is a graphical music creation tool. It is a synthesizer, a sequencer and a mixer. Its goal is to make music composition as simple and direct as sketching.
An entertaining and educational tool…
No music experience needed: create stunning soundscapes and crazy ringtones in a matter of minutes. Learn acoustics, music theory and audio synthesis with a gentle, graphic approach.
that meets demanding professional needs
Master advanced synthesis techniques: FM, ring mod, additive, granular, and much more. No complex dashboards of knobs, dials and connectors with unpredictable effects. No programming. Just draw to unleash your creativity!
HighC uses only the simplest GUI techniques: draw notes, envelopes and wave shapes; move and resize sounds; copy and paste to create effects; group sounds into rhythms or patterns; repeat your groupings to create an harmonic line; link your sounds to one another to create modulations… It's simple, it's powerful!
Changes in HighC v2.75
Printing functionality, enabling export to PDF file format.
Overview shows the cursor in all views during playback.
Set the default pitch of imported sound samples (to correct potential pitch detection algorithm errors).
Tune the sampled audio files.
Audio file import in the FLAC format. FLAC is a lossless audio compression format that saves about 2/3rds of the original file size.
Distribution reduced from 16 to 10Mb.
November 18, 2008 · Posted in
Electronic Music
·
Comments Off

on Future music performances with Oblong?
Well I wouldn´t mind trying it

[youtube=http://www.youtube.com/watch?v=GmqJr2ijKIo]
Oblong Industries is the developer of the g-speak spatial operating environment.
The SOE's combination of gestural i/o, recombinant networking, and real-world pixels brings the first major step in computer interface since 1984; starting today, g-speak will fundamentally change the way people use machines at work, in the living room, in conference rooms, in vehicles. The g-speak platform is a complete application development and execution environment that redresses the dire constriction of human intent imposed by traditional GUIs. Its idiom of spatial immediacy and information responsive to real-world geometry enables a necessary new kind of work: data-intensive, embodied, real-time, predicated on universal human expertise.
Some of the SOE's core ideas are already familiar from the film Minority Report, whose characters performed forensic analysis using massive, gesturally driven displays. The similarity is no coincidence: one of Oblong's founders served as science advisor to Minority Report and based the design of those scenes directly on his earlier work at MIT. Other foundational components are less directly visible but as crucially transformative. The g-speak platform braids development arcs begun in the early 1990s at MIT's Media Laboratory, where Oblong's principals produced radical user interface advances, distributed and networked language designs, and media manipulation technologies.
From academia; into popular cinema; and out broadly into the world as commercial product: it's an unordinary path for technical thought and effort, but one — leading to g-speak — that seems now logical and even necessary. The people who work in Oblong's Los Angeles and Barcelona laboratory offices are as concerned with design as with programming, with humanist principles as with running a company. Synthesizing these concerns is the only way to insure that the metamorphosis of human-computer interaction we offer the world will be one of beauty and durable worth.