Tone 2 – Electra X is out
This sure looks interesting, if you have tried it please leave us your thoughts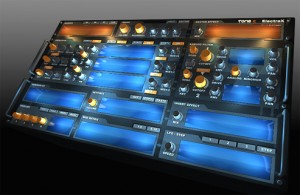 ElectraX means not only having four powerful synthesizers in one interface – it's the next generation of high-end audio equipment.
Explore the vast musical universe of multi-synthesis oscillators, analog modeled filters, chaotic fractals, samples, psychoacoustic processing, flexible modulation and an immense sonic range.
Combine multiple polyphonic or monophonic synthesizers and 13 different synthesis methods to create incredible results.
All this comes with an easy-to-use interface, high-end sound quality and remarkable low CPU usage for an instrument as feature-rich as ElectraX.
The comfortable preset management provides instant access to a large library of sounds by professional designers.

Oscillators

At the heart of ElectraX are the multi-synthesis oscillators with up to 18 oscillators per voice. With ElectraX you combine classic synthesis types like Virtual Analog, FM, Phase Distortion, Ultrasaw, Sync, Waveshaping, Wavetables, AM, and completely new oscillator types. It also opens unheard acoustic possibilities with its exclusive Fractal synthesis, which can be used to mimic the behavior of organisms or analog circuits.
Samples and Wavetables
You can use ElectraX' sample oscillator to import your own waves, a quick import option is available to create custom patches or vocoder sounds based on your own samples with a mouse click.
ElectraX ships with a large selection of licensed wave content, including morphable analog and digital wave types.
In addition to this you can automatically resynthesize your own waveforms from samples or import custom wavetables.
Filters
Each synth's filter section consists of two multi-mode filters with 23 unique filter types and multi-mode distortion.
ElectraX comes with excellent analog modeled filters, high precision digital filters, vocal filters, comb filters, phasers, equalizers and other exotic types.
The warm sounding filters are able to self oscillate and deliver a wide range of timbres due to the variable degree of analog behavior.
A dual distortion unit offers six different modes. It can produce tube sound, known from analog pre-amp boxes, model a fuzzbox or do waveshaping.
Effects

ElectraX' master and insert effects sections include 18 high quality effect processor, built and fine-tuned specifically to compliment the synth's sound such as: High-end Reverb, Multitap Delay, Vocoder, Chorus, Ensemble, Phaser, Flanger, Rotary, Surround encoder, Trancegate,…
Modulation

ElectraX' modulation makes use of punchy, analog sounding envelopes. Its high quality LFOs are syncable to BPM and can modulate up to the audible range. You can create rhythmic sequences or custom wave shapes with the step LFO.
The flexible Modulation Matrix is easy-to-use and provides a good and instant overview of the active modulations.
With the built-in 'midi-learn' feature it is possible to assign controllers with a single click.
Arpeggiator
One preset setup can handle up to four full featured synthesizers with four independent arpeggiators and step sequencers. The arpeggiator supports autochord, swing, glide and keyboard splitting. This allows you to create impressive sequences with several instruments playing at the same time, providing a creative and hands-on experience for a life performance.
Features – summary
Four synthesizers in one interface
High-end sound quality
Huge sonic range
High flexibility
13 different synthesis methods which can be combined
Psychoacoustic processing
Low CPU, multicore processor support
Easy to use
4x multitimbral
555 presets by professional sound designers
23 exclusive analog modeled filter types
45 oscillator types
18 effect types; Master effect section with Equalizer
More than 1000 waveforms
64×4 voices
Midi learn
Customizable user interface with 4 skins
Expandability
Standalone version for PC
Flexible preset management
Context sensitive help
Comments