Curtis UI Study – exploration
Curtis – Turns any recording into a totally unique synthesizer! Curtis uses an unusual hybrid of wavetable and granular synthesis to create tones and timbres quite apart from the standard FM or subtractive synthesis fare. Add this app to your arsenal to create sounds you simply cannot squeeze out of any other synth, no matter how much you've twiddled its knobs.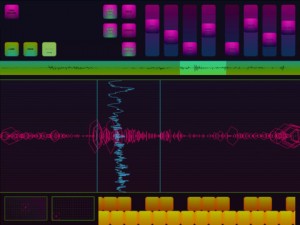 Granular synthesis works by combining many tiny grains of sound from an existing recording, creating new sounds with the texture of the original, now with endless temporal possibilities. Play the sound forward, backward, or even at a single point!
Unlike scratching a record, pitch doesn't depend on how quickly you move through the recording. Try with spoken word, singing, synths. Mangle your recordings or create soft, gentle textures! If scratching is your thing, Curtis now also includes a scratch mode, letting you shred your recordings turntablist style.
About:
The Strange Agency designs and builds sites and software. We focus on apps for mobile devices, and we make everything from rich media banners to heavily trafficked websites to small music-making robots. We love open-source, standards-compliant, platform-spanning code.
Comments