Check out the new SynthBoy+
Listening to the sounds from the older gaming systems is a great way to both reminisce and create cool sounds for a song or just to have fun.  There is a large community that has been working with these sounds for many years and we thought we could make a hardware interface that would give more people the chance to play and hear these unique era centric sounds again.  From hard bass lines to awesome 8bit waves there will be something that everyone will enjoy.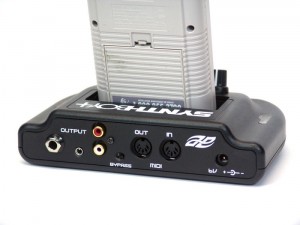 We have lots of audio connectors on the back of the synthboy+.  Whether you are an experienced DJ or connecting it to your home stereo there are plenty of options. We have midi in and out of the synthboy+ so you can connect a midi compatible keyboard and be able to directly play the Gameboy as an instrument.  If you don't wish to 'play' the Gameboy as a instrument, there is a tracker style program that allows you to enter in note information and the program will cycle through these notes and sounds. The knobs do different things depending on what you are doing.  If you are playing the Gameboy as a traditional instrument, the top three knobs allow you to quickly change parameters that will immediately effect the sound.  If you are using the tracker style program the bottom two knobs will allow you to manipulate the flow and style of your song in real time.
Comments