A four minute documentary displaying the concept behind the invention of the reactable: an electronic instrument based on a touch-screen table-top interface
The Reactable is a revolutionary new electronic musical instrument designed to create and perform the music of today and tomorrow. It combines state of the art technologies with a simple and intuitive design, which enables musicians to experiment with sound, change its structure, control its parameters and be creative in a direct and refreshing way, unlike anything you have ever known before.
The Reactable uses a so called tangible interface, where the musician controls the system by manipulating tangible objects. The instrument is based on a translucent and luminous round table, and by putting these pucks on the Reactable surface, by turning them and connecting them to each other, performers can combine different elements like synthesizers, effects, sample loops or control elements in order to create a unique and flexible composition.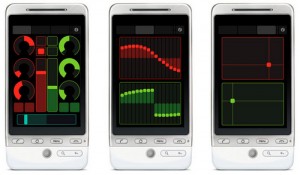 TouchOSC, the popular IOS OSC control application, has been ported to Android.
TouchOSC for Android is available now on the Android Market as donationware.
While it's free, its features don't match the iOS version. Current limitations are:
No importing of custom layouts
No ZeroConf/Bonjour publishing/browsing
No multi-touch support
No support for resolutions higher than 320×480
Some other minor features missing
Here's what the developer has to say about TouchOSC For Android:
This version basically represents the feature set that TouchOSC version 1.0 for the iPhone supported when it was first released. Minus the bugs of course. There's a couple of reasons that led to the decision to release the application in this form. First of all, I didn't want to make all of you wait any longer. Constructing a full port would have probably taken me another 12 months of trying to play catch-up with the original which is constantly improving. Secondly there seems to be an endless stream of new Android devices coming out every other moment, so testing the more advanced features on every possible configuration is basically impossible. Keeping it lean and simple will probably help in making it work for most of the available gadgets right now.
All that said, I also decided to make the application available for free. There don't seem to be a lot of (successful) paid applications available on the Android Market right now and from my research the general user-base is also not exactly used to actually pay for apps. The ad-supported model that a lot of developers go with is also something that I wouldn't even consider at my most delirious. Call me crazy.
via Palm Sounds
This video, via mvpadrini, demonstrates how you can use the $2.99 app S1MidiTrigger on an iPad to add a touchscreen to your synthesizer.
S1MidiTrigger is a new app for iOS which works with the Line 6 MIDI Mobilizer. You can create your own MIDI layouts using the layout menu and use the multi-touch interface to control any MIDI device.
Here, S1MidiTrigger on the iPad is connected, via a MIDI Mobilizer to a Korg microX synthesizer.
S1MidiTrigger é um novo app para iOS compatível com a interface MIDI Mobilizer da Line 6. Com ele é possível criar layouts MIDI personalizados no próprio aplicativo e utilizar a tela multi-touch para controlar qualquer equipamento MIDI.

Mais sobre o S1MidiTrigger e outros apps musicais em www.musicapps.com.br
This is a quick demonstration of DroneStation, a new app for the iPhone/Touch. A 2-oscillator synth, with an unique multi-touch interface that will hopefully make it more playable than trying to peck away at a little keyboard.
Screenshot showing it's a 2-osc synth with a resonant 4PLP filter.
Thanks to AI for sharing
[vimeo http://vimeo.com/6173836]
Christian Bannister from Subcycle Labs has created a patch for visual multi-touch manipulation of a bass synth (Native Instruments Massive).
a real-time multi-touch interface to a visualized low frequency sound. the various touch configurations control different parameters of the synthesized bass including filter modulation rate, bit crush, sample and hold, feedback, oscillator phase and fm synthesis. more info at subcycle.org
Bonus:
New Reason Refills at Stereoklang uploaded >>
[youtube=http://www.youtube.com/watch?v=rorBOzwR3Tc]
Features:
Dual dual synths: Two patchable virtual synths, with two oscillators each
Drum machine: Four-part drum machines loaded with samples of the virtual synth
Sequencer: 2 synth tracks, 4 drum machine tracks, 16 steps
Effects: Delay, chorus, flanger
Input methods: Touch-control screen with real-time sound control, a keyboard screen, and matrix screen
More than just a piece of software, KORG DS-10 lets you control a "four part drum module, two analog synth simulators, and 6-track/16-step sequencer" with your Nintendo DS's touchscreen.