Transform your voice into a mesmerizing instrument. Morph and shape the sounds you create by exploring Vio's entrancing interface. Learn more at http://transformyourvoice.com
Sonic adventures — always in tune
Build sonic universes from your own voice. The innovative audio engine behind Vio goes far beyond existing voice effects to create novel, futuristic vocal styles. Vio's sound spaces vary in character from edgy and energetic to mellow and relaxing. Vio surprises and inspires your creativity: you may not intend to do something, and it comes out cool. Whether you are an amateur or seasoned professional, Vio's pitch correction technology ensures that everyone sounds in tune and is beautifully harmonized.
Touch Control
Explore each sound space by touching Vio's swirling particle vortex. Move the vortex around the screen and change how your voice is transformed – harmony is added or subtracted, melodies emerge and disappear, and reverberations shape shift.
Looping
Double-tap the screen, loop what you have just sung or hummed, and focus on morphing your sound with the particle visualizer.
Recording & Sharing
Record your performances and share them via email, SoundCloud, Dropbox, or iTunes file sharing. Choose between compressed and high quality audio files.
Advanced Features
Visit http://squareb.co/vio to learn about advanced features like changing keys and recording high quality audio.
Teaser for a new iOS app
Using the Korg Monotron (Pocket Synth) As Analog Video Filter.
PixiVisor is a revolutionary tool for audio-visual experiments. It is based on the video signal transmission over audio (you can listen to the sound of your image).
More info: http://warmplace.ru/soft/pixivisor
Music: http://soundcloud.com/nightradio/anal…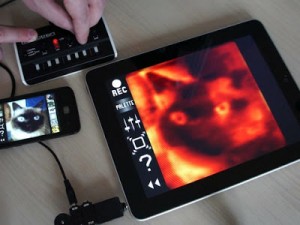 PixiVisor is a revolutionary tool for audio-visual experiments. Simple and fun, cross-platform application with unlimited potential for creativity!
It consists of two parts: Transmitter and Receiver.
* Transmitter converts the video (static 64×64 image or 10FPS animation) to sound, pixel by pixel (progressive scan). This lets you listen to the sound of your image. But the main function of the Transmitter is to transmit the signal to the receiving devices.
* Receiver converts the sound (from microphone or Line-in input) back to video. You can set the color palette for this video, and record it to animated GIF file.
Key features:
* file formats supported by Transmitter: JPEG, PNG, GIF (static and animated);
* real-time video export to animated GIF;
* 64 predefined color palettes;
* iTunes File Sharing;
* Wi-Fi Export/Import (in the File menu of the Transmitter);
* it also available for Android, Windows, Linux and OSX;
* more functions in the next PixiVisor updates…
Examples of use:
* wireless Lo-Fi video transmission over audio;
* video signal transmission through audio cable; you can then modify that signal by some mixers or audio FX processors;
* VJing;
* sound visualization;
* save any sound to animated GIF;
* hide some images and animation in your music;
* searching for hidden messages in the ambient noise; EVP;
* something else; reveal it first!
Official PixiVisor homepage + test broadcasts + more videos:
http://warmplace.ru/soft/pixivisor
"nice! nice update! Splendid sound quality. Splendid version upgrade"
What's New in Version 1.4
• SoundCloud Sharing – share your Figure tracks with access to Facebook, Twitter and more
• Introducing Audiobus support: Now you can stream live audio directly to other Audiobus-compatible apps! See http://audiob.us for more information
The new feature in Audulus 1.10: Make a connection to ANY KNOB! Audulus is a minimalist modular audio processing application. Design sound from first principles. With Audulus, you can build synthesizers, design new sounds, or process audio. All with low latency real-time processing suitable for live performance. Audulus's user interface is clean, simple, and easy to learn, allowing you to focus on sound.
http://apps4idevices.com/read/logique-analogique
Logique Analogique is a simulation of a real circuit board that includes an 8-bit binary counter, analog implementation of logic functions, and 4 channel, 1-bit sound generation.
To quote the developer, "The Logique Analogique sequencer consists of an 8-bit binary counter and four tracks which generate pulse waves when a user-defined majority function depending on the counter bits is true. Switches which select the counter bits (or their logic inverse) and a threshold voltage define the majority function. The output is calculated as the XOR function of the four tracks' signals, which produces a ring modulation like effect."
"Complexities aside, this app creates incredibly powerful sounds, with a seemingly endless amount of rhythmic possibilities. The sounds can be layered to create ring modulation type effects, with both pitch and threshold control to further shape the sound. The sequencer makes it possible to create evolving patterns or complete songs, using the tap & drag method to easily create your sequence. I would suggest starting slowly with this app, to hear the effect of each switch or dial, but then dive in and explore. It has to be noted that this app does not offer any method of recording yet, but both MIDI and Audio Copy are currently being considered for the future. Despite these missing necessities, I have to say that I'm incredibly impressed with the power of this app, and for the first time, I'm willing to connect my iPad to another source to record my creations. I haven't found another app that creates such intense sonic delights as this does. I'm so taken with Logique Analogique, that even without recording or MIDI, I still have to rate it … A Killer App!"
http://apps4idevices.com/read/caelestis
Caelestis is a sample based generative music app that creates unique and very interesting results. It uses bouncing balls that generate notes as they bounce off the walls of the three different shaped rooms. The sound balls can be initiated at any velocity, and the shaped rooms can be rotated at different speeds to create interesting combinations. Each sample can be pitched by semitone increments, and assigned to one of three octave ranges. It is a free app with a $0.99 in-app purchase for importing and exporting samples and recordings. I should note that all file management is accessed through the Audio Copy section, and for referencing tempo, you need to run a drum app in the background. But I have to say that I find this app to be very impressive, with a great range of features, and it's very easy to use. The unique layers of sounds and rhythms really make Caelestis … A Killer App!
Review by Nick Trass
Background description: In this video Gercek Dorman used several iOS applications on iPad such as Audiobus, MultiTrack Daw, Magellan, AniMoog, Samplr and Alchemy Mobile also he uses programs on MacBook Ableton Live and Alchemy Massive Synthesizers…
The Koushion iPad MIDI step sequencer app is a great tool to use with Ableton Live. For more information, visit www.facebook.com/koushion
***Link to the App Store***
http://itunes.apple.com/app/koushion/id424454249
Version 1.6 now available. This free upgrade offers great new features such as "Audiobus" for streaming of audio between apps, iCloud backup, Retina display support, and Virtual MIDI for MIDI communication between iOS music creation apps. Also includes a Korg's new Beat Flutter mode, which allows you to vary patterns in real time and at random for further creative inspiration!
Get iELECTRIBE at a 50% discount – now through Dec 31st 2012!
[US] http://itunes.apple.com/us/app/korg-ielectribe/id363714043?mt=8