http://apps4idevices.com/read/caelestis
Caelestis is a sample based generative music app that creates unique and very interesting results. It uses bouncing balls that generate notes as they bounce off the walls of the three different shaped rooms. The sound balls can be initiated at any velocity, and the shaped rooms can be rotated at different speeds to create interesting combinations. Each sample can be pitched by semitone increments, and assigned to one of three octave ranges. It is a free app with a $0.99 in-app purchase for importing and exporting samples and recordings. I should note that all file management is accessed through the Audio Copy section, and for referencing tempo, you need to run a drum app in the background. But I have to say that I find this app to be very impressive, with a great range of features, and it's very easy to use. The unique layers of sounds and rhythms really make Caelestis … A Killer App!
Review by Nick Trass
Background description: In this video Gercek Dorman used several iOS applications on iPad such as Audiobus, MultiTrack Daw, Magellan, AniMoog, Samplr and Alchemy Mobile also he uses programs on MacBook Ableton Live and Alchemy Massive Synthesizers…
The Koushion iPad MIDI step sequencer app is a great tool to use with Ableton Live. For more information, visit www.facebook.com/koushion
***Link to the App Store***
http://itunes.apple.com/app/koushion/id424454249
Version 1.6 now available. This free upgrade offers great new features such as "Audiobus" for streaming of audio between apps, iCloud backup, Retina display support, and Virtual MIDI for MIDI communication between iOS music creation apps. Also includes a Korg's new Beat Flutter mode, which allows you to vary patterns in real time and at random for further creative inspiration!
Get iELECTRIBE at a 50% discount – now through Dec 31st 2012!
[US] http://itunes.apple.com/us/app/korg-ielectribe/id363714043?mt=8
Little video showing how to open NLog AudioUnit in Apple's Logic.
Following the trail of many famous electronic artists, like Thomas Dolby, Brian Eno and Jordan Rudess, Gary Numan now also ventures into the world of apps. The UK new music magazine Artrocker has created app for Gary Numan which represents a retrospective of the UK synth wizard. The app is only available for iPad and can be downloaded right here >>
The app is based on the interviews that Artrocker editor in chief Tom Fawcett has conducted with Gary Numan spanning April to September 2012. The interviews handled the past, present and future. Next to that interviews were conducted with co-producer Ade Fenton, members of Gary's present band as well as former members and Gary's merch man of many years. The app also includes the story behind the recording of and subsequent decision to release "Are Friends Electric" as a single. Embedded in the app are also exclusive interview videos on subjects as diverse as Cars and moving to the USA.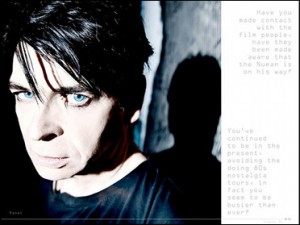 You'll also find new picture shot by music & fashion photographer Keith Martin.
What will the Gary Numan fans the most is that you'll be given access to an exclusive download remix album, "Dead Moon Falling" which is a full reworking of Gary Numan's "Dead Son Rising" album, featuring remixes by such artists as Sonoio, Atari Teenage Riot's Alex Empire etc. (Via SL)
Musix Pro is the most innovative app for performing music. Music theory is baked right in through the use of a technique called isomorphic note layouts. Novices learn to play in minutes, and professionals benefit from built-in harmonic relationships between notes. Unlike other music apps, Musix Pro provides a wide range of octaves, scales, keys, chords and modes, without limiting your creativity. With multiple built-in instruments and support for OSC and Core/Virtual Midi, most existing synthesizers work beautifully with Musix Pro as a controller.
Traditional musical instruments are difficult to learn because notes are arranged based on physical constraints. Musix Pro arranges notes based on their harmonic and musical relationships instead, allowing shapes and patterns to emerge that unlock the mathematical beauty of music.
Musix Pro is a new isomorphic iPad /iPhone Instrument available on the app store.
Check it out here: http://get.musixapp.com/r/bXzD
Website: http://shiverware.com/musixpro/
Features Video: http://youtu.be/V5JQ61TSshQ
Braten Video: http://youtu.be/GYITcNsunGw
Escape Video: http://youtu.be/KSKv5H1qPBg
Why Musix Pro?
- Learn how to play every major and minor chord in minutes
- Learn one pattern and instantly play in any key
- Explore the harmonic relationships between notes
- Play along with your friends without being an expert
- Realize your own personal musicality
http://apps4idevices.com/read/electrify
Electrify is a very powerful and flexible sample based groove machine. It does look a bit complex at first but that is only because it contains so many features. It's just a matter of setting up sequences for each sample, then triggering each clip to create your arrangement. There are 8 tracks to work with and 8 layers to create variation or multiple song parts. There is a non-destructive sample editor to shape each sample and 2 effect busses each with 9 effects each to choose from. The mastering section contains an equaliser and compressor to further tighten the mix. Samples can be pasted in from the general pasteboard but it also comes with a great collection so you can get straight in and start creating. It's worth spending the time to understand the workflow of Electrify because it is designed for live performances so it is easy to use. The live recording feature is perfect for creating both evolving loops, complete songs and interesting rhythm tracks. I love this app because it creates such good results, so rating this app is very easy….A Killer App!
Review by Nick Trass
Download Strum for FREE for iPhone, iPad, and iPod touch! http://bit.ly/Strum_YT
Turn your life into a music video!
Introducing Strum, a new app that transforms your video into a music video in just seconds. Smule's advanced audio filters automatically compose music to match your video. With over 20 different visual and audio styles, from simple background melodies to outrageous remixes, you will create a unique experience every time. Share your videos with your friends, and follow creative people from all over the world. Each day, discover inspiring new videos from the Strum community.
Check back frequently for new and limited-time filters!
Background description below:
Only 1 basic 909 drum pattern, 1 synth bass pattern and preset, 1 Vibes realtime recorded loop and some chords… This came during the testing session, shot with the iPhone. Note that this is not the demonstration of the full sonic possibilities.