Following the trail of many famous electronic artists, like Thomas Dolby, Brian Eno and Jordan Rudess, Gary Numan now also ventures into the world of apps. The UK new music magazine Artrocker has created app for Gary Numan which represents a retrospective of the UK synth wizard. The app is only available for iPad and can be downloaded right here >>
The app is based on the interviews that Artrocker editor in chief Tom Fawcett has conducted with Gary Numan spanning April to September 2012. The interviews handled the past, present and future. Next to that interviews were conducted with co-producer Ade Fenton, members of Gary's present band as well as former members and Gary's merch man of many years. The app also includes the story behind the recording of and subsequent decision to release "Are Friends Electric" as a single. Embedded in the app are also exclusive interview videos on subjects as diverse as Cars and moving to the USA.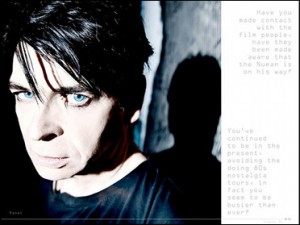 You'll also find new picture shot by music & fashion photographer Keith Martin.
What will the Gary Numan fans the most is that you'll be given access to an exclusive download remix album, "Dead Moon Falling" which is a full reworking of Gary Numan's "Dead Son Rising" album, featuring remixes by such artists as Sonoio, Atari Teenage Riot's Alex Empire etc. (Via SL)
Musix Pro is the most innovative app for performing music. Music theory is baked right in through the use of a technique called isomorphic note layouts. Novices learn to play in minutes, and professionals benefit from built-in harmonic relationships between notes. Unlike other music apps, Musix Pro provides a wide range of octaves, scales, keys, chords and modes, without limiting your creativity. With multiple built-in instruments and support for OSC and Core/Virtual Midi, most existing synthesizers work beautifully with Musix Pro as a controller.
Traditional musical instruments are difficult to learn because notes are arranged based on physical constraints. Musix Pro arranges notes based on their harmonic and musical relationships instead, allowing shapes and patterns to emerge that unlock the mathematical beauty of music.
Musix Pro is a new isomorphic iPad /iPhone Instrument available on the app store.
Check it out here: http://get.musixapp.com/r/bXzD
Website: http://shiverware.com/musixpro/
Features Video: http://youtu.be/V5JQ61TSshQ
Braten Video: http://youtu.be/GYITcNsunGw
Escape Video: http://youtu.be/KSKv5H1qPBg
Why Musix Pro?
- Learn how to play every major and minor chord in minutes
- Learn one pattern and instantly play in any key
- Explore the harmonic relationships between notes
- Play along with your friends without being an expert
- Realize your own personal musicality
http://apps4idevices.com/read/electrify
Electrify is a very powerful and flexible sample based groove machine. It does look a bit complex at first but that is only because it contains so many features. It's just a matter of setting up sequences for each sample, then triggering each clip to create your arrangement. There are 8 tracks to work with and 8 layers to create variation or multiple song parts. There is a non-destructive sample editor to shape each sample and 2 effect busses each with 9 effects each to choose from. The mastering section contains an equaliser and compressor to further tighten the mix. Samples can be pasted in from the general pasteboard but it also comes with a great collection so you can get straight in and start creating. It's worth spending the time to understand the workflow of Electrify because it is designed for live performances so it is easy to use. The live recording feature is perfect for creating both evolving loops, complete songs and interesting rhythm tracks. I love this app because it creates such good results, so rating this app is very easy….A Killer App!
Review by Nick Trass
Download Strum for FREE for iPhone, iPad, and iPod touch! http://bit.ly/Strum_YT
Turn your life into a music video!
Introducing Strum, a new app that transforms your video into a music video in just seconds. Smule's advanced audio filters automatically compose music to match your video. With over 20 different visual and audio styles, from simple background melodies to outrageous remixes, you will create a unique experience every time. Share your videos with your friends, and follow creative people from all over the world. Each day, discover inspiring new videos from the Strum community.
Check back frequently for new and limited-time filters!
Background description below:
Only 1 basic 909 drum pattern, 1 synth bass pattern and preset, 1 Vibes realtime recorded loop and some chords… This came during the testing session, shot with the iPhone. Note that this is not the demonstration of the full sonic possibilities.
Taking the Bong-Ra samples for a spin.
Dubstep
Drum & Bass
Hardcore
All used samples are available in the in-app store.
Wizdom Music's Samplewiz, Morphwiz and Geo Synthesizer with some other favorites!! Samplr, Gestrument, TC-11, Animoog, iTabla pro, Ellipsynth, Borderlands and Garage band!
All you can eat apps

The ever inventing Jordan Rudess (Dream Theatre) is exploring his own apps, details below:
A fun look at the apps created by Wizdom Music.
Our website is: http://www.wizdommusic.com/
You can now follow us on twitter at @wizdommusicapps
The keyboard I'm using is IK Multimedia's iRig keyboard.
It plugs directly into my iOS devices and does not need additional power or a midi interface! Also I used the awesome Looptastic app by Soundtrends for some backing track help.
Geo Synthesizer, SpaceWiz, MorphWiz and SampleWiz
Just testing out the Audioid app for Android – includes a TB-303 and TR-808 emulation and effects.
AUDIOID is an advanced mobile electronic music rhythm composer for Android, combining the mythical TR-808 drum machine and the TB-303 bassline/groovebox with real-time filters, effects, randomness and a live approach.
FUTURE FEATURES
- Tap pad
- Bpm detector
- More effects (reverb, delay, chorus, etc…)
- More drum kits (909, 606, etc…)
- File save/load/export/import
- Equalizer presets
- A second TB-303 bassline/groovebox
- Better UI and better performance
FEATURES
- Sound quality 16-bit PCM at 44KHz or 22Khz
- Minimal latency supported by the device
- Linear and logarithmic knobs and bars
- Visual pitches synced with the tempo
- TR-808 drum machine style and sounds
- TB-303 bassline / groovebox
- Independent mixer levels for the drum machine, the bassline and fxs
- Independent levels, mutes, solos and fxs for each drums
- Memory of 4 banks of 8 patterns with 16 instruments containing 16 steps maximum each
- Memory of 4 banks of 8 patterns with 39 notes containing 16 steps maximum each
- Pattern edition (Copy, Clear, Cut, Paste, Randomize)
- Real-time effects (Flanger, Phaser, Distortion and Bitcrusher) with various parameters
- Audio FFT visualizer (waveform and frequency bands)
- Multitouch equalizer from -10dB to +10dB for each supported frequency band
- Low pass frequency filters from 1 Hz to 22kHz
- Fine and terribly efficient bass boost
- Presets can be saved and restored at any time
- Anti-clipping
-Scape app with ipad 1
-Figure app with iPod touch 4g