"nice! nice update! Splendid sound quality. Splendid version upgrade"
What's New in Version 1.4
• SoundCloud Sharing – share your Figure tracks with access to Facebook, Twitter and more
• Introducing Audiobus support: Now you can stream live audio directly to other Audiobus-compatible apps! See http://audiob.us for more information
The new feature in Audulus 1.10: Make a connection to ANY KNOB! Audulus is a minimalist modular audio processing application. Design sound from first principles. With Audulus, you can build synthesizers, design new sounds, or process audio. All with low latency real-time processing suitable for live performance. Audulus's user interface is clean, simple, and easy to learn, allowing you to focus on sound.
http://apps4idevices.com/read/logique-analogique
Logique Analogique is a simulation of a real circuit board that includes an 8-bit binary counter, analog implementation of logic functions, and 4 channel, 1-bit sound generation.
To quote the developer, "The Logique Analogique sequencer consists of an 8-bit binary counter and four tracks which generate pulse waves when a user-defined majority function depending on the counter bits is true. Switches which select the counter bits (or their logic inverse) and a threshold voltage define the majority function. The output is calculated as the XOR function of the four tracks' signals, which produces a ring modulation like effect."
"Complexities aside, this app creates incredibly powerful sounds, with a seemingly endless amount of rhythmic possibilities. The sounds can be layered to create ring modulation type effects, with both pitch and threshold control to further shape the sound. The sequencer makes it possible to create evolving patterns or complete songs, using the tap & drag method to easily create your sequence. I would suggest starting slowly with this app, to hear the effect of each switch or dial, but then dive in and explore. It has to be noted that this app does not offer any method of recording yet, but both MIDI and Audio Copy are currently being considered for the future. Despite these missing necessities, I have to say that I'm incredibly impressed with the power of this app, and for the first time, I'm willing to connect my iPad to another source to record my creations. I haven't found another app that creates such intense sonic delights as this does. I'm so taken with Logique Analogique, that even without recording or MIDI, I still have to rate it … A Killer App!"
http://apps4idevices.com/read/caelestis
Caelestis is a sample based generative music app that creates unique and very interesting results. It uses bouncing balls that generate notes as they bounce off the walls of the three different shaped rooms. The sound balls can be initiated at any velocity, and the shaped rooms can be rotated at different speeds to create interesting combinations. Each sample can be pitched by semitone increments, and assigned to one of three octave ranges. It is a free app with a $0.99 in-app purchase for importing and exporting samples and recordings. I should note that all file management is accessed through the Audio Copy section, and for referencing tempo, you need to run a drum app in the background. But I have to say that I find this app to be very impressive, with a great range of features, and it's very easy to use. The unique layers of sounds and rhythms really make Caelestis … A Killer App!
Review by Nick Trass
Background description: In this video Gercek Dorman used several iOS applications on iPad such as Audiobus, MultiTrack Daw, Magellan, AniMoog, Samplr and Alchemy Mobile also he uses programs on MacBook Ableton Live and Alchemy Massive Synthesizers…
The Koushion iPad MIDI step sequencer app is a great tool to use with Ableton Live. For more information, visit www.facebook.com/koushion
***Link to the App Store***
http://itunes.apple.com/app/koushion/id424454249
Version 1.6 now available. This free upgrade offers great new features such as "Audiobus" for streaming of audio between apps, iCloud backup, Retina display support, and Virtual MIDI for MIDI communication between iOS music creation apps. Also includes a Korg's new Beat Flutter mode, which allows you to vary patterns in real time and at random for further creative inspiration!
Get iELECTRIBE at a 50% discount – now through Dec 31st 2012!
[US] http://itunes.apple.com/us/app/korg-ielectribe/id363714043?mt=8
Little video showing how to open NLog AudioUnit in Apple's Logic.
Following the trail of many famous electronic artists, like Thomas Dolby, Brian Eno and Jordan Rudess, Gary Numan now also ventures into the world of apps. The UK new music magazine Artrocker has created app for Gary Numan which represents a retrospective of the UK synth wizard. The app is only available for iPad and can be downloaded right here >>
The app is based on the interviews that Artrocker editor in chief Tom Fawcett has conducted with Gary Numan spanning April to September 2012. The interviews handled the past, present and future. Next to that interviews were conducted with co-producer Ade Fenton, members of Gary's present band as well as former members and Gary's merch man of many years. The app also includes the story behind the recording of and subsequent decision to release "Are Friends Electric" as a single. Embedded in the app are also exclusive interview videos on subjects as diverse as Cars and moving to the USA.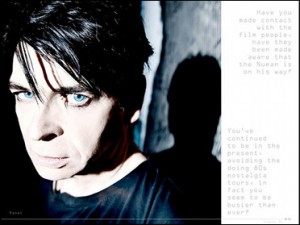 You'll also find new picture shot by music & fashion photographer Keith Martin.
What will the Gary Numan fans the most is that you'll be given access to an exclusive download remix album, "Dead Moon Falling" which is a full reworking of Gary Numan's "Dead Son Rising" album, featuring remixes by such artists as Sonoio, Atari Teenage Riot's Alex Empire etc. (Via SL)
Musix Pro is the most innovative app for performing music. Music theory is baked right in through the use of a technique called isomorphic note layouts. Novices learn to play in minutes, and professionals benefit from built-in harmonic relationships between notes. Unlike other music apps, Musix Pro provides a wide range of octaves, scales, keys, chords and modes, without limiting your creativity. With multiple built-in instruments and support for OSC and Core/Virtual Midi, most existing synthesizers work beautifully with Musix Pro as a controller.
Traditional musical instruments are difficult to learn because notes are arranged based on physical constraints. Musix Pro arranges notes based on their harmonic and musical relationships instead, allowing shapes and patterns to emerge that unlock the mathematical beauty of music.
Musix Pro is a new isomorphic iPad /iPhone Instrument available on the app store.
Check it out here: http://get.musixapp.com/r/bXzD
Website: http://shiverware.com/musixpro/
Features Video: http://youtu.be/V5JQ61TSshQ
Braten Video: http://youtu.be/GYITcNsunGw
Escape Video: http://youtu.be/KSKv5H1qPBg
Why Musix Pro?
- Learn how to play every major and minor chord in minutes
- Learn one pattern and instantly play in any key
- Explore the harmonic relationships between notes
- Play along with your friends without being an expert
- Realize your own personal musicality