December 9, 2015 · Posted in
Uncategorized
·
Comments Off

on Korg Minipops 7 plays Star Trek Theme
Korg Minipops 7 with MIDI Interface.
December 5, 2013 · Posted in
Uncategorized
·
Comments Off

on Recommended: Star Trek Vulcan Harp – Feature overview
This video illustrates the Star Trek™ Vulcan Harp features.
Fans of Star Trek™ can now play Mr. Spock's Vulcan harp on their iPad! Replicating the alien instrument from the classic Star Trek™ series, the app is fully functional and features multi‐level sounds, cool effects, and the iconic design of the original harp. Use the sleekly styled controls to compose spacey music or play fascinating songs.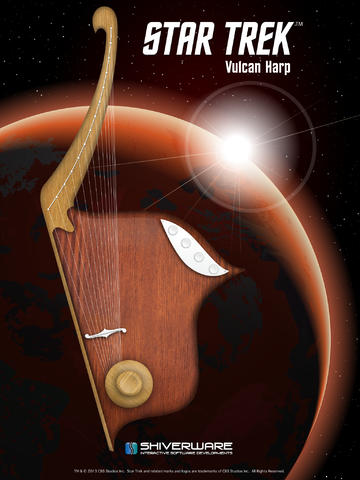 Whether you're a Trek fan, musician, or just interested in playing a unique instrument, the app's richly detailed appearance and wide‐ranging musical abilities make for an instrument unlike any other!
Features:
——-
• 15 vibrating strings – each identified, making it easy to play songs
• Distinct pluck dynamic where the sound occurs on release of a touch similar to a harp
• 5 instrument sounds from futuristic to the classic harp
• Large 6-and-a-half octave range in 5 octave banks
• Custom multi-level distortion and reverberation controls give you a wide range to experiment with
• Ability to select pentatonic scale (five notes per octave)
• One button background arpeggio (sequence chords)
• Rich, inlaid wood detail appearance on the harp and moving starfield background
• SoundCloud recording to share your creations
• Concise tutorial to locate controls
Looking for more information about the Vulcan harp app?
————————————————
Visit us online: startrekvulcanharp.com
Follow us on Twitter: @StarTrekHarp
YouTube video: youtube.startrekvulcanharp.com
Join us on Facebook: fb.startrekvulcanharp.com
Questions or suggestions? Email us at vulcanharp@shiverware.com
Vulcan Harp Background:
———————
The Vulcan harp is also called a Vulcan lyre, lute, lyrette, and lytherette.
The Vulcan harp is played in four episodes in Star Trek™: The Original Series: "Charlie X", "Amok Time", "The Way to Eden" and "The Conscience of the King".
Spock and Uhura both play the Vulcan harp. Tuvok owns one in Star Trek: Voyager™, Melian owns one in Star Trek: The Next Generation™, and (mirror universe) Kira Nerys owns one in Star Trek: Deep Space Nine™.
Spock plays "Row-Row-Row Your Boat" on the Vulcan harp in the film "Star Trek: The Final Frontier™".
November 5, 2012 · Posted in
Uncategorized
·
Comments Off

on S.P.O.C.K is back in space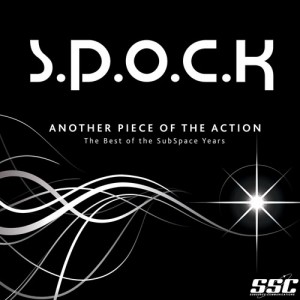 S.P.O.C.K. is probably well known all around the world with their Star Trek-inspired Synthpop. This release is however, the first one released in North America. "Another Piece Of The Action – The Best Of The Subspace Years" is an 18-track greatest hits compilation with some of the bands most successful songs through the years.
The project launched in the late 80′s and the debut album "Five Year Mission" saw its release in 1993 through Swedish label Energy Rekords, including hits like "Never Trust A Klingon" or "Last Man On Earth". The band released one more album on Energy before moving to Subspace Communications and released "Assignment: Earth" in 1997 followed by three more albums. The last release from the band was the "2001: A S.P.O.C.K Odyssey" in 2001 and since then no new music have been released by the band.
This "best of" album include lots of great songs and some of them are rare versions of which was only released on EP or singles; "E.T. Phone Home", "Klingon 2000″, "All The Children Shall Lead", "Not Human" and "Alien Attack".
Tracklist:
01. The Awakening (Intro)
02. Reactivated
03. E.T. Phone Home (Radio C-C-Cut)
04. Dr. McCoy (Classic)
05. Mr. Jones
06. Alien Attack
07. Queen Of Space (Single Version)
08. Wolf In The Fold
09. Astrogirl's Secret
10. All The Children Shall Lead
11. Not Human
12. Spacewalk
13. Satellites (Single Version)
14. Speed Of Light
15. Out There
16. Where Rockets Fly (Original Version)
17. Star Pilot On Channel K
18. Klingon 2000 (Radio Mix)
19. Dream Within A Dream
October 5, 2012 · Posted in
Uncategorized
·
Comments Off

on Captain Kirk (Star Trek) on new EBM act Blackburner album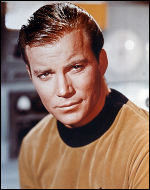 Industrial/EDM/dubstep crossover act Blackburner aka Skyla Talon has just released a new album, "Planet Earth Attack" on Cleopatra/Hypnotic Records. The album features guests such as Star Trek legend William Shatner amongst others. The album also features members of Yes. Quite an eclectic bunch you could say.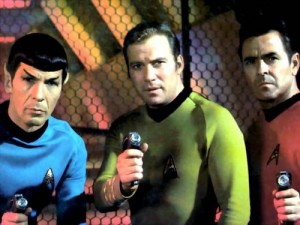 It's the second album for the band so far this year after the April release of "Feel the Burn" featuring electronic pioneer Edgar Froese of Tangerine Dream as well as John Wesley of Porcupine Tree.
Producer/musician Skyla Talon first cut his teeth in music with modern metal band Killingbird in 2000, later joining Scum Of The Earth, the side project of Rob Zombie axeman Riggs in 2005. After touring the US with acts such as Hatebreed and Type O Negative, Talon began experimenting with electronic dance music production, inspired by the new sounds in dubstep and glitch music generated by the likes of fellow metal-head-turned-DJ Skrillex.
Via SL
June 16, 2012 · Posted in
Uncategorized
·
Comments Off

on Star Trek Theme on eowave ribbon by Nori Ubukata
Nori Ubukata plays the star Trek Theme on the eowave Ribbon which controls a Roland 100-M, back tracks are coming from DP.
July 17, 2011 · Posted in
Uncategorized
·
Comments Off

on For true Star Trek fans ONLY – the official iPad app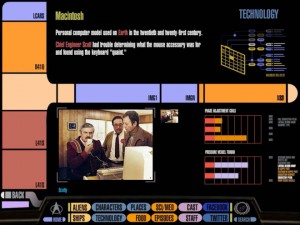 Slightly off topic, but hey it is after all Start Trek
CBS Interactive has launched an official Star Trek PADD application for the iPad. The 190-MB program contains a browsable library of Star Trek information presented with a distinctive user interface modeled after the Federation's LCARS software environment.
The information that users can read in the PADD application appears to be the same that is hosted in the database on the official StarTrek.com website. The database entries are organized into categories, which include characters, species, vessels, places and episodes. It draws details from all canonical Star Trek sources, including the movies, television shows and animated series.The breadth of the database is fairly impressive — it has entries on a wide range of topics, including some that are highly obscure or only mentioned in passing during the series. For example, there is an entry about coffee (they still drink copious amounts of it in the 24th century, especially Captain Janeway) and Bob Hope (a favorite of the 22nd-century Enterprise crew).
In addition to information about the Star Trek universe, the database also has entries about actors, writers and other people who were involved in the making of the show. This is useful if you happen to be watching Total Recall and want to check the entry about Marc Alaimo to confirm your suspicion that your favorite Cardassian megalomaniac is in the '90s Schwarzenegger flick. Seriously, Gul Dukat and Captain Jellico (Senator Kinsey, for the Gaters) appearing in the same movie is more than a little bit creepy.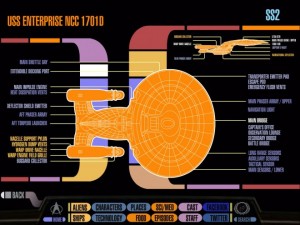 You can download the PADD app in the App Store.
Adapted from WM
January 17, 2011 · Posted in
Uncategorized
·
Comments Off

on Bebot sings the Star Trek theme
Nice little singing robot

The great Star Trek Theme starring Bebot the singing robot for iPhone/iPad/iPod Touch!
More about MusicApps and Mobile Music on www.MusicApps.com.br
September 7, 2010 · Posted in
Uncategorized
·
Comments Off

on Put your phaser on stunn
A bit of topic, but still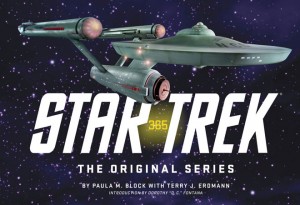 Even the most obsessive Trekker will likely uncover fresh details in the thick chunk of photos and text titled Star Trek: The Original Series 365. The new book examines in microscopic detail each of the 79 episodes of Gene Roddenberry's enormously influential sci-fi series, which ran from 1966 to 1969.
In this must-have Trekkie tome, concept art, matte paintings and freshly remastered production stills drawn from the CBS archives are bolstered with exceptionally detailed synopses. The book serves as an eye-popping artifact that captures the spirit of a show that regularly hit profound notes while sometimes veering into zany tangents ("Spock's Brain" anyone?).
Star Trek: The Original Series 365, by Paula M. Block with Terry J. Erdmann, includes an introduction by Dorothy "D.C" Fontana and retails for $30 from Abrams Books.
The Enterprise travels to the planet Janus VI to determine what is killing workers in an underground mining facility. Doctor McCoy scoffs when Spock surmises that a silicon-based life form may be behind the deaths, but Spock is proven correct: The killer is found to be a rocklike beast that excretes acid at will, allowing it to tunnel swiftly through solid rock — or to disintegrate a man.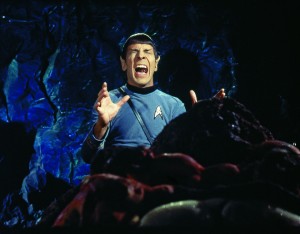 The miners want the creature destroyed, yet Spock believes that it may be an intelligent being with a rational motive behind its actions.
June 2, 2010 · Posted in
Uncategorized
·
Comments Off

on The Trekker synth
Intellijel has announced 5 new modular synth modules, which are expected to be shipping this month.
I guess it will be the love of all Star Trek fans, however I suspect he will get into some legal hassle. Remember that the swedish synthpop band S.P.O.C.K. had the same problems, hence the dots between each letter in their band name
SPOCK: CMOS Boolean Logic device 4HP
FLIP FLOP: CMOS JK and D flip-flop 4HP
BUFF MULT: Buffered Multiple 2HP
MULT: Passive Multiple 2HP
QUAD INVERT: Quad CV Inverter / Quad Audio Buffer 2HP
UNITY MIXER: dual 3:1 / 6:1 unity gain mixer (CV /Audio) 2HP
May 27, 2010 · Posted in
Uncategorized
·
Comments Off

on Exclusive interview with Swedish synth-maestro Eddie Bengtsson
Page is currently celebrating 30 years as performing artsist on the Swedish synthpop stage and are currently planning summer gigs after the release of their first new album in 10 years. Stereoklang got an one on one interview with the synth pioneer Eddie Bengtsson, who's electronic music really kick started the Swedish synth-pop scene in the 80's, active in Page, Sista Mannen På Jorden (Last man on earth) and This Fish Needs a Bike. Page really became the Swedish answer to Yazoo/Erasure, OMD, and Depeche Mode, and made ground for popular acts like Elegant Machinery, S.P.O.C.K and many others. In this interview we have invaded Eddie's home studio to take a closer look at the synthesizers and music production gear he uses and what it really takes to make a great synth-pop song.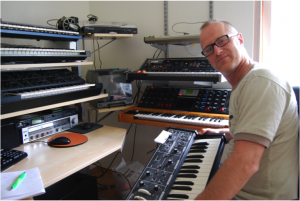 Neatly mounted in a corner of a 10sq/m room, sharing the space with Star Trek memorabilia and a huge vinyl record collection, several of the classic hardware synthesizers are hooked up and ready to bleep. Although Eddie tells me he have had to sell of several synthesizers from a logistical point of view I enjoy finding vintage gear like the Moog Rouge, a Korg DW 6000 and the personal favorite of Eddie's the Yamaha CS15 (used on every album), coupled with recently acquired gems like the Moog Little Phatty, the Moog Voyager and then some modern virtual analogs like microKORG and Yamaha CX1x.
What is used use for what
The CX1 is used as the mother keyboard and the DW 6000 mainly for strings. "Sound 11 is a personal favorite" Eddie says☺. You can for example find it also on all S.P.O.C.K songs. If Eddie on the other hand only were to take one synthesizer with him to a deserted island it would be the CS15. In fact Eddie tells me that due to the flexible routing and filters; he's able clone the bass sounds of all other synthesizers with it, if you treat it nicely. Perhaps the only drawback is the useless noise generator, which is too weak, although a weakness that many synthesizers has as he puts it.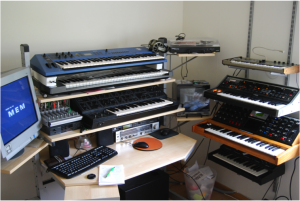 Neatly tucked under racks of synthesizers a well hidden Roland S760 sampler can be found. Curious about the fact that this particular device hasn't been replaced by software versions already, Eddie admits that years of collecting disketts has made him somewhat lazy, somewhere among all those hundreds of disketts there is always that one with the right sound. But I wouldn't be surprised if that device will be left out from future productions in favor of software alternatives.
The lazy side of Eddie shines through on several occasions during the interview and for the last two records other people have contributed in replacing sounds with updated versions. However, the new Page album actually came as a turning point for him and a lot of hard work has gotten into it, resulting in more focus on sound search and music production then before.
Moving on to the next rack of synthesizers Eddie tells me that the microKORG is actually a very capable machine used primarily for strings and pads. The Rouge on the other hand is the real stage machine and a trade mark for Page in live sets. It's compact and easy to bring, cool looking and splendid for single oscillator sounds. (Indecently the Rouge uses the same circuitry as the Taurus II Bass Pedals). (Listen to this song, all sounds by the Rouge by Hannes Rasmus. http://www.vintagesynth.com/audio/moogtheroguedemo.mp3 ) Other old gems like the Roland SH02 and Moog Prodigy have been replaced with new bass and sequencer gear; the Moog Little Phatty, as you can easily spot on the new Page album.
Why all the Moogs?
Easy answer would be that everyone is talking about them, prestigious and expensive stuff that is. And although proud to have them, some drawbacks can be found also here; the sound is a bit chilly and there is no noise generator to be found at all, as with the Prophet 8, it takes forever to heat up and sometimes the oscillators are not really in sync. The Voyager is really a beast and lit up it looks really impressive. Currently it's mainly used to discover cool sounds in the studio it might end up on the stage some day. "But why on earth did they implement this totally useless performance pad on it, when turning the knobs is the way to do it and it is not even multi-touch, which might have given it some extra advantages". I asked what's next and Eddie kind of suggests that a DSI Mopho might end up on the rack within short.
Where do you start making a song?
"Never, or very seldom, I have an idea or the song in my head. When I feel like making new songs I always start off with a bass, then adding drums, melody and finally the vocals. I really need to get the beat going first." >>>>>
Read the rest of the article here >>