For true Star Trek fans ONLY – the official iPad app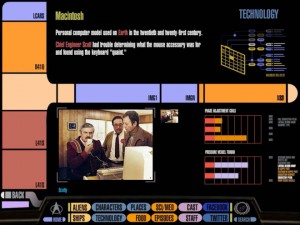 Slightly off topic, but hey it is after all Start Trek
CBS Interactive has launched an official Star Trek PADD application for the iPad. The 190-MB program contains a browsable library of Star Trek information presented with a distinctive user interface modeled after the Federation's LCARS software environment.
The information that users can read in the PADD application appears to be the same that is hosted in the database on the official StarTrek.com website. The database entries are organized into categories, which include characters, species, vessels, places and episodes. It draws details from all canonical Star Trek sources, including the movies, television shows and animated series.The breadth of the database is fairly impressive — it has entries on a wide range of topics, including some that are highly obscure or only mentioned in passing during the series. For example, there is an entry about coffee (they still drink copious amounts of it in the 24th century, especially Captain Janeway) and Bob Hope (a favorite of the 22nd-century Enterprise crew).
In addition to information about the Star Trek universe, the database also has entries about actors, writers and other people who were involved in the making of the show. This is useful if you happen to be watching Total Recall and want to check the entry about Marc Alaimo to confirm your suspicion that your favorite Cardassian megalomaniac is in the '90s Schwarzenegger flick. Seriously, Gul Dukat and Captain Jellico (Senator Kinsey, for the Gaters) appearing in the same movie is more than a little bit creepy.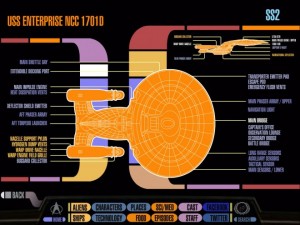 You can download the PADD app in the App Store.
Adapted from WM
Comments