Page is currently celebrating 30 years as performing artsist on the Swedish synthpop stage and are currently planning summer gigs after the release of their first new album in 10 years. Stereoklang got an one on one interview with the synth pioneer Eddie Bengtsson, who's electronic music really kick started the Swedish synth-pop scene in the 80's, active in Page, Sista Mannen På Jorden (Last man on earth) and This Fish Needs a Bike. Page really became the Swedish answer to Yazoo/Erasure, OMD, and Depeche Mode, and made ground for popular acts like Elegant Machinery, S.P.O.C.K and many others. In this interview we have invaded Eddie's home studio to take a closer look at the synthesizers and music production gear he uses and what it really takes to make a great synth-pop song.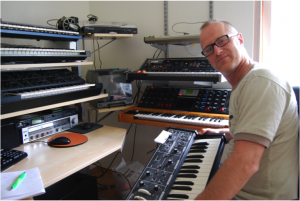 Neatly mounted in a corner of a 10sq/m room, sharing the space with Star Trek memorabilia and a huge vinyl record collection, several of the classic hardware synthesizers are hooked up and ready to bleep. Although Eddie tells me he have had to sell of several synthesizers from a logistical point of view I enjoy finding vintage gear like the Moog Rouge, a Korg DW 6000 and the personal favorite of Eddie's the Yamaha CS15 (used on every album), coupled with recently acquired gems like the Moog Little Phatty, the Moog Voyager and then some modern virtual analogs like microKORG and Yamaha CX1x.
What is used use for what
The CX1 is used as the mother keyboard and the DW 6000 mainly for strings. "Sound 11 is a personal favorite" Eddie says☺. You can for example find it also on all S.P.O.C.K songs. If Eddie on the other hand only were to take one synthesizer with him to a deserted island it would be the CS15. In fact Eddie tells me that due to the flexible routing and filters; he's able clone the bass sounds of all other synthesizers with it, if you treat it nicely. Perhaps the only drawback is the useless noise generator, which is too weak, although a weakness that many synthesizers has as he puts it.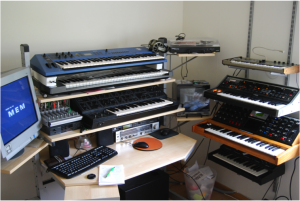 Neatly tucked under racks of synthesizers a well hidden Roland S760 sampler can be found. Curious about the fact that this particular device hasn't been replaced by software versions already, Eddie admits that years of collecting disketts has made him somewhat lazy, somewhere among all those hundreds of disketts there is always that one with the right sound. But I wouldn't be surprised if that device will be left out from future productions in favor of software alternatives.
The lazy side of Eddie shines through on several occasions during the interview and for the last two records other people have contributed in replacing sounds with updated versions. However, the new Page album actually came as a turning point for him and a lot of hard work has gotten into it, resulting in more focus on sound search and music production then before.
Moving on to the next rack of synthesizers Eddie tells me that the microKORG is actually a very capable machine used primarily for strings and pads. The Rouge on the other hand is the real stage machine and a trade mark for Page in live sets. It's compact and easy to bring, cool looking and splendid for single oscillator sounds. (Indecently the Rouge uses the same circuitry as the Taurus II Bass Pedals). (Listen to this song, all sounds by the Rouge by Hannes Rasmus. http://www.vintagesynth.com/audio/moogtheroguedemo.mp3 ) Other old gems like the Roland SH02 and Moog Prodigy have been replaced with new bass and sequencer gear; the Moog Little Phatty, as you can easily spot on the new Page album.
Why all the Moogs?
Easy answer would be that everyone is talking about them, prestigious and expensive stuff that is. And although proud to have them, some drawbacks can be found also here; the sound is a bit chilly and there is no noise generator to be found at all, as with the Prophet 8, it takes forever to heat up and sometimes the oscillators are not really in sync. The Voyager is really a beast and lit up it looks really impressive. Currently it's mainly used to discover cool sounds in the studio it might end up on the stage some day. "But why on earth did they implement this totally useless performance pad on it, when turning the knobs is the way to do it and it is not even multi-touch, which might have given it some extra advantages". I asked what's next and Eddie kind of suggests that a DSI Mopho might end up on the rack within short.
Where do you start making a song?
"Never, or very seldom, I have an idea or the song in my head. When I feel like making new songs I always start off with a bass, then adding drums, melody and finally the vocals. I really need to get the beat going first." >>>>>
Read the rest of the article here >>
Rumors has it that former PAGE member Eddie B (also with SPOCK and Sista Mannen På Jorden) has finalized a song that he hopes will take Sweden to next years Eurovision Song Contest.
Perhaps we can hope for a PAGE re-unite tour instead of having Marina play in that Europop-electro act BWO. Below is a clip from the last time PAGE played with Marina in the band

[youtube=http://www.youtube.com/watch?v=f1KX0dwhXlQ&eurl=http://www.zeromagazine.nu/nyhet.asp?id=1695&feature=player_embedded]
Spent an evening with the old but very happy S.P.O.C.K crew. The event was held in conjunction with the monthly SpaceLab party held in Malmoe, Sweden. On the pic below you will see Mr. Android himself and the former band member Johan (can´t remember what he called himself …noid something I guess, hehe). Too bad Eddie B didn´t show up.
If you want to join future SpaceLab events – you will find them here >>
And of course an old SPOCK video, incl Eddie B:
[youtube=http://www.youtube.com/watch?v=sHzXZWJIsJc]
Ever been to any of these cheezy live concerts in 2nd life? Well I for sure have been to one or two, but will this ever be something for the electro scene, I doubt it…
One might argue that 2nf life would be the ultimate goal for many of these futuristic, cyberspace, universe, galaxy dreaming synthpop bands like Sista mannen På Jorden, Spock, iSynthesist to name but a few, but I don´t think so, since, although futuristic/forward looking, it really feels like heading back to the nineties judging from poor graphics, lack of people, lousy animations and above all the artists already in there does not inspire anyone to get involved.
I have heard rumors that artists like Brian Eno and Laurie Anderzon had serious plans for 2nd life which would have been worthwhile considering there ability to work both as artists and musicians creating something unique that really makes use of the cyber reality. I sure hope to find a much healthier cyberspace music arena soooon – perhaps the japanese alter ego? If you look at whats out there today in 2nd life this little piece of information says it all.
[youtube=http://www.youtube.com/watch?v=aNwtjmXi9aY]
>> "Musimmersion offers some great insights into what the future of live music in a virtual space might look like. The very stated goal of this experiment is to challenge people to see "music from a new perspective, teasing out bits of a musical arrangement onto a virtual canvas against which the live musician can work". The aspect most astonishing about concepts such as Musimmersion is the convergence of many skill sets for the purpose of developing ever more compelling interactions between a virtual 3D space and the person sitting in front of the computer. The future of live musical performances, whatever that will be, is likely to hold a mix of incredible art, scripting, and unique musical talents, which should make us take another look at McDunnough's vision, "We are in the age of a new renaissance – the emergence of a technically capable creative class."
To attend a show, simply join the group Votaries' of Grace and be on the look-out for announcements of Musimmersion. Group members typically get one hour advance notice and since this event is limited to the first 20 avatars who arrive, you will want this edge!" <<
C=iao