Diskodiktator has released a free downloadable remix album of the album Five Year Mission that was in turn made by the classic Swedish retro space synth pop act S.P.O.C.K.  Diskodiktator started as FKK Jugend in 1996, renamed to Diskodiktator in 1999 and released some 30 demos on cassette and CDr before the first debut album We Are… in 2002.
Swedish Energy Rekords then took on the band and released the second debut album The World According To Diskodiktator in 2004. That album was later nominated for "Best Scandinavian Newcomer" at the 2005 Scandinavian Alternative Music Awards.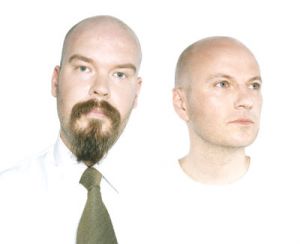 In May 2005 Diskodiktator started the label Electric Fantastic Sound and has since then spent more time on promoting other bands than actual music-making.
Rumors has it that former PAGE member Eddie B (also with SPOCK and Sista Mannen På Jorden) has finalized a song that he hopes will take Sweden to next years Eurovision Song Contest.
Perhaps we can hope for a PAGE re-unite tour instead of having Marina play in that Europop-electro act BWO. Below is a clip from the last time PAGE played with Marina in the band

[youtube=http://www.youtube.com/watch?v=f1KX0dwhXlQ&eurl=http://www.zeromagazine.nu/nyhet.asp?id=1695&feature=player_embedded]
Spent an evening with the old but very happy S.P.O.C.K crew. The event was held in conjunction with the monthly SpaceLab party held in Malmoe, Sweden. On the pic below you will see Mr. Android himself and the former band member Johan (can´t remember what he called himself …noid something I guess, hehe). Too bad Eddie B didn´t show up.
If you want to join future SpaceLab events – you will find them here >>
And of course an old SPOCK video, incl Eddie B:
[youtube=http://www.youtube.com/watch?v=sHzXZWJIsJc]
Ever been to any of these cheezy live concerts in 2nd life? Well I for sure have been to one or two, but will this ever be something for the electro scene, I doubt it…
One might argue that 2nf life would be the ultimate goal for many of these futuristic, cyberspace, universe, galaxy dreaming synthpop bands like Sista mannen På Jorden, Spock, iSynthesist to name but a few, but I don´t think so, since, although futuristic/forward looking, it really feels like heading back to the nineties judging from poor graphics, lack of people, lousy animations and above all the artists already in there does not inspire anyone to get involved.
I have heard rumors that artists like Brian Eno and Laurie Anderzon had serious plans for 2nd life which would have been worthwhile considering there ability to work both as artists and musicians creating something unique that really makes use of the cyber reality. I sure hope to find a much healthier cyberspace music arena soooon – perhaps the japanese alter ego? If you look at whats out there today in 2nd life this little piece of information says it all.
[youtube=http://www.youtube.com/watch?v=aNwtjmXi9aY]
>> "Musimmersion offers some great insights into what the future of live music in a virtual space might look like. The very stated goal of this experiment is to challenge people to see "music from a new perspective, teasing out bits of a musical arrangement onto a virtual canvas against which the live musician can work". The aspect most astonishing about concepts such as Musimmersion is the convergence of many skill sets for the purpose of developing ever more compelling interactions between a virtual 3D space and the person sitting in front of the computer. The future of live musical performances, whatever that will be, is likely to hold a mix of incredible art, scripting, and unique musical talents, which should make us take another look at McDunnough's vision, "We are in the age of a new renaissance – the emergence of a technically capable creative class."
To attend a show, simply join the group Votaries' of Grace and be on the look-out for announcements of Musimmersion. Group members typically get one hour advance notice and since this event is limited to the first 20 avatars who arrive, you will want this edge!" <<
C=iao