S.P.O.C.K is back in space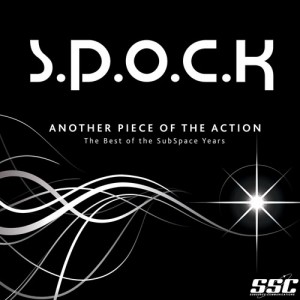 S.P.O.C.K. is probably well known all around the world with their Star Trek-inspired Synthpop. This release is however, the first one released in North America. "Another Piece Of The Action – The Best Of The Subspace Years" is an 18-track greatest hits compilation with some of the bands most successful songs through the years.
The project launched in the late 80′s and the debut album "Five Year Mission" saw its release in 1993 through Swedish label Energy Rekords, including hits like "Never Trust A Klingon" or "Last Man On Earth". The band released one more album on Energy before moving to Subspace Communications and released "Assignment: Earth" in 1997 followed by three more albums. The last release from the band was the "2001: A S.P.O.C.K Odyssey" in 2001 and since then no new music have been released by the band.
This "best of" album include lots of great songs and some of them are rare versions of which was only released on EP or singles; "E.T. Phone Home", "Klingon 2000″, "All The Children Shall Lead", "Not Human" and "Alien Attack".
Tracklist:
01. The Awakening (Intro)
02. Reactivated
03. E.T. Phone Home (Radio C-C-Cut)
04. Dr. McCoy (Classic)
05. Mr. Jones
06. Alien Attack
07. Queen Of Space (Single Version)
08. Wolf In The Fold
09. Astrogirl's Secret
10. All The Children Shall Lead
11. Not Human
12. Spacewalk
13. Satellites (Single Version)
14. Speed Of Light
15. Out There
16. Where Rockets Fly (Original Version)
17. Star Pilot On Channel K
18. Klingon 2000 (Radio Mix)
19. Dream Within A Dream
Comments