ScaleGen – new iPad tool for organizing pitches into custom scales and tunings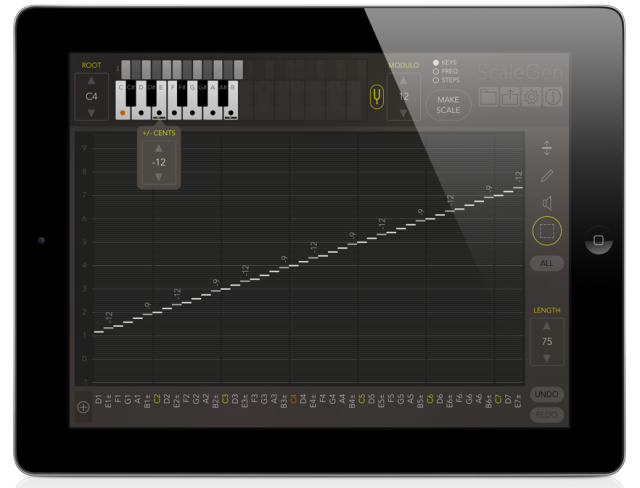 ScaleGen for iPad – described as 'the ultimate tool for musicians who want to explore new ways of thinking about music.'
ScaleGen is a tool for organizing pitches into custom scales and tunings. It lets you create and audition scales within the app, and then export it as a MIDI file or to their gestural music app Gestrument.
It goes far beyond mainstream types of scales, letting you experiment with up to 24 notes per octave, use historical and experimental microtonal tuning and even scales that are different in each octave, like the overtone series.
ScaleGen – musical scales redefined
https://itunes.apple.com/us/app/scale…
You think you know what a scale is – think again. In ScaleGen you can do all that you would traditionally imagine when it comes to scales and pitch organisation, and then much, much more.
This is the perfect tool for experimental composers in any genre as well as for musicians who want to explore new ways of thinking about music. The educational aspects of how pitches can be organised makes ScaleGen a must have for serious music students. But the directness of the app makes the learning both fun and artistically developing.
Define or change scales in the most detailed and intricate way. Audition the scales you make from within the app or export it as a MIDI file or use our iOS app Gestrument to try them out.
This is the tool for anyone who wants to go beyond the traditional tonalities in whichever genre you choose. ScaleGen comes with predefined scales of all kinds – from the traditional Western scales and early music scales to Asian scales from India, Indonesia and elsewhere.
Comments