October 27, 2014 · Posted in
Uncategorized
·
Comments Off

on Lo-Fi SES: Hackable 8-bit chiptunes instrument
Know how to play video games? Like music? You'll love the Lo-Fi SES (Sound Entertainment System). It's an instrument that makes it easy to rock out as a chiptune artist.
The Lo-Fi SES is all fun with no practice. It may look like a game controller, but it's actually a music controller. You might've never learned to play piano or guitar, but I'll bet you rocked at more than a few video games. Lo-Fi SES lets you turn those hard fought skills into musical magic.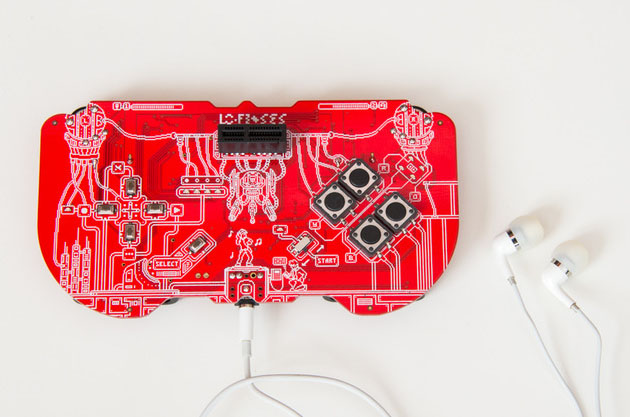 And, like any good guitar, the Lo-Fi SES has to look as good as it sounds. That's why the Lo-Fi SES itself is a work of art. The fantastic Doctor Octoroc divined the graphics for this instrument and produced the animation in the video.
The Lo-Fi SES is designed around the Arduino platform with an Atmega processor. As a result, you can replace the samples with actual sounds from an NES or other console. You can remap the buttons, do sophisticated open-source signal processing and even use it as a… game controller. The team says that no coding experience is needed, but if you like hacking, "it's the perfect platform for audio projects, budding bands or skilled instrumentalists." Finally there's a slot to add three cartridges: a second sound pack, a USB cartridge for custom tweaking and a "Smasher" cartridge that lets you dirty up the music.
August 6, 2014 · Posted in
Uncategorized
·
Comments Off

on NESizer – an 8-bit 2A03 synthesizer
Another demo of the NESizer. Added some new functionalty; now patterns for the square 1 and triangle channels can be added as well, and playing along on the square 2 channel.
Information about the project can be found here:https://github.com/Jaffe-/NESizer2
February 14, 2013 · Posted in
Uncategorized
·
Comments Off

on MCTRL – MIDI Controlled NES Gamepad
A custom MIDI controlled NES Gamepad controller.
We tap into homebrew titles created by stellar NES developers by syncing them with MCTRL. From midi controlled lightshows to cool retro 8 bit sounds all can be used effectively in any music studio or live club setting.
More information is available at www.Ninstrument.com
Take MIDI control of your NES (Nintendo Entertainment System) with the MCTRL (pronounced M-CONTROL) .  There are many homebrew audio/video titles for the NES that can't easily be synced with your traditional DAW or MIDI keyboard/device, until now.   MIDI 'IN', 'OUT' and 'THRU' allow you to seamlessly add this to your existing MIDI setup.  We have built the MCTRL out of durable ABS plastic, strong enough for the hard rigors of live shows. We use an original NES Gamepad that retains its full functionality and use.  We add a full feature MIDI pcb from HighlyLiquid.com that is fully powered from the Gamepad and requires no additional power interface.  We insure full NTSC and PAL compatability for all of our MCTRL's including the free Cartridges we include with every MCTRL sale.  You can resell your MCTRL and cartridge to anyone in the world and not have to worry about compatibility problems or issues.  The cartridges feature the Ciclone chip from RetroUSB.com.

The LED's light indicating what your MIDI device has triggered.  This makes it very easy to see exactly what is happening.  You can still use the Gamepad buttons simultaneously.
January 7, 2012 · Posted in
Uncategorized
·
Comments Off

on Acoustic NES! (Introducing: The Cartridge Kazoo)
This is pretty fascinating

DOWNLOAD THE FREE MP3: http://bit.ly/AcousticNES
August 24, 2011 · Posted in
Uncategorized
·
Comments Off

on NES controller to CV interface
Background info: We're announcing a (yet-titled) module for eurorack…
a NES controller to eurorack modular synthesizer interface!
Core Features:
Socket for a NES controller
Dedicated gate outputs for
up, down, left, right, A, B
Turbo / Retrigger
A lovechild of classic game controller turbo, and "retrigger" (think: Machinedrum). Awesomely, it can be driven by gates from within the module, or any other external gate sources via patching.
One More Thing…
A sweet but yet-public feature that special stage designed, which will put the start and select buttons to use, and involve output of continuous non-gate signals
this is a collaborative design – the module's functionality, personality, and balance are the result of our combined experience and brainstorming. furthermore special stage is doing the code and circuit design, and I'm doing panel design and layout.
we're announcing in order to find out how many people are interested in this.
we're both pretty busy, so it is entirely possible we'll only do a single run of this and then call it a day.
if you want one, now is the time to let us know!
AfroDJMac is a persistent man who made a promise to post something every week and so far he's keeping that promise. Nintendo Entertainment System is the sound source for this cartoon for New York based AfroDJMac's "Yea Yea Yea." This animation was created for the Nintendo EP, an album made up of songs created with an NES.
The Nintendo EP is a collection of songs I've made over the years, using my Nintendo Entertainment System as a sound source.  Some of these songs have since seen many different incarnations, such as the surf rock take that was Psycho Rainbow, but these are the original versions.  Sometimes you are inspired to make music because of thoughts, feelings, other songs you like, etc. These songs were inspired by the sound of the Nintendo.  Those familiar timbres are what really got these tracks off the ground, and from there the other aspects of songwriting were applied.  You'll hear guitars, basses, and drums, but I don't think these songs would have come to life without our little grey 8-bit friend.  Please feel free to download the EP and show your friends, put it on playlists, add to your blog, and give it to your uncle Otis who happens to have major connections in the music industry
May 10, 2011 · Posted in
Uncategorized
·
Comments Off

on The future of the NES synth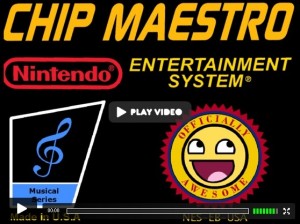 Here is what the author has to say about it:
I am prototyping, designing and assembling a special cartridge called Chip Maestro which can be used in any Nintendo Entertainment System. This cartridge will accept a MIDI input from any instrument, and by passing the MIDI notes through the NES, the cartridge will make the NES synthesize 8-bits of awesome in true NES squarewavey goodness. See the video for more details!
Most chiptune artists today use 'software synths' to try and recreate the sound we grew to love. By providing artists with a low-cost and easy to use hardware solution, they can use a real NES to compose their music, and even play it live on stage! And if you don't have a MIDI instrument, don't worry; you can use your PC with an inexpensive USB-MIDI converter, or create your own instrument using Arduinos or other microcontrollers that can output MIDI, so you can turn anything into an 8-bit instrument!
Getting this cartridge into the hands of musicians takes a bit of funding. All the money raised will go towards finishing the prototype, a thorough debugging, and beginning production. This entire project will be showcased on Kickstarter as well as my site, and every backer will get backdoor access to my build logs. And, best of all, it will all be open source! Yes, even though there is money involved, I am still putting all my schematics and code on the internet! This way people can improve on my design, and remix it into their works. These remixes come back to me, and I can improve the original product based on those works. It's an endless cycle of creativity, and I wouldn't have it any other way.
Background on the NES:
The Nintendo Entertainment System (also called NES or Nintendo) is an 8-bit video game console that was released by Nintendo in North America during 1985, in Europe during 1986 and Australia in 1987. In most of Asia, including Japan (where it was first launched in 1983), China, Vietnam, Singapore, Middle East and Hong Kong, it was released as the Family Computer . In South Korea, it was known as the Hyundai Comboy and was distributed by Hyundai Electronics. In Russia, an unlicensed clone was manufactured called Dendy (Де́нди). A clone that was popular in Eastern Europe in the 1990s was the Super Design Ending-Man BS-500 AS, also known as Terminator. Similarly in India, clones were popular by the names of Little Master and Wiz Kid, in Poland there also was a clone produced, called Pegasus. in Argentina, the clone was called Family Game. It was succeeded by the Super Nintendo Entertainment System.

As the best-selling gaming console of its time, the NES helped revitalize the US video game industry following the video game crash of 1983, and set the standard for subsequent consoles of its generation. With the NES, Nintendo introduced a now-standard business model of licensing third-party developers, authorizing them to produce and distribute software for Nintendo's platform.In 2009, the Nintendo Entertainment System was named the single greatest video game console in history by IGN, out of a field of 25. 2010 marked the system's 25th anniversary, which was officially celebrated by Nintendo of America's magazine Nintendo Power in issue #260 (November 2010) with a special 26-page tribute section. Other video game publications also featured articles looking back at 25 years of the NES, and its impact in the video game console market.
Technical details:
I am exploiting the 2a03 chip inside the NES by keeping it in an infinite loop, and injected note addresses and data using opcodes derived from NES note tables. The internal circuitry inside the cartridge translates MIDI note data into NES note opcodes, and sends that to the 2a03 APU, which synthesizes the notes on the appropriate channel. Full technical details will be up in a week, and all backers will receive a link to a secret page with all the details!
Shared by Kickstarter
March 20, 2011 · Posted in
Uncategorized
·
Comments Off

on The Gizzards on FNL – featuring the NES guitar
The Gizzards performed on WTV's FNL (Friday Night Live) show on the 18/03/2011. This is how it went.
March 2, 2011 · Posted in
Uncategorized
·
Comments Off

on DrunkenNES Rankings
So about DrunkenNES. I had recently done a workshop for 8static and bought a bunch of sensors to show the basics of physical computing. I came across an alcohol sensor and thought it would be fun to play with – I hooked it up to a scope and showed it to a couple of friends I had over. A couple of hours we had a ROM with the sound pitching up as it detected more alcohol – which we really couldn't stop laughing about. I got to leverage all the previous work in the NES communications driver I had written for the Arduino using an RBBB in an enclosure. We forced a friend to drink for science – we all did a lot of drinking for science. The thing is actually pretty accurate provided you didn't have a drink in the past 3 minutes – it was fun having excel open "collecting data".So alcohol sensor -> ADC on Arduino -> NES communications driver -> gameport #2 -> homebrew software on NES powerpak ram cart
February 15, 2011 · Posted in
Uncategorized
·
Comments Off

on PR8 – pattern-based drum machine that runs on a Nintendo Entertainment System
PR8 is a 6-track, pattern-based drum machine that runs on a Nintendo Entertainment System, designed and created by Neil Baldwin. PR8 is unlike any other NES music application in that it uses 'virtual' tracks that are not explicitly linked to any hardware voice. As a consequence, sounds in PR8 (and by association, each Track) are able to simultaneously use any combination of all five of the NES's sound-generating voices and a simple priority system is employed to dynamically determine which of the 6 tracks have control over them. Even though PR8 is referred to as a 'drum synth', it is also possible (and quite easy) to create melodic instruments and patterns, though the entry and editing of musical notes is a little more abstracted if you're used to traditional sequencers or trackers. Because of this rather radical approach, the learning-curve for PR8 might be a little steep but patience will reward you with a pretty unique and fun way to create NES music.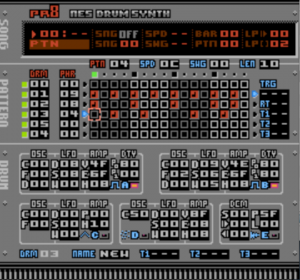 Amazing drum machine-like softare  PR8 for the NES has been finally released! Neil Baldwin's long awaited new software, running on Pulsar's engine, has seen its first public release in a romantic today. Only two emulators run this baby so you better get your NES and Powerpak ready for proper action!