The AY3 features two 8912 chips, boasting 6 voice polyphony. You can apply sequences, arpeggiators, noise, envelopes and pitch modulation to each voice with a click of a button.
AY3 features:
-64 preset memory (8 banks x 8 presets)
-5 pots and 1 endless encoder with push button
-40 blue leds
-16 step sequencer to sequence notes on/off, pitch and noise on/off
-4 Pitch modulation modes (aka lfo)
-4 arpeggiator modes
-ultra fat 6 voice unison mode with detune knob
-6 chords to split the voices
-6 voice polyphonic mode
-Glide mode
-Stereo sound (3 voice per channel/chip)
-intuitive 5×6 mode matrix to access and control:
volume, pitch, noise volume, envelope assignments, arp modes, sequencer assignments etc
-control of all knobs and other features via midi CC
-backlit front panel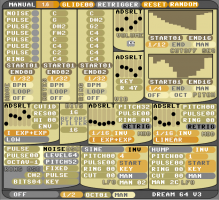 Odo Synths has announced the release of version 3.0 of Dream 64, the free Chip Synth VST instrument plug-in for Windows.
Dream 64 is not an SID emulator, but it's a plug-in that can recreate sounds that are used in chip-music. It's inspired by the SID chip from the old but good Commodore c64 but with some extra features for fun.
Main features:
All sequencers have a start and end loop but start always at step one.
Start-step never can be higher than the end.
Every sequencer has its own BPM rate or all have one manual rate.
8 step Wavetable sequencer with audio on/off (gate effect).
8 step Arp sequencer notes from c to c3 and one c4 note.
8 step Ring modulation sequencer notes from c to c3 and one c4 note.
A Bitcrusher only for the ringmod. This is nice if you use the Wavetable.
16 step easy to edit filter-sequencer. Can be used for nice bass sounds because it has an end step (will sustain).
Waveforms for the oscillator are saw, triangle, pulse, noise, ringmod mode. The noise is very special – it can be pitched by key or fixed.
Oscillator octaves from -3 to 2.
Ring modulation oscillator notes from c to c3 and one c4 note and a bitcrusher (this is nice for the wavetable sequencer).
2 LFOs with 21 waveforms BPM rates and manual with inverter.
The LFOs can start (key sync) (host sync) and (free run).
Destinations of the LFOs are pitch/pulse/ring osc and Filter.
2 modulation envelopes with inverter and BPM retrigger.
Destinations Pitch/pulse/ring modulation.
Filter Envelope can be switched to the filter sequencer.
filters lowpass/hipass/bandpass/low and hipass/band and hipass/band and lowpass.
Random for most of the controls.
Reset most of the controls.
Double click is reset for most of the controls.
Bitcrusher before and after filter.
Dream 64 is a free download at http://chips.site90.com
Opening titles for Europe In 8 Bits documentary.
Direction, Design, Animation & Music: Device
EUROPE IN 8 BITS is a documentary directed by Javier Polo that explores the world of chip music, a new musical trend that is growing exponentially throughout Europe. The stars of this musical movement reveal to us how to reuse old videogames hardware like Nintendo's GameBoy, NES, Atari ST, Amiga and the Commodore 64 to turn them into a tool capable of creating a new sound, a modern tempo and an innovative musical style. This is a new way of interpreting music performed by a great many artists who show their skills in turning these "limited" machines designed for leisure in the 80's into surprising musical instruments and graphical tools. It will leave nobody indifferent.
Watch the documentary: vimeo.com/ondemand/europein8bits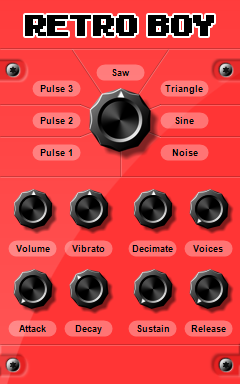 Sound-Base Audio has released Retro Boy, a free chiptune synthesizer instrument for Windows.
Retro Boy is a virtual analog chiptune synthesizer/emulator. It does not specifically emulate a single device or sound chip, but it was made with a certain handheld gaming system in mind.

The goal was to make a simple, minimal, synth that could create "8-bit music" without being overly complicated or requiring much knowledge from the end-user.
Retro Boy features
Single oscillator with seven different waveforms: Pulse 1 (12.5% duty cycle), Pulse 2 (25% duty cycle), Pulse 3 (50% duty cycle), Saw, Triangle, Sine, Noise.
Volume, vibrato, decimation, ADSR envelope, and voice control (adjustable from 1 to 4 voices).
Low CPU usage, <1% on an i5 processor.
Retro Boy for Windows (VST) is available to download as freeware.
Googlish from Japanese:
"8bit Harmonica by Fufu NES
It is a harmonica that you can play the 8bit sound.
=====
Office workers to challenge electronic work Good luck Saturday and Sunday.
Site that show, what you moved somehow.
http://www.ugoita.com/"
"I try to harmonica, the NES that was a long time ago Fufu well. I was particular that using the sound chip which is used for the NES of fact, it sounds like more NES. Harmonica sound high as it goes from left to right sound, I made three types of harmonica melody of the game indulge in the good feeling harmonica ringing and sound effects Koin ♪, and wherever you blowing blows."
Note this is the first basami sentaku post.
The Polybius video game expansion pack is a free set for Z3TA+ 2, inspired by all your favorite old-school video game titles. Includes video game themes, game over themes, boss themes, attack effects, blaster effects, and even some timeless sounds you are sure to recognize. The Polybius expansion pack proves the true power behind Z3TA+ 2's synth engine and best of all, it's totally FREE!
Buy Z3TA+2 on the Cakewalk Store: http://www.store.cakewalk.com/default…
Also available on STEAM: http://store.steampowered.com/app/241…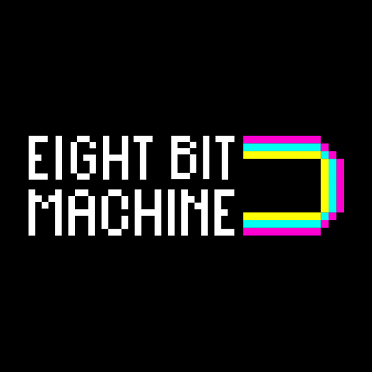 Eight Bit Machine is an electronic music/multimedia project started by Chris Kobusch (also 'Distorted Reality') in September 2013. It combines classic sounds, themes and visuals from the early digital age with electronic music and IDM. The first release is the digital single "80s Child" which was officially released October 6, 2013.
The official music video for "80s Child"  incorporates audio and video fragments from a lot of 1980s movies, songs, computer games and even a political speech, reflecting the spectrum of 80s zeitgeist and future visions of the 80s. Says Chris Kobusch: "Musically '80s Child' is a potpourri of influences – it combines fast break beat type rhythms, an Acid bassline and a catchy synth hook which is inspired by a tune from an 80s computer game. Further the incorporated vocal samples of the video version are reminiscent of the early days of sampling technology."
The single is available on iTunes, Amazon, Spotify, Shazam and other platforms and was released on Kobusch' own digital label Clock Rate Productions.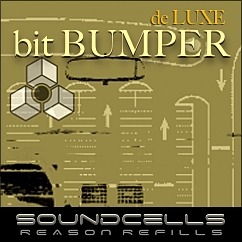 "bitBUMPER deluxe v3" – the ultimate 4 and 8 bit Pandora Box filled with hundreds of low bit surprises.
This ReFill is your best friend when you´re looking for inspiring new sounds with a character and a bite. To catch this character some amazing sources were sampled: RozzBox One v2, QuadraSID, the old grey Gameboy from 1989 with "Nanoloop 1″ and "Littlesounddj", the Gameboy Advance SP from 2003 with "Nanoloop 2″ and the Nintendo DS Lite from 2006 with "DS Electroplankton" and "Korg DS-10″.
Version 3 adds new rex loops, 20 new combinator & 25 NNXT patches, as also lots of new samples …
bitBUMPER deluxe v3 Contents:
• 382 combinator patches.
• 185 NNXT patches, 138 rex loops, 650 unique samples.
• 12 demo tracks in Reason format included.
Offering price per unit is 27,90 ,- EUR (normal price is 39,90 ,- EUR)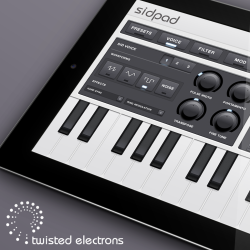 Alex Smith has introduced Sidpad – an 8-bit style chiptune synth for the iPad.
Features:
3 Voice Synthesizer – Over 40 controllable parameters to create a wide range of 8 bit chip-tune sounds. All knobs are MIDI controllable.
Multimode Filter – includes Type, Cutoff, Resonance and customizable Cutoff Envelope
Flexible Modulation – Hand draw up to 4 graphs and assign them to the synth's parameters to add movement and expression to your sound
Wavetable Editor – The 16 step wavetable editor lets you set up sound effects and arpeggiated melodies. You can sequence notes and waveform changes either as one shot or in a loop and vary the speed
Help Mode – Every feature is explained via the help button to get you up and running with SidPad regardless of your synthesizer experience.
Sidpad is a free download right here >>
"Created a chiptune-typical arpeggio lead sound on the Nord Rack and played around with it."
Gear used in this video:
– Clavia Nord Rack 2X (chiptune arpeggio lead)
– Moog Slim Phatty (bass)
– Kurzweil Micropiano (piano)
– MAM mb33 mkII (bitcrushed 303 acid bass)
– Vermonad DRM1 mkIII (analog drums)
– Akai MPC 500 (sequencing)
– Korg Kaosspad Mini (decimator effect on mb33)
– Yamaha Tenori-On (sequencing mb33)
– Yamaha AW1600 (recording, mixing & mastering)