NI Reaktor: West-coast style monophonic synthesizer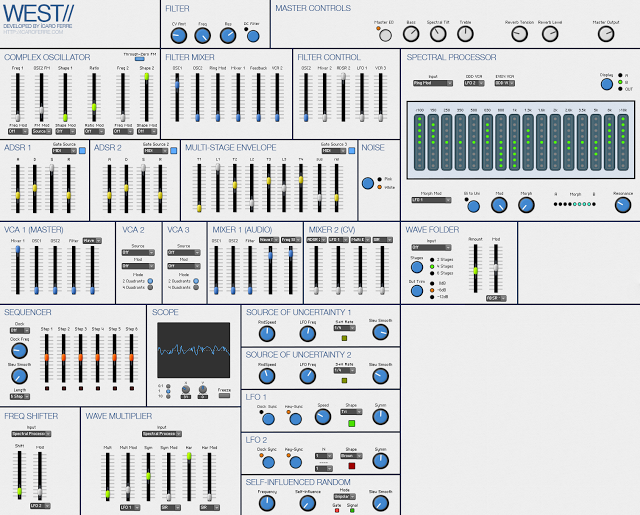 Here's what the developer has to say about it:
Hey guys, since a lot of you enjoyed the 1.0 version, I thought it'd be a good idea to let you know that I've just updated my WEST// Reaktor ensemble.
This new 1.1 version adds a clone of the Buchla 296e Spectral Processor, Wave Folder, Master EQ, LFO Key Sync, new MIDI modulation sources as well as a bunch of bug fixes. Check the link for the full changelog.
Get it for free from the Reaktor user library
WEST// is a west-coast style monophonic synthesizer.
Since there aren't too many of this kind of synths available for Reaktor I decided to try to create something. WEST// was inspired by the sounds of the Buchla modules and the semi-modular workflow from the ARP 2600 synthesizer.
It contains a Complex Oscillator (FM based dual-oscillator), a filter similar to a low-pass gate, 2 ADSRs, 1 Multi-Stage envelope, Noise generator, 3 VCAs, 2 mixers, 1 sequencer, 2 random modules inspired by the Source of Uncertainty, 2 regular LFOs, 1 Self-Influenced Random module, a frequency shifter and a Wave Multiplier.
The workflow on it is a bit particular so here are a few tips to get started:
– The VCA 1 is linked to the Master output and it's always controlled by the ADSR 1.
– The sliders available on the Complex Oscillator behave as offsets when there's no Modulation selected. Once you select a modulation source, the sliders turn into attenuators for the incoming modulation signals.
– Shape 1 and 2 are a bipolar slider
Comments